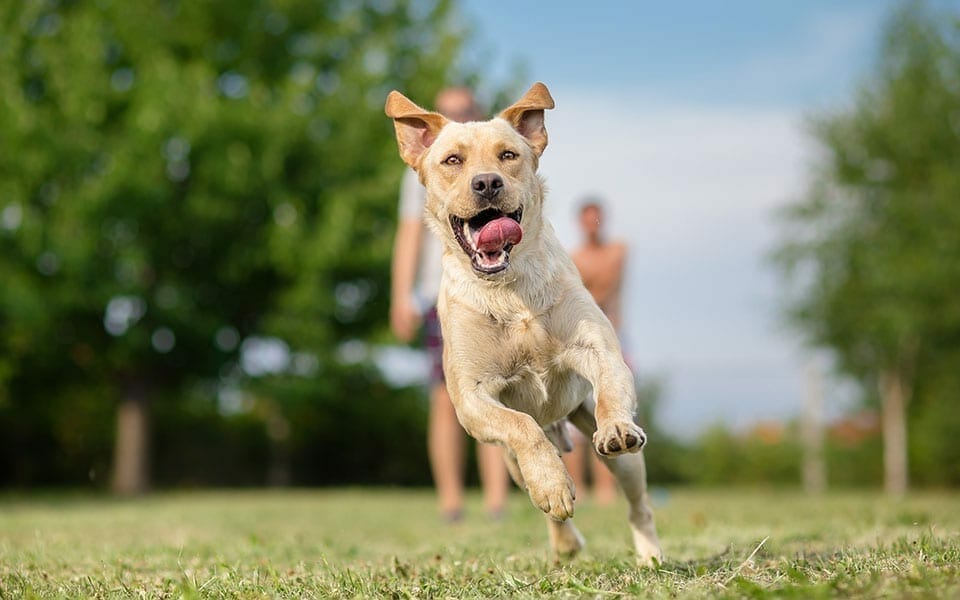 What are the Signs of a Healthy Dog?
Pet Insurance Australia takes a look at how to tell if your dog is healthy and happy. PLUS, the top 10 symptoms that action a trip to the vet.
Our canine companions are masters at expressing their joy for life with their entire body. When they are happy, their whole body and personality will show that they are happy. But it's important to understand that this exuberance for life, also allows them to mask their pain very easily.
Because of this, it is no surprise that some pet owners wait for long before heading off to the vet to discover that their loveable friend has been sick or in pain for a length of time.
Every dog owner wants their dog to be happy and healthy. But what are some of the more common signs that your dog could be feeling under the weather? And when should you take your pet to the vet if you are worried about their health.
What do my dogs symptoms mean?
If you dog is not well, symptoms can range from the extreme, like lameness, or the subtle; like a dry nose. The most important aspect of monitoring your dog's health is to monitor their overall behaviour, and to trust your gut instinct.
If you suspect something is not quite right, seek veterinary advice.
TOP 10 Symptoms that warrant a vet visit:
Vomiting more than twice or with blood
Diarrhea more than twice or containing blood
Loss of appetite
Excessive drinking
Lameness
Reluctance to move
Unexplained weight loss or weight gain
Head shaking
Swelling
Constantly licking or biting paws
How to keep dog healthy?
Keeping your dog healthy starts in puppyhood. As a responsible pet parent your dog should be visiting the vet at least once a year for a good check-up and any outstanding vaccinations. For older dogs this could be every few months.
DIET – feed a complete and well-rounded, balanced diet. Check with your vet on the best food for your pet and always feed by the manufacturer's instructions and also for the correct age group.
VET CARE – vaccinations and regular check-ups are important to ensure that your dog stays healthy and happy their entire life. Picking up on problems quickly can also prevent your pup from being in long term pain.
PET INSURANCE – With adequate pet insurance for dogs you could save up to 80% on eligible costs, depending on the type of cover, caps and pre-existing conditions. There are many dog insurance plans to choose from that can help you cover your dog in times of injury or illness.
TRAINING – All dogs need a good dose of training. Behavioral training not only helps keep your dog under control and socialized, it also allows you and your canine companion to communicate and bond.
EXERCISE – adequate exercise is vital for all dogs, as too ensuring that your pet is not overweight. Pudgy pooches are not happy dogs and can suffer a whole host of illness' and issues when older due to their unhealthy weight. If you are unsure about your pet's weight check with your veterinarian.
Do dogs get viruses?
Dogs can suffer from a range of viruses that can cause illness and, in some cases, death. For this reason, it is paramount that your dog is fully vaccinated.
Some of these viruses can live in soil and other contaminated areas for a very long time, meaning the only form of protection for your dog is vaccinations.
Common Pup Schedule –  Australia Only
Pups Age
Protect Against
6-8 weeks
Parvovirus
Infectious Hepatitis
Distemper
12-14 weeks
Parainfluenza (kennel cough)
Bordetella (kennel cough)
Corona Virus
Leptospirosis (certain areas)
Parvovirus
Infectious Hepatitis
Distemper
16-18 weeks
Corona Virus
Leptospirosis (certain areas)
YEARLY BOOSTER
It is important to make an educated choice when choosing to vaccinate your pet. If you are in doubt speak with your local vet about vaccinations and why it's important. Keeping your dog safe through avoidance is almost impossible, especially considering some high mortally diseases such as, Parvo, can live in the soil for up to 12 months.
Get the latest Pet Insider Tips & News
We offer award-winning* pet insurance policies to protect your furry friend's health and wellbeing. Get a quote today and give your pets the care they deserve.
get in touch
Do you have any
enquiries about our
insurance policies?
Archives
Categories