Why is My Dog Panting So Much?
Ever wondered why dogs pant? Or when you should be concerned about your dog's panting? Pet Insurance Australia investigates.
It's not an uncommon sight, Rover panting and drooling after a good run chasing a ball down the local off-leash area. This is a very common behaviour of all dogs and can usually signal to owners that they their dog has had a wonderful time running about and certainly are flexing all those important muscles including their hearts. But why do our dogs pant?
Keeping Your Dog Cool
Dogs pant to keep themselves cool. Unlike humans – dog's only sweat between their toes so after a good run around they need some extra assistance in cooling. This is where the pant comes into play. Panting allows your dog to quickly cool themselves down. The puffing helps them circulate air throughout their bodies.
However, if a dog has been running around too much, particularly during the blistering heat of the day, unusual panting can be a signal of heatstroke. Older dogs can also succumb to heatstroke much quicker. Panting can be an early indication that something may not be right.
With Summer fast approaching pet owners should take care not to overexert their precious pups during the heat of the day. Early morning walks and late afternoon runs is best. Always choose the coolest parts of the day.
When to be concerned:
• If your dog's panting becomes loud or increases – particularly after exercise.
• If you have a short-nosed breed and their panting becomes laboured.
• If your dog is not well or elderly
• If you dog is panting and has not been exercising
• If it looks or sounds differently than normal
• Alongside other symptoms such as vomiting or shaking
Dogs Breeds That Are Prone To Panting
Some breeds will pant more than others. This is particularly true with Brachycephalic breeds including;
• French bulldog
• English Bulldog
• American Bulldog
• Mastiff
• Neapolitan Mastiff
• Boxer
• Pug
• Boston Terrier
• Cavalier King Charles
• Japanese Chin
• Brussels Griffon
• Shih Tzu
• Lhasa Apso
• Pekingese
These breeds cannot be allowed to become obese, their weight needs to be kept in the correct range to prevent problems. This can also help with their breathing. It is vitally important that these breeds are not over-exercised or allowed to become too hot, as they will struggle to cool themselves leading to overheating.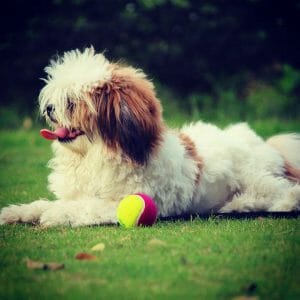 Illness & Fear
Some dogs will also pant if they are not feeling well, or if they are scared or fearful. Many dogs will suddenly start panting at the vet, or if they are suffering an underlying anxiety condition, for instance, during a thunderstorm. If you dog does start panting for no reason, it's best to seek professional advice from your veterinarian in regard to the onset to get a full conclusion of why your dog is unexplainably panting.
Sudden panting, with no real reason can also signal an illness with your dog. Some dogs will also pant if they are in pain.
Most dogs panting is not a cause for concern, however if you do notice that your pet if overly panting and you sense something could be wrong, head off to your local vet for a check-up to ensure that this behaviour is normal.
Always make sure your dog has adequate shelter from the sun during the heat of the day and consider using cooling techniques to help your pooch keep cool when you are not at home. Paddling pools filled with a little water, alongside clever frozen treats (think stock in an ice-cream container) can be a wonderful way to help your pooch keep cool this summer. Also hose down areas under trees to keep the soil damp and cool can also help your pet keep the heat at bay.
Do you have any cool tips for this summer? Comment in the post, we'd love to hear your top tips!
Get the latest Pet Insider Tips & News
We offer award-winning* pet insurance policies to protect your furry friend's health and wellbeing. Get a quote today and give your pets the care they deserve.
get in touch
Do you have any
enquiries about our
insurance policies?
Archives
Categories