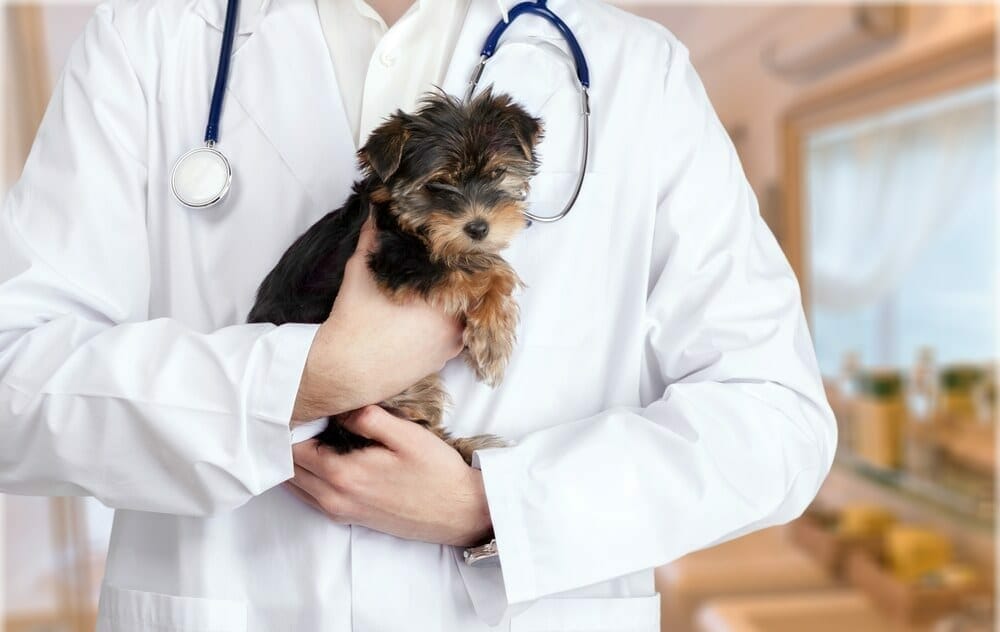 Meeting the Vet
Do you have a pup who is scheduled for their very first vet visit? Pet Insurance Australia looks at some clever tips to make your pups first vet visit an enjoyable experience.
For most pups, meeting the vet for the very first time is normally during an unpleasant situation such as vaccinations, an examination or an emergency situation. The impact this experience can have on your growing pup can be quite profound and it's important to make their very first vet visit as good as possible.
Obviously in some circumstances this is almost impossible, but if you are a new dog owner teaching your pup that the vet is a wonderful place to be can set you up for a life of ease when it comes to your regular visits.
Many vets also offer puppy-preschool nights where you can take your pup along for some social interaction with other pups in a safe and clean environment. This can be a great way to get your puppy used to the sights and smells of the clinic. They will then see the clinic as a fun and interesting place to visit. Plus, puppy-preschool is a very important step in socialisation and growing a well-rounded happy dog. Puppy-preschool can also offer advice on training, diet and any problems you may be encountering such as toilet training.
If you are attending another puppy-preschool that is not at your local vet, ask if you can pop along an introduce your puppy to the clinic. You can be sure that your adorable pup will receive lots of cuddles and attention from various vet nurses, this can also help ease your pups fear of visiting the vet.
This will give your puppy a chance to take in all the smells and sounds before the actual visit. Remembering that instead of associating an uncomfortable procedure with the clinic, they will then form a memory of a wonderful place full of lots of different smells, sounds, cuddles and treats.
If you are purchasing toys or products such as food from your veterinary clinic, take your pup along with you for the ride. This way they can experience the clinic without any possible stressful events (and the car ride too). The more your pup visits the clinic the more comfortable they will be with that particular environment.
Time to Meet the Vet…
A great tip is to ensure you do not feed your pup before their first vet visit, they'll be much more inclined to take a treat or two from all the new faces, than if they had a belly full of food. Also go a little early so you can have your pup weighted and given ample attention by the vet nurses before any procedures such as vaccinations etc.
It's also a good idea to keep your cool, our dogs are masters at picking up on our own anxieties and if you are worried or fearful, your pup will feel this also. Keep a few treats in your pocket and ensure that the trip is light, fun and entertaining.
Other tips include:
Ensure your pup feels safe and secure in a correct sized crate
Take along their favourite snuggle buddy and blanket
Do not feed your pup before you leave
Head to the appointment early
Don't stress!
Have all information on hand – vaccination card, diet info, breeder info, microchip information.
Correct fitting collar and lead
Get to know your vet nurses, they will be involved in the care of your pet for many many years. They are a wealth of information on all aspects of dog care.
It's good to remember that everyone involved in veterinary care simply adores puppies of all shapes and sizes, so you can be at ease knowing that your pup will most certainly be the centre of attention. Allowing your pup to bask in this experience can help set you up for a lifetime of successful veterinary treatments (even the scary ones).
If your very first visit to the vet is you leaving your pet behind to be de-sexed, you can understand why your dog will be very scared and hesitant to return. The key with a successful first visit is to make it an enjoyable experience and plant the memory seed that this place is a great place to be. Then, even during scary situations, your pup will know they are in safe hands and in the company of friends.
Get the latest Pet Insider Tips & News
We offer award-winning* pet insurance policies to protect your furry friend's health and wellbeing. Get a quote today and give your pets the care they deserve.
get in touch
Do you have any
enquiries about our
insurance policies?
Archives
Categories