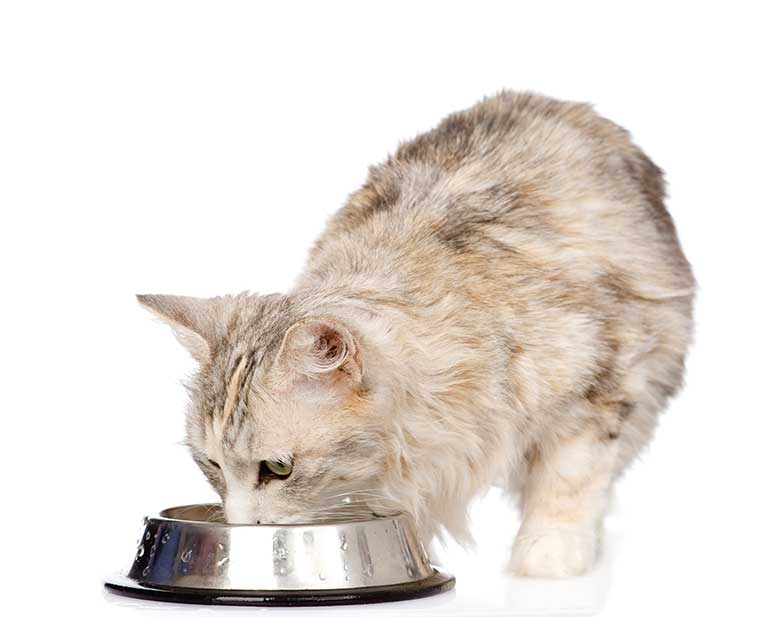 What is the Best Diet for a Cat? 7 Diet Tips for Cats
Wondering how to give your precious cat the best diet possible? Pet Insurance Australia takes a look at the top seven diet tips for cats, and what foods you should, and shouldn't, be feeding your friendly feline.
With so much conflicting information on the internet, Pet Insurance Australia takes a good look into the nutritional needs of your terrific tabby to ensure you are feeding the healthiest diet possible for your cat.
First and foremost, it is vitally important that you understand that cats are carnivores so in order to live a healthy life they require a good source of animal protein. Some owners have unknowingly offered their cat trending vegan diets, to end up dealing with a very sick pet. With all diet changes it is critical that you seek professional advice from your veterinarian to guarantee that all of your cat's nutritional needs are adequately met.
What is the healthiest food for cats?
A good quality commercial diet can offer your cat a 'complete' diet. Meaning it will contain all of the needed nutrients to ensure your cat, and kitten, are healthy and happy. You can also add in certain foods that your cat simply adores such as cooked or raw meat and fresh fish.
As with strict vegan diets, feeding your cat only canned fish is not an advisable as it will not sustain your pet to ensure optimum health. A fish only diet, or meat free diet, can lead to illness in many pets. Again, before adding or removing any component of your cat's diet it is best to chat with a veterinarian to ensure you are not putting your pet at risk of health complications.
How much should an indoor cat eat a day?
With all cats, the amount of food they require will depend on their size, weight and age. Obesity, particularly with indoor cats, can be an issue. If you are concerned about your pet's weight check with your vet and make a constructive plan to keep your friendly feline at their healthy weight range.
Always take into account the amount of nutritious cat treats you are feeding to your pet. Many times, owners will not take this into consideration and these extra tidbits can quickly lead to obesity.
Always read the manufacturer's instructions when feeding your pet, and make sure you take into account any extra foods you are also feeding such as raw meat, fish and nutritious cat treats.
Cat also love clean water and will not take to dirty drinking bowls, rather opting to drink straight from your own glass of water! Water fountains are wonderful for cats as they will enjoy the steady stream of fresh water.
Kittens will need the healthiest kitten food available within your budget. Due to their growing needs their foods levels will change as they grow. It is important to only feed kitten specific food to guarantee that their bones and joints are growing correctly. Always check with the manufacture on the exact amount to offer your new bundle of fur. It's also a great idea to check your pet's weight when you have yearly check-ups and vaccinations. Take note, particularly after de-sexing, if your cat is at a healthy weight range so you are able to adjust their diet accordingly.
What food is toxic to cats?
Always stay clear of cooked bones, these can easily splinter and cause massive problems in cats of all ages. Raw bones only and ensure you monitor your cat while they eat these teeth cleaning treats.
There are many human foods that can cause complications in cats, so it's best to stick to pet food only. These include:
Avocado
Chocolate
Bread dough
Coffee or any caffeinated products and drinks
Corncobs
Mushrooms
Milk – pet milk only
Seeded fruits and stone fruit
Sultanas and raisins
Top 7 Tips to give your Cat the Healthiest Diet
EXPERT ADVICE – Chat to your Veterinarian about your pet's diet and any changes
READ – the manufactures instructions on the correct amount to feed and change this as your pet ages.
AGE APPROPRIATE – only feed your pet an age appropriate diet
TREATS – always take into account the number of treats or extra food you are feeding.
WEIGHT – keep your cat at their optimum weight levels during their lifetime.
STAY CLEAR – of human foods that are not suitable for your cat
MEAT – Understand that your cat is a carnivore. Offering a no-meat diet can cause your pet harm.
Get the latest Pet Insider Tips & News
We offer award-winning* pet insurance policies to protect your furry friend's health and wellbeing. Get a quote today and give your pets the care they deserve.
get in touch
Do you have any
enquiries about our
insurance policies?
Archives
Categories