Get the latest Pet Insider Tips & News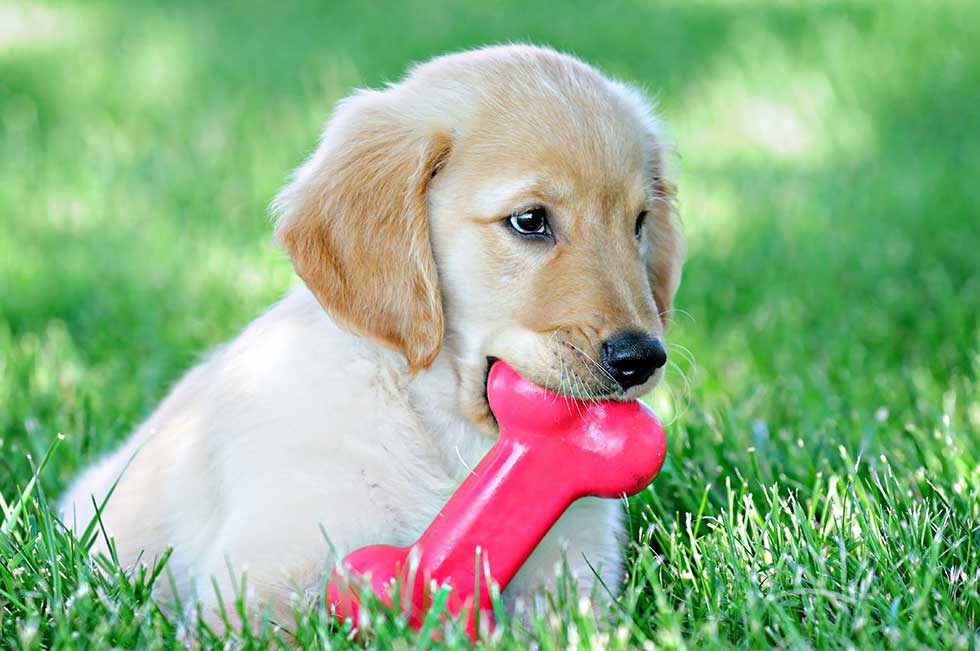 How to Help a Teething Puppy
Is your puppy teething? Needing some advice on how to best help your wee bundle of fur? Pet Insurance Australia takes a look at puppy teething and how to help your puppy through this painful process.
It's no wonder puppies love to chew and bite! In the space of six months your puppy's mouth will erupt with 28 milk teeth that will eventually be replaced by 42 adult choppers…OUCH. The only way to soothe this dull ache and annoying pain is to chew, chew, chew.
But how can you help your puppy through this painful stage of puppyhood and how long does it last?
Symptoms of Puppy Teething
The main symptom of puppy teething is chewing. A teething puppy will try and chew on anything in sight, including your hand. The chewing offers your puppy some slight relief from the aching pain around their gums and teeth. Some pups will also go off their food during this stage.
At this age it's important to offer a good selection of chew toys. Rotating these toys daily will also keep your puppy entertained and less likely to find something inappropriate to chew – cue your best leather shoes!
If you do notice your puppy chewing something inappropriate, a simple "AH AH" command – remove the object and replace with a chew toy – "good dog". This is the time to teach your puppy the right and wrong things to chew. You should never punish a puppy for chewing. This behaviour is a very natural part of puppyhood. There are some wonderful puppy chewing aids on the market, some are extra soft and gel like, while others a little firmer for those super-active gnawers. Depending on the teething stage, you pup will prefer different textured chewing toys.
With all chew toys ensure they are the correct size for your puppy and always remove the toy if broken or worn. To prevent choking – never allow an older dog to play or chew on puppy-sized chew toys.
Now is also a great time to start a good dental regime with your pup. They will simply love a good gum rub during this stage so introducing a puppy toothbrush is easy. Remember to NEVER use human grade toothpaste as this is toxic to dogs. Only use specially formulated dog toothpaste.
During puppy teething it's also recommended to check your pup's teeth regularly to monitor the teething process and watch for any issues such as retained teeth or pungent breath. If you are concerned about your puppy's teeth; seek veterinary advice.
Puppy Teething Age Chart
Week 2-4 – your puppy will still be nursing from their mother when their puppy teeth erupt through their gums. These teeth are very sharp and will eventually fall out, just like human baby teeth. By the end of week six, your puppy should have around 28 puppy/milk teeth. This is normally the time they will also start to wean from their mother and start to eat soft puppy food.
Week 8-18 –This is usually the time those puppy/milk teeth begin to fall-out and if you are lucky enough, and the vacuum cleaner doesn't get them first, you may find a few of these puppy-keepsakes laying around the floor. This is the time most owners notice their puppy's huge desire to chew…anything… including couches, skirting boards, shoes and the like. It's very important to offer your pup lots of different things to chew during this stage, so they don't discover the chair-leg as being their favourite teething toy!
4–6 months – this is when all of your puppy's adult teeth will be starting to push through. During this eight-week process your pup will be in pain, and simply adore their gums being rubbed and chewing on a range of things. You may even notice a faint smell of blood on their breath.
7-8 Months – by this stage your growing puppy should have shed all of their puppy/milk teeth and have a whopping 42 adult teeth! This includes 12 incisors, four canines, 10 molars and 16 premolars.
Happy Teething!
get in touch
Do you have any
enquiries about our
insurance policies?
Archives
Categories