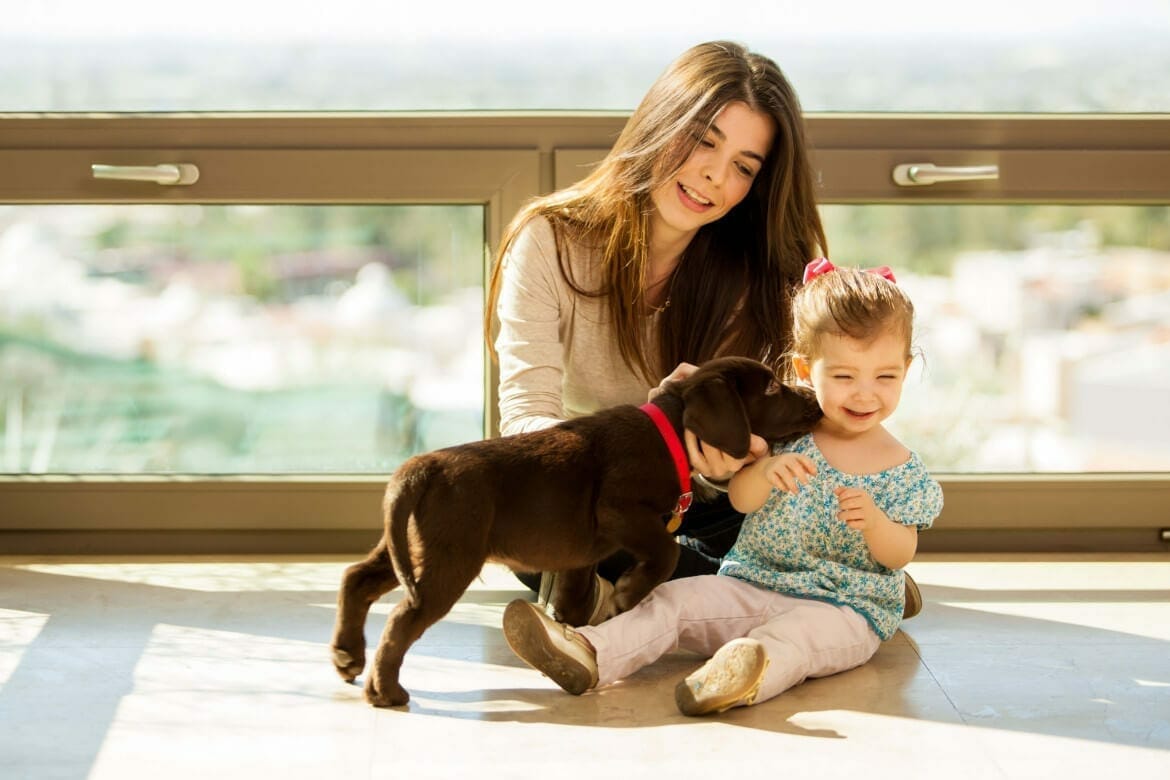 Top 10 Pet Supplies for your new puppy
Buying or adopting (which we prefer) a new puppy is a big responsibility. But with this responsibility comes finding the right puppy products which can be a lot of fun. There are so many puppy products out there; so you'll have plenty to choose from. Just remember, once you enter a pet shop or department store, you'll see all kinds of amazing supplies, but the essentials are the most important at this stage.
We've compiled a list of the 10 items that can provide a comfortable transition for your puppy.
1. Dog Collar & Leash
As soon as you bring your puppy home, he/she will need a plain collar and a leash for walks and training. The collar is not just important for walking, but it holds your puppy's ID tag as well as your name and phone number. (A very important item which we will discuss later.) Getting your puppy used to the collar and leash will take a bit time. No dog is born with a natural connection to a leash or collar. Training them to get used to the collar and leash is a priority. Always start with a shorter leash for your puppy and as they grow you can switch to longer leashes.
Remember: As they grow, their collars will become smaller. Buy new collars as they outgrow them.
2. Puppy Bedding
Every dog needs a safe, comfortable and warm bed to sleep in, especially a new puppy. Once you have housetrained your puppy, let them leave their crate and move on to their new 'grown up' bed. Or if you prefer, you can let them sleep in their bed immediately. There are so many pillows, blankets and mattresses available out there, so you'll never have to worry of finding the right bedding. If you wish, you can match it to your décor, but always keep your pet's comfort and well-being in mind. A small to medium sized bed will be perfect for your pup's needs and as he/she grows fit the bed to their size. For a bit of extra comfort, place their beds near you. Every pup wants to be near its owner.
Bedding Tip: Dogs love to rearrange their beds and drag it around: Place the bed on a thick rug or robber service to prevent them from sliding it around your house.
3. Water & Food Bowls
Your puppy will need food and water when it arrives, so make sure you buy bowls beforehand. There are many different bowls on the market. You have a choice between plastic, glass, stainless steel and even ceramic. We recommend avoiding light plastic, even though it's cheap; it can harbor bacteria. If you do consider buying plastic, buy a harder plastic. Ceramic and glass are safer on the bacterial side, but it can break which is also very dangerous. Stainless steel bowls are a good choice: easy to clean and sanitise.
4. Treats & Food
Every dog needs food that is appropriate for their size and age. A lot of the times adult dog food's nutritional value is not fit for a puppy's development stage. Puppies have big appetites and so will yours. For the first 12 months of your pup's life, feed them a diet created for their demanding energy, filled with the right mixture of fat, vitamins, minerals, protein and carbohydrates. If you struggle to find the right food, talk to a veterinarian.
Treat Tip: An 8 week old puppy might not be used to treats. Buy a bag of small treats and introduce her/him to it.
5. Grooming Supplies
Even though your puppy is young, you'll need to groom her/him and they need to learn to behave when you do it. Don't forget keeping that tiny ball of energy cleaned and dried. A puppy's coat needs regular washing and brushing as well as getting his ears cleaned, nails trimmed and teeth brushed. You want to be prepared, so there are a few items you'll need to consider buying before you bring your puppy home:
Comb
Shampoo & Conditioner
Nail Clippers & tweezers
Toothbrush & dog toothpaste
Cotton balls
Blow dryer
Scissors
Ear cleaning solution
Slicker brush
Styptic powder
Towels
6. Dog Toys
All dogs love to chew on something, so rather them chew on a toy than your shoes or pillows. Whether it's a stuffed animal or a squeaky toy, chew toys are a good idea for your puppy. Your puppy will adore you once you place a chewable object in front of them that they can chew on as long as they like. There are various age appropriate chew toys on the market; you just have to find the right one for your puppy.
Some other toys can be categorised into:
Plush toys e.g. stuffed animals that provide comfort to puppies.
Fetching toys e.g. balls.
Rope and tug toys which help puppies floss their teeth while they play.
Durable chew toys e.g. hard-rubber toys.
7. ID Tag/Microchip
Usually when you give your dog a collar, a tag with his/her name, your name and telephone number will be attached. This is a great way to assure your puppy can be identified in case of an emergency. A dog tag is the inexpensive method. Micro chipping on the other hand is more expensive. A best practice to consider is to use both of these methods.
8. Cleaning Supplies
Anyone questioning this point has obviously never had a dog. I know and you know that puppies can be messy, not because they are dogs, but because they are still puppies. But even adult dogs can have accidents. Some of the three most important cleaning supplies are:
Enzyme cleaner: Helpful when house training goes a bit wrong and it removes the smell of urine.
Paper Towels: Buy plenty of paper towels, but keep it out of reach of those tiny paws. Puppies love to play with paper.
A scoop and bags: Yes, yard clean-up will become one of your daily tasks. Also, if you plan on taking your dog for a walk, remember those two nifty tools
9. Thermometer
Just like kids, puppies can also get a fever. You should check your tiny friend's temperature if they are acting weird or if they look sick. If they have a fever, call your vet right away.
10. Pet Insurance
Years ago, pet owners did not have the option of insuring their pet. Now there are a range of cover options available for dog and cat owners: Pet Insurance Australia (PIA) can offer you exactly that. We can offer you cover for accidental injury or illness. Our business is our passion and we have a passion for animals. As with many covers, the main reason our clients insure their pet with us is for the peace of mind.
*PIA's Accident Plan was discontinued in August 2019. All PIA plans are now Illness & Accidental Injury.
Get the latest Pet Insider Tips & News
We offer award-winning* pet insurance policies to protect your furry friend's health and wellbeing. Get a quote today and give your pets the care they deserve.
get in touch
Do you have any
enquiries about our
insurance policies?
Archives
Categories