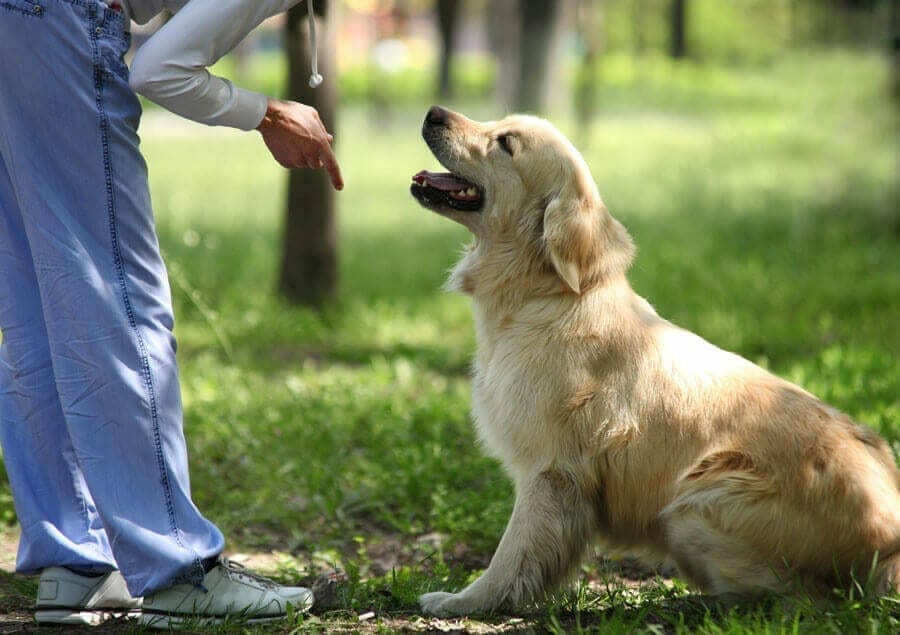 Basic Puppy Training
In part two of Puppy Power, Nadia Crighton takes a look at the basic training that every dog owner can do at home. Plus; explains the importance of puppy-preschool and obedience classes.
Congratulations on your new pup! Now comes the fun part, basic training. But don't fear your new bundle of joy will be listening and sitting in no time at all. The basic ingredient to successfully training your young puppy is patience, plus oodles of fun.
To start what do you need?
Nice light collar
A very light lead – think a cat or a small dog lead. You want it to be light for a young pup so they can forget they have it on and not be tempted to play tug-of-war with you.
Treats – mix it up and use a treat-bag or pop them into your pocket. Think dried liver treats alongside a mixture of ham and dog biscuits. Then your dog will never know what is coming next. You can also successfully train your dog without the use of treats. Instead of treats use a game (so have a special 'treat' toy that is only given to your pup when they do the correct command and replace the 'treat' with loads of praise and big pats).
SIT – Start with your pup in front of you. Put a treat in front of their nose. Lift the treat over their head. As the head goes up, the bum goes down! Do not push down on your dogs back. Then say your command – "SIT". Praise and treat. Repeat.
DOWN – With your pup in the sit position put the treat straight down between their legs and out towards them. Their nose will follow the treat. As the nose goes down and follows the treat out in front of them the front legs will go down and the dog will lie-down. Use your command word "DOWN". Some pups may need a little encouragement. Do not push on their backs to get them to lie-down. You can gently move the legs forward as their nose goes towards the floor so they understand what you are asking. Repeat. Praise and treat your dog for the correct command.
Once your pup as mastered the above now is the time to move towards some lead work.
Pop you puppy on his/her lead and walk. At this stage some pups will stop dead in their tracks and will pull back on their collars while other will take the lead in their mouths and walk. You want your pup to walk next to you in the heel position. This means not pulling out in front, or waking behind, but beside you. What you train your pup to do now is vitally important.
Choose a side you want your dog to walk on
Use a treat (or their 'treat' toy) to keep your pup by your side (keep it tasty and change it up), this will encourage your dog to stay by your side and keep moving forward.
Only practice this in your backyard until your young dog masters the art of leash walking.
Once your dog gets bored stop.
Book into a puppy-preschool and obedience class that will help you master the leash walk.
Behaviour Training
This is by far the most important part of puppyhood. It is vital you expose your pup to as many noises and situations possible to ensure they do not grow into scared anxious dogs. Think:
Children screaming, crying and playing
Loud noises, vacuum cleaners, pots dropping etc
Traffic, busses, cars, trains
Other dogs (make sure they are vaccinated) – puppy preschools are wonderful for this, as remembering your young pup will learn much more from other puppies than older dogs. Allowing them to mingle and play in a safe environment with other pups is priceless and will set them up for a lifetime of fun.
Other important things to do with your pup to help them grow into a well-rounded dog include:
Take their food off them during a meal and then give it back. Put your fingers in their food bowl while they are eating. A great game for children – use a shallow bowl so the pup makes a big mess and get the children to 'help' pup by picking up the biscuits and putting them back on his dish. Why? Because this gets your dog used to little hands being around them with food and will prevent food aggression that even the most placid dogs can have when it comes to a tasty bone and an inquisitive child. Constantly do this throughout your dog's life. Removing bones and touching them while they eat.
Desensitise to touch. So pick your puppy up and put them on their back. Play with their paws, stroke their belly, open their mouth and touch their teeth. Don't forget the ears. Allow your friends to do this also, this will help them immensely when it comes to vet visits and check ups.
Grooming. Start now and they will find this pleasurable when they are older. Think about brushing (in the direction of the coat) and nail clipping or filing.

A BIT ABOUT THE BLOGGER:
Nadia Crighton is a well-known and accomplished Australian Journalist and pet magazine Editor. As a busy mum of four humans, two dogs, 50 sheep, three cats, three axolotl's, a handful of chickens and a goat named Billy, she simply adores pets of all shapes and sizes. These are her personal thoughts and advice from many years of pet-ownership.
Get the latest Pet Insider Tips & News
We offer award-winning* pet insurance policies to protect your furry friend's health and wellbeing. Get a quote today and give your pets the care they deserve.
get in touch
Do you have any
enquiries about our
insurance policies?
Archives
Categories