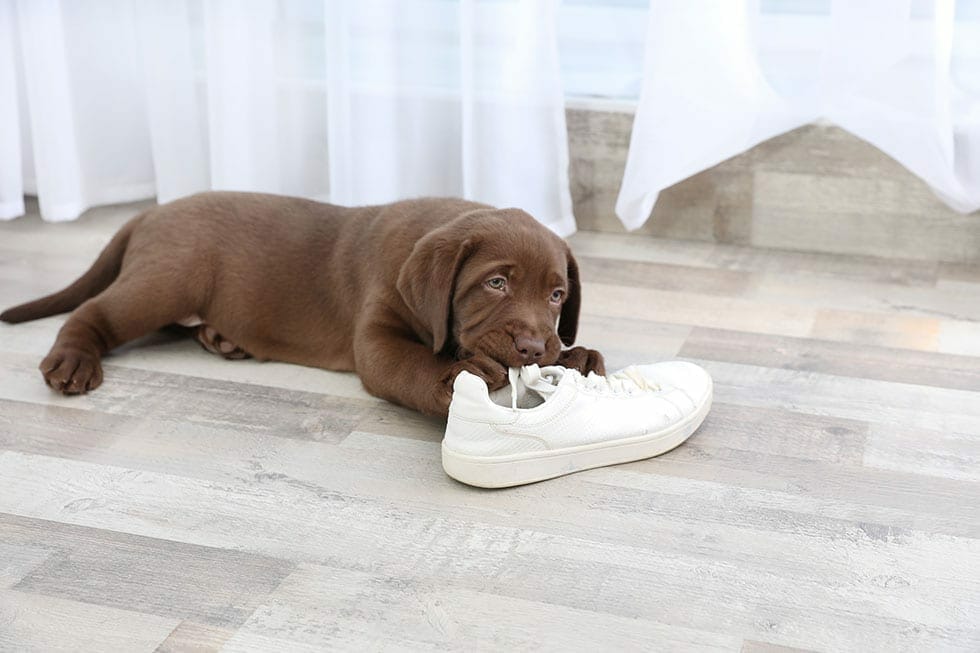 Pet Proof Home
Wanting to know how to pet proof your home from any hidden dangers or pesky problems? Pet Insurance Australia investigates the top pet-hacks to pet proof your home.
Thinking of getting a new furry family member but needing some updated advice on pet proofing your home? From preventing injury to ensuring that your best shoes and lounge is protected from curious claws and teeth, pet proofing your home is a very important step in pet ownership.
TOP TIP – Puppies – shoes? Keep them out of reach and build shoe boxes and put your shoes away. Never allow your puppy to play with a broken shoe. They will not tell the difference between your best shoes and your broken shoes.
Firstly; it's very very important to remember, that if you are inviting a kitten or pup into your home you need to expect a certain level of chewing, and clawing.
If you do not want your best leather lounge to be scratched you can try all sorts of preventative measures, however kitty may just run or jump over and cause some wee scratches over time.
It's a good idea to understand that when you have pets, some previously precious things come at a cost – like that prized leather couch, or the chair leg on Nannas antique dining setting. You can deter this as much as possible in gentle correction, replace (praising and kind way, but it's a good plan to understand that somethings may get scratched, chewed and broken, and that's just a small part of pet ownership. They certainly make up for it with their unconditional love and snuggles.
TOP TIP – Kittens, always have a good quality interesting cat scratching post. When your kitten or cat scratches your couch or carpet pick them up and pop them on their scratching post.
Pet proofing is very important for all homes and pets. According to Pet Insurance Australia a foreign body complication can cost anywhere from $1,000 to an uncomfortable $12,000.That's a lot of money for Rover who has eaten a few socks! With adequate pet insurance you could save up to 80% on these eligible costs, depending on the type of cover, caps and pre-existing conditions.
How to Safety Proof Your Home
When pet proofing your home it's a good plan to get down on the ground a kitten, puppy, cat or dog level. Take a look around. What looks inviting? Those hanging cords from the TV, or computer? Some things to consider;
Cords – with the endless technology at our doorstep comes the endless array of cords. However, there are some nifty products on the market that can keep these tidy and out of reach of curious noses and paws. Make sure all cords are tucked and hidden away and not looking like an enticing toy for your pet.
Plants – do you have any indoor plants? Check these are not toxic to your curious pet. Particularly kittens and pups will tend to chew before they sniff so keep toxic plants out of the house or consider popping them into a birdcage as a wonderful safe and interesting hanging plant display.
Holes – have any holes in floorboards or squeezy access to underneath your home or between walls? They'll need to be patched and secured to prevent little pups and kittens from squeezing into impossible areas.
Fences – it's important to secure fences before you bring your new canine companion home. Check for dig spots under fences, and secure gates for any small areas that a smaller dog or pup may push through.
Medicines and Toxins – get educated on what toxins can cause issues with your pets, remembering that things such as gum that contains xylitol can be terribly toxic to pets. Keep these in a lidded box. Keep all medicines out of reach of pets and treat it as you would a small child.
Toys – these need to be age appropriate. Also encourage children to pick up their small toys that young pups and kittens will love to play with. The main culprits are little blocks/bricks and hairbands that can cause intestinal blockages.
No-go areas – consider not allowing your puppy into the kitchen by using baby gates until your pup is old enough to understand. This will keep them safe while you are cooking or dealing with boiling water. Cats should also be discouraged from walking on kitchen benches to keep them safe from hot drinks spilling and other dangers. Some simple training in the beginning can help keep your pet safe from unseen dangers.
Happy Pet Proofing!
Get the latest Pet Insider Tips & News
We offer award-winning* pet insurance policies to protect your furry friend's health and wellbeing. Get a quote today and give your pets the care they deserve.
get in touch
Do you have any
enquiries about our
insurance policies?
Archives
Categories