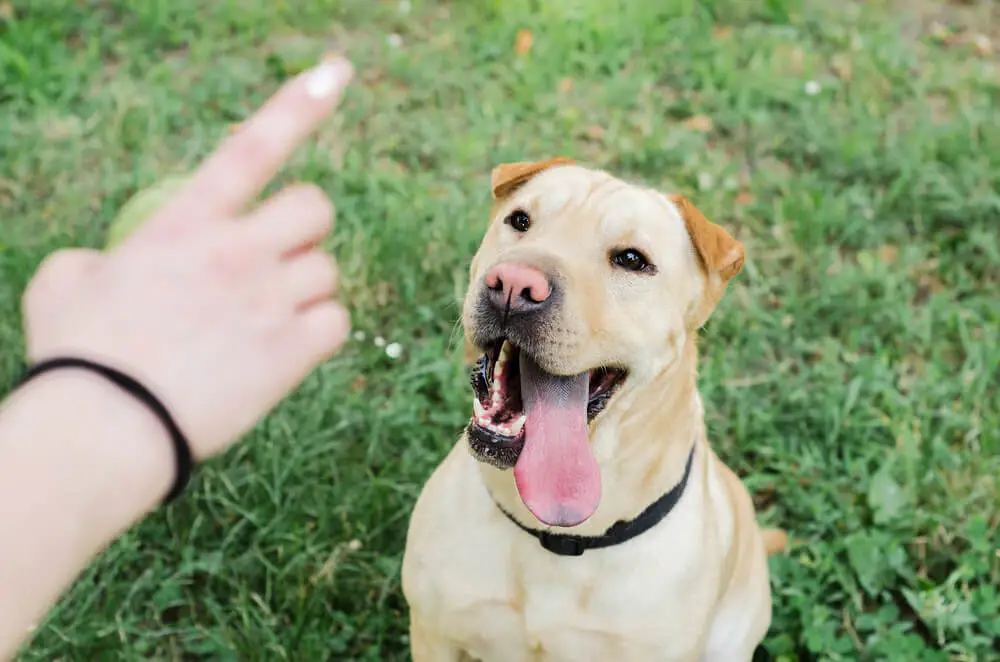 Hardest Tricks to Train Dogs
Teaching your dog how to do new tricks is a very fun experience. No matter how long you've had the little guy, it'll always be a heartwarming sight to see them doing the things you taught them. It's also good for the dog since he'll appreciate the time you spend training him.
There are only so many simple tricks you can teach. Once you're done with the basics, such as sitting, standing, rollover, and more, you'll have to move on to more difficult tricks. This can be a fun challenge for both you and your dog. But what difficult tricks should you train your dog to do?
There are a lot of options when it comes to this. We're here to cover the hardest tricks to train dogs so that you can learn more about the best ones. That said, keep reading to go through our list and see which ones you should try to make your pet learn.
The Hardest Tricks to Teach Your Dog
1. Focus On Me
One of the most important but rather difficult skills you can teach a dog is focusing on yourself. These adorable furballs are always full of energy and want to feel loved by everyone that they see. That's exactly why they never keep their attention focused on one person.

Teaching your dog to focus on you and only you can be quite challenging as a result. But, it's well worth the payoff since it'll make it easier for you to train your dog in other ways. It'll also hone the dog's concentration and make it easier for him to focus in certain situations.
2. Do A Handstand
Sure, it's easy to teach your dog how to stand, and most of them know how to do it. But, what about a handstand? It's a difficult trick for some people to learn, let alone dogs. It can be easier for littler breeds to learn this, while it can be a lot more difficult for larger ones.
While it isn't a trick as useful as the last one, it's still quite impressive and can be a fun challenge. With enough work, you should be able to teach it to any dog. First, try to get them to handstand next to a wall. After that, work your way into training them to do one without walls.
3. Play The Piano
Now, let's get one thing out of the way first; obviously, you can't train your dog to become the next Beethoven or anything like that. The little guys won't play the instrument properly, let alone perform full songs. Still, it's possible to make them try their best at the piano.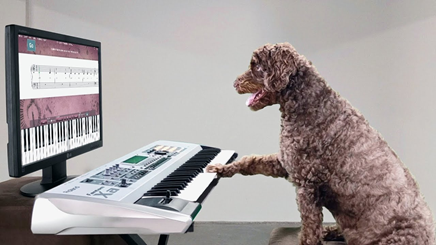 You can teach them to sit properly and tap the keys lightly to make actual sounds instead of noises. It may sound easy at first, but it's very challenging to teach and requires lots of patience. The trick makes for a very adorable sight, though, which makes it more than worth it to us.
4. Clean Up
One of the most difficult tricks to train dogs is cleaning up. This refers to cleaning up whenever they're done playing with their toys. You could maybe even train your dog to pick up other kinds of trash around the house whenever they see it, but that'll make things a lot harder.
It's no secret that some dogs make huge messes around the house while playing. But, with enough patience, you should be able to train them how to clean up after. It's a difficult trick to teach, but not an entirely impossible one if you stay supportive and patient with your pup.
5. Army Crawling
Teaching your dog some new tricks isn't just fun. It can also be very good for the pet as it keeps the dog fit and active. That said, another difficult skill to teach, which can also be great for your dogs health, is army crawling. It can be great for their strength and their stamina as well.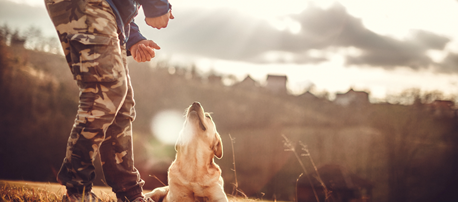 For those unfamiliar, an army crawl is a difficult but useful type of crawl in which your torso is very close to the ground instead of being well above it. Not only does learning how to do so keep them fit, but it can also help dogs maneuver their way through dangerous and tight terrains.
6. Give A Kiss
Dogs are full of love, and they show that with all their licking. It's their way of giving kisses and something that comes to them naturally. But, teaching them how to kiss gently without any licking or saliva can be a real challenge.
This is useful to teach, as many people might not like getting licked by a dog. If you train your dog to give gentler kisses, they'll find it easier to share their love with more people. Teaching this particular skill can be fun and make it easier for all owners to bond with pups.
7. Walking Backwards
Because of all their energy, pups can get themselves into some very dangerous situations. For example, they might pick fights with other animals or something similar. Walking backward to give yourself a better chance of escaping can be very useful in situations like these.
It's a difficult trick to teach dogs, but you can manage it with enough practice. Just walk backward yourself and then try to get him to follow what you're doing. With enough trying and encouragement, pet owners should be able to train their little buddies how to do so with ease.
8. Cleaning Paws
Just like dirty shoes or even dirty feet can cause a lot of messes around the house, so too can dirty paws. That's exactly why training your pup to wipe their paws while coming in from outside can be a useful trick. First of all, we recommend that you get a good doormat.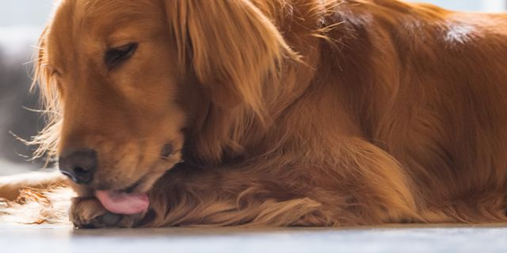 The best choice is something soft but effective that won't hurt their paws. Give your dog some demonstrations of you cleaning your own feet on the mat, and he should do the same. This can save you a lot of effort, and you'll notice your house being much cleaner from now on.
9. Go To The Toilet
Many people take their dogs outside or find some other way for their dogs to relieve themselves easily. But, a few people have taken the effort to train their dogs to go to the toilet instead. This isn't an easy thing to train them for and will take a lot of effort.
Usually, it's much easier to take your dog to the park or just outside your house. But, this skill can be great for any dog whose owner has mobility problems and can't get up every once in a while. That's because this skill makes it easier for the little guy to relieve himself without help.
10. Play Fetch
If you watch movies or cartoons often, you'll see that dogs are always perfectly obedient while playing fetch. Well, it's not as easy in real life! Pups tend to run off with the ball or other things they're supposed to be fetching or sit in one place with the thing in their mouth.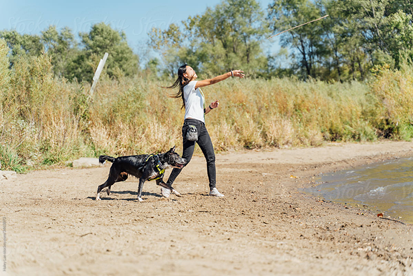 Training your dog to play fetch is difficult but worth it. It can be a very fun game for both of you to enjoy together and help you bond. It also helps both of you stay active. Plus, it can be a good excuse to get out of the house now and then with your dog.
11. Peekaboo
Last but certainly not least, another difficult but certainly adorable trick that you can train dogs to do is playing peekaboo. Seeing the little guys cover their faces with their paws and jump up is just the cutest thing. You can teach your dog how to do it with enough practice.
It's not hard to teach compared to other tricks on this list. But it's very time-consuming. You'll need a lot of patience and to use a lot of positive reinforcement while teaching this particular skill because your dog won't be able to do it at first no matter how hard you try.
Conclusion
These are some of the hardest tricks to train dogs. All of them are helpful in their own way, and you might enjoy teaching them to your pet. It can be adorable to see them try all of these different things out, which can help you bond with them simultaneously.
They're all on our list for a reason. They take a lot of time to learn, and you must be patient with any dog while teaching them. Reward them when they do well, wait for them to improve, and give them lots of love. That way, you can train them to do any trick on our list.
Get the latest Pet Insider Tips & News
We offer award-winning* pet insurance policies to protect your furry friend's health and wellbeing. Get a quote today and give your pets the care they deserve.
get in touch
Do you have any
enquiries about our
insurance policies?
Archives
Categories