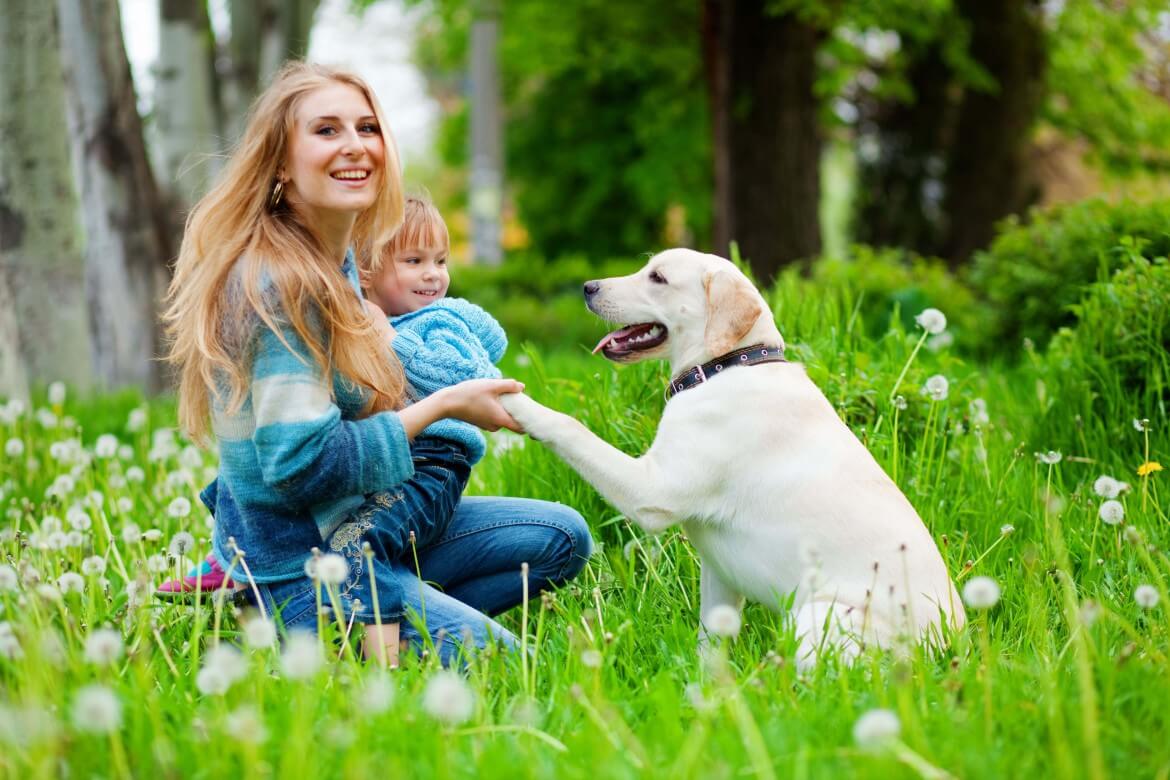 Easiest and hardest dogs to train
How Trainable Is Your Dog?
Many dog owners often wonder how trainable their dog is. To answer this question, it is important to understand the amount of effort and time which goes into training a dog. And for any owner to be successful with training their dog, they need a firm understanding on what makes them trainable in the first place.
The truth is that dogs are not all equal in terms of being able to learn new tasks and follow commands. There are dogs who can learn new tasks with relative ease and then there are some who will always be considered as being stubborn and hard to train.
However, it is important to point out that regardless of how trainable the dog is, all dogs can learn new skills and comply to commands if proper training methods are used. Below is a list of some of the easiest and hardest dogs to train. If you are thinking about adopting a dog, we suggest you read through our list.
The 5 Easiest Dogs To Train
Poodles
You might be surprised that this curly white haired dog is highly intelligent and usually easy to train. Yes, you read right. Poodles are seen as one of the most obedient breeds that make great services dogs, rescue dogs as well as hunting dogs. Poodles come in all sizes and they make great companions. They love to be around people and are very protective over their owners. Poodles respond well to praise and enthusiasm.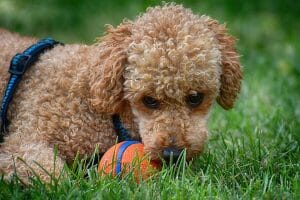 German Shepherd
German Shepherds are almost always associated with the police force, marines or the military. Why? They do make excellent service dogs, because they are a very clever and adaptable breed. But they are just as happy in a family home. They may look scary, but they are lovable and protective. Training a German Shepherd won't be difficult, because they are eager to learn and will work hard. If you are planning on adopting/buying a German Shepherd make sure you set the rules early in his/her puppy years.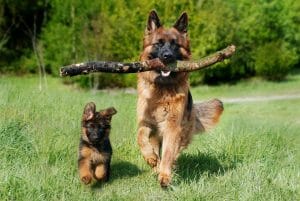 Labrador Retriever / Golden Retriever
A Labrador Retriever is one the most popular breeds in the world. They have so many different talents and offer an array of services e.g. bomb sniffing or drug sniffing dogs, rescue dogs and even service dogs to help the disabled or blind. One of the most loving, affectionate, obedient and patient dogs. Trainability is not even a question here. If you are looking for a family dog or a dog to help with any service, then this is usually the perfect fit.
The Golden Retriever is also a very popular dog, but more fitted for a family. They are seen as man's companion, especially for hunting. This breed is very patient and very easy to train. They are excellent with kids and would make a perfect family dog. You don't need to worry about hours of training, the Golden Retriever breed usually learns quickly.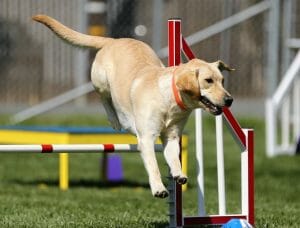 Doberman Pinscher
The Doberman Pinscher is a German breed. They were trained to be police/watch dogs in the past and today they still do exactly that. They are easy to train and make great guard dogs in family homes. They can be ferocious when necessary. Reliability and nobility are one of their two strongest features, but they also have gentle and loving hearts. The key is to raise them with love.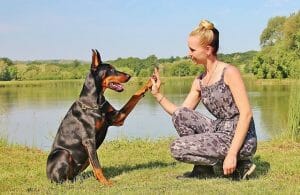 Border collie
A Border collie is probably one of the hardest working dog breeds out there and is regarded as the most intelligent dog too. They live to work and they are good at it. The Border Collie is very energetic, trainable and acrobatic. If they are trained, they will listen to your commands. They always need to have something to do, so an apartment is usually not the best idea. If you are considering adopting/buying a Border Collie, remember they might not make the best house pets. It would be cruel to expect them to sit around a house and do nothing. If you have a farm or very big yard on the other hand, then this is could be the perfect pet for you. Always play games with them and if you can, use them as a herding dog.
Knowing the above mentioned facts is very important when you are considering adopting/buying a puppy. There are so many factors that influence the breed you are considering. Always remember that dogs do differ and they need different environments to survive and be happy. So, take these points into account and go find the breed that would best fit your environment, family and personality.

The 5 Hardest Dog Breeds To Train
Bulldogs
The bulldog may be intelligent, but they are very stubborn animals. Despite their quite scary name and appearance, they are a lovable and affectionate breed. If you are thinking about adopting a bulldog, remember it will take a bit of time and patience to get them to listen to your command. But once you train them, they usually become excellent, courageous guard dogs. The best way to train them is to find something they love and then incorporating that into their training.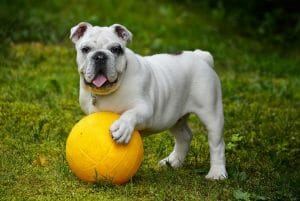 Pekingese
A Pekingese might be small, but they have very independent, dominating personalities. Yes, they look cute and you just want to squeeze them when you see them, but they are usually very hard to train. To train them you have to be firm. Don't let there be any inconsistency in your training sessions. In fact your training session should be a constant process. These adorable creatures are also very loyal to their owners and surprisingly they make good guard dogs. Just remember, impatience will never work. If training takes a backseat, don't get mad. Just love them unconditionally.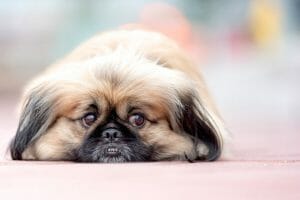 Basset Hounds
Basset Hounds have puppy dog droopy eyes, long ears and an excellent sense of smell. They might lack a bit of intelligence in the training department, but they are devoted to their owners. They are perfect family dogs since they have great tempers and are good around people. One of their strongest instincts is to follow their nose, so they do get easily distracted. Let them smell first and then continue with their training. Keep training sessions short, but if you are just looking for a lovable dog then a Basset Hound is for you.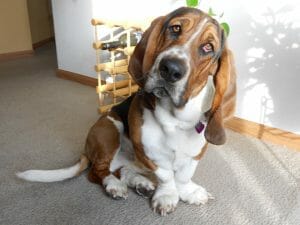 Bull Mastiff
A bull Mastiff is one of the largest dog breeds available and they can weigh up to 60 kilograms. These big, burly dogs are great guard dogs, but they are extremely stubborn. Training a Mastiff can be a difficult task and previous dog training experience might come in handy. If you do plan on adopting or buying a mastiff, remember they are big, but they are sensitive. Try to speak in a soft, kind voice when you command them. This might sound weird to you, but remember as I mentioned they are big and they now it. Trying to command a big dog to do something can be daunting. Lastly, keep the training sessions short and sweet.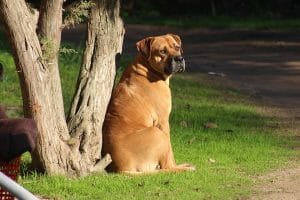 Chow Chow
The Chow Chow is similar to a cat, very stubborn. They are probably one of the cutest dogs out there and they do make perfect cuddle buddies, but they demand attention though and can get quite jealous when you have visitors at home. The saying 'jealousy makes you nasty' is true with this dog breed and they can take charge of their owner quickly. You have to be firm, because they are not stupid. Train them to see you as authority and they will respect you. And always, always cuddle them. You'll both love it.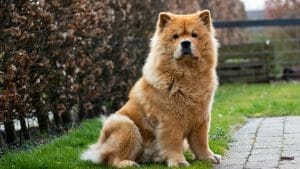 Every Dog Is Different
Every dog is different with their own personality. We all have our own ideas on how trainable a dog is. Some dogs sit the first time you tell them to and other dogs just don't understand the concept of listening. A lot of trainability has to do with the breed of the dog and you should never be impatient with them. Just like you and I dogs also have good and bad qualities. But always remember though, with every bad feature comes a positive feature.
Think back, you have probably seen those dogs on the television doing all kinds of smart tricks. You probably thought to yourself wow, how do they do that? It does take a lot of training, but their breed does have an influence on their trainability. Some people would want a dog like that and others won't. There is nothing wrong with hard-to-train dogs. They are also loveable and excellent friends.
So there you have it, there is one thing more important than having a dog: being able to handle your dog successfully. The right training approach can make all the difference, and you must know what you're up against before you get started.
Get the latest Pet Insider Tips & News
We offer award-winning* pet insurance policies to protect your furry friend's health and wellbeing. Get a quote today and give your pets the care they deserve.
get in touch
Do you have any
enquiries about our
insurance policies?
Archives
Categories