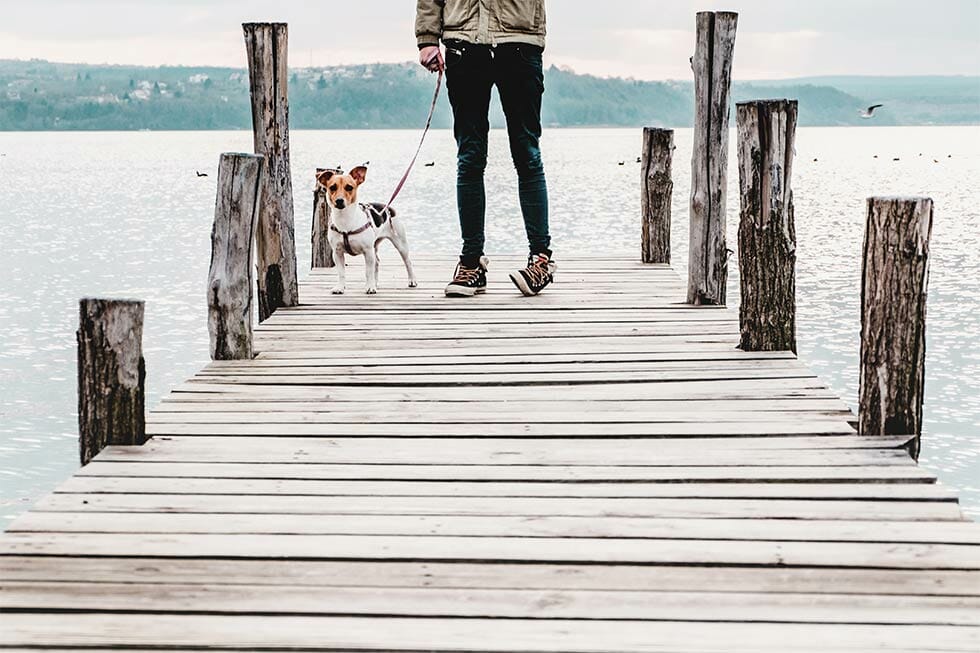 A Cheat Sheet for Travelling With Your Dog In Australia
Travelling with your dog in Australia can be a really rewarding experience. However, you must research and plan well to truly enjoy the family holiday. 
If there was something negative about travelling it has to be leaving pets behind. In such a short time pets become part of the family, showering us with unconditional love and affection. So while the thought of escaping on a holiday may be just what the doctor ordered, the prospect of leaving your pet behind clouds any excitement.
However, with a bit of pre-planning and extensive research, your pet could make a great holiday accessory. If Schnitzel the Miniature Daschund from Sydney can visit 33 countries, your dog is more than able to travel around Australia with you!
What is it really like to travel with your dog?
While it may require some additional research and cost a little extra, travelling with a dog can be quite a rewarding experience. With most landmarks like national parks being off limits to dogs, you are forced to go off the beaten track. Therefore discovering sights and cultures that you otherwise may have missed altogether.
Looking after a pet on holiday's is just like looking after a pet at home. Highlighting why so many owners are taking their pooches on the road with them. Travelling with your dog will take the guilt out of holidaying while also opening you up to new experiences.
Related: Dog-Friendly Holidays in Australia
6 things pet owners should know before travelling
With a lot of hotels opening themselves up to pets, travelling with pets has never been easier. Of course, there are rules to abide by, but following the rules is much better than having to leave your dog behind. With this in mind, below are 6 things that pet owners should know before travelling.
1. Check your dog's health and safety before leaving for a holiday
If you're travelling with your pets across state and territory borders, owners should be aware that some biosecurity rules may be in place. Additionally, extra checks may apply for transporting your dog.
Currently only Tasmania has a requirement when transporting dogs into the state. This requirement states that dogs must be treated for the hydatid tapeworm within 14 days of entry. Owners must have evidence of this treatment in the form of a statutory declaration or pill packet.
2. Know the rules for driving with dogs in Australia
In Australia, there are no restrictions or extra fees if you drive your dog in your own car. However, it is important to note that most hire car companies have restrictions when it comes to transporting dogs in their cars, such as keeping your dog crated.
If you need to hire a car, the best course of action is to ring up the specific company and check their rules and regulations when it comes to travelling with pets. While some companies may not allow pets in their cars, others may simply require that the car is returned with no visible signs of pet hair.
3. Inquire how flexible the train network is when it comes to travelling with dogs
As public transport is organised by each state government, rules for travelling with dogs varies between each state. It should be noted that pets are not allowed on long distance trains, nor are they allowed on NSW Trains or Queensland Rail.
Victoria is the most dog-friendly state in Australia when it comes to public transport. The only other state or territory that allows pets on some form of public transport is Canberra. While Victoria allows dogs on their transport systems, there are strict rules.
Small animals can travel with you on Victorian trains, trams, and buses in a suitable animal container. While dogs can travel as long as they're on a lead and wearing a muzzle. Owners must clean up any messes, keep their dog under control and avoid travelling with their dog in peak times during the week.
4. Does your dog need to be sedated?
Dogs should not be sedated before any type of travel. This is because sedating a pet before travel can actually increase their risk of dehydration and travel sickness. In light of this, many airlines will not allow a pet to fly if they appear to be sedated.
5. What is the quarantine time for international travel
When it comes to international travel, the standard quarantine period is 10 days. However, you need to be careful about where the pet is travelling from. If a pet is travelling from a Group 1, 2 or 3 country, the quarantine is standard. Group 1, 2 and 3 countries include locations like Europe, America, and New Zealand.
6. Speciality services for pet travel
The travel industry is beginning to understand just how much we love our pets. Subsequently, a range of specialty services for pet travel has become available. From pet sitting communities like Mad Paws to Jetpets Animal Transport who provide door-to-door pet transport services, looking after pets during a holiday has never been easier.
Getting the best out of travelling with your pet
Travelling with your pet can be a very rewarding experience. Having a pet with you on the road will open up a whole new set of previously unthought-of adventures. However, travelling with a pet does require a lot of planning and preparation.
Making the most out of travelling with your pet requires two types of research. Firstly, how to safely transport a pet from point A to point B. Secondly, what places actually allow pets. This research ensures that your pet will be both safe and happy while on holiday with their family.
Photo by Maria Teneva on Unsplash
Get the latest Pet Insider Tips & News
We offer award-winning* pet insurance policies to protect your furry friend's health and wellbeing. Get a quote today and give your pets the care they deserve.
get in touch
Do you have any
enquiries about our
insurance policies?
Archives
Categories