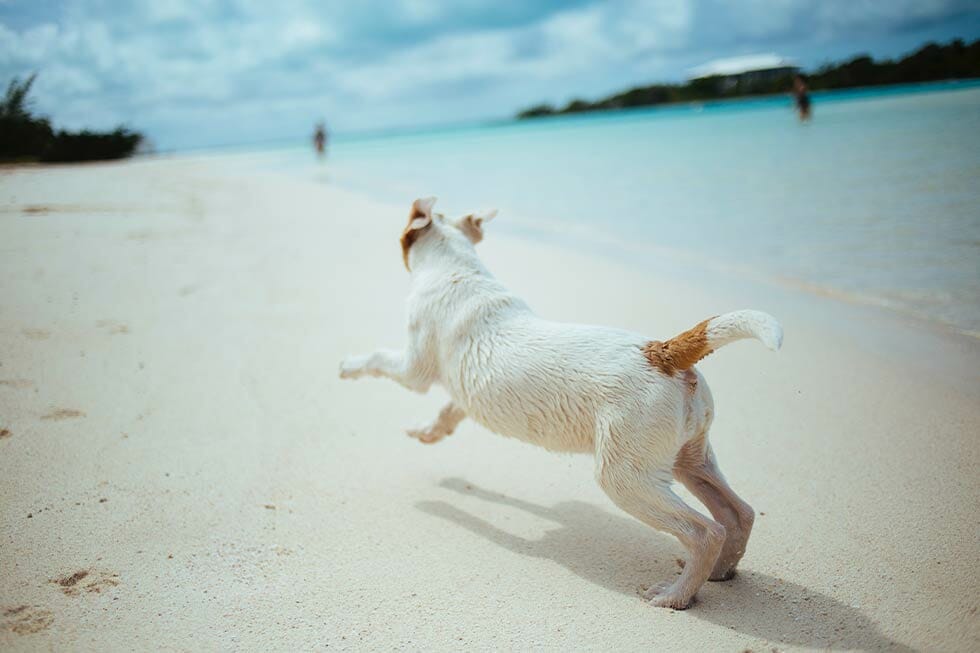 Dog-Friendly Holidays in Australia
Looking for the perfect pooch-friendly holiday? Pet Insurance Australia catches up with Kerry Martin, a Victorian award-winning pet photographer, and editor of Puppy Tales. PLUS: Top 10 places to visit with your dog this summer.
Surf, sand and the sound of a happy panting dog. Can life get any better? But finding the perfect dog-friendly holiday destination can be a difficult task. Pet Insurance Australia knows how important our canine companions are. For many, the thought of leaving the beloved pooch behind as the family travels is incomprehensible.
The great news is there are many dog-friendly holiday options for those wonderful family breaks. Meaning; Rover doesn't need to miss out on all the action and sit out endless adventures for a week with a sitter.
Meet Kerry Martin, she's been traveling alongside her husband Sam, on a 14-month long adventure, covering 56,400km around Australia with her fur-kids Keiko and Summer!
"We always try to include our dogs – whether it's for a day or a holiday," she says. "This became truly apparent when we headed overseas for my brother's wedding in Thailand. While we arranged a great dog sitter to stay in our house and care for Keiko, we were always thinking about what he might be up to and checking our emails for updates so that we knew he was well and happy."
Traveling with your pets and holidaying with your dog does take a good set of planning. Pet Insurance Australia advises researching your desired locations in detail.
"Get creative and develop the perfect pet holiday Itinerary, with detailed planning," Nadia Crighton from Pet Insurance Australia says. "It's also really important to check in regards to medical problems like tick-areas, so have a check-list of places to visit alongside all the preventative measures to keep your pet safe."
TOP 10 DOG-FRIENDLY HOLIDAY DESTINATIONS AUSTRALIA
"It's really hard to pick only 10 and it probably changes on different days when I think about it!  There are so many incredible places that we've loved visiting."
Dinner Plain, VIC – Snow with your dogs is the ultimate bucket list thing!
Coffs Harbour, NSW – beautiful beaches and incredible inland bush & rivers.
Jervis Bay, NSW – the prettiest beaches in Australia which includes many that are dog-friendly (both on and off lead).
Atherton Tablelands, QLD – This was a surprise to us but we really enjoyed the walks/hikes that we could do here and the water spots we could visit. I also stayed overnight at the drive-in with the dogs!
Coober Pedy, SA – Here we found was beautiful and iconic outback plus stayed underground.
Kangaroo Island, SA – Beautiful spot – incredible beaches, bush areas, and friendly dog-friendly cafes and small local businesses. And quieter than on the mainland.
Denmark, WA – Again a beautiful spot!  But this time the added extra was great dog-friendly wineries!
Beechworth, VIC – We love the walks that you can do around Beechworth and the history that's to be uncovered here.
Bay of Fires, TAS – we free camped here. An incredible place to do not much more than walk along the beach, swim and relax.
Canberra, ACT – we really enjoy visiting here. Lots of places to walk, dine and head with your dogs.
Huon Valley, TAS – So pretty, so green and lots of beautiful vistas out over the water (whether than be ocean or river!).  There's also some fabulous dog-friendly cidery's that you can visit.
IMPORTANT RESEARCH – BE PREPARED
"It's important to do your research before setting off to ensure where you are intending to visit will welcome your pet," Crighton recommends. "It's also good to remember that most National Parks are off-limits for dogs, so it's important to do your homework of where you can and can't go."
Booking up your accommodation well in advance is also suggested to avoid stress and confusion as many places will not accept your pets.
"The rate of pet-friendly places is growing yearly, with many options now available including camp-grounds, holiday homes, and even campervans," Crighton says. "Airbnb Camplify has one in three Australian listings as pet-friendly so there is no excuse to get planning today."
"If you're thinking of embarking on a grand adventure like ours, do some smaller trips with your dog's first. Make sure that they love traveling as much as you do!" Kerry adds.
It's also a good plan to brush up on your dog's training before you go to keep your pet safe.
DOG HOLIDAY CHECKLIST
Spare collar & lead
Microchip & registration information updated
Updated pet tags
Vaccinations up-to-date
Tick prevention
Flea & worm prevention
Itinerary of events & places
Food
Treats
Toys
Bedding
Portable water
Medications
Pet first aid kit
"A good tip is to have a contact back home and add this number, alongside your own, on your pet's tags as an emergency contact," Crighton suggests. "Just in case you are out of phone-range and your pet goes missing."
Kerry also advises taking extra supplies when traveling to smaller destinations.
"Take spares – extra food, medications, collars/leads, etc because you might not be able to find what you need across Australia, especially in small towns."
This post was featured on:
Feature picture by Meg Sanchez
Get the latest Pet Insider Tips & News
We offer award-winning* pet insurance policies to protect your furry friend's health and wellbeing. Get a quote today and give your pets the care they deserve.
get in touch
Do you have any
enquiries about our
insurance policies?
Archives
Categories