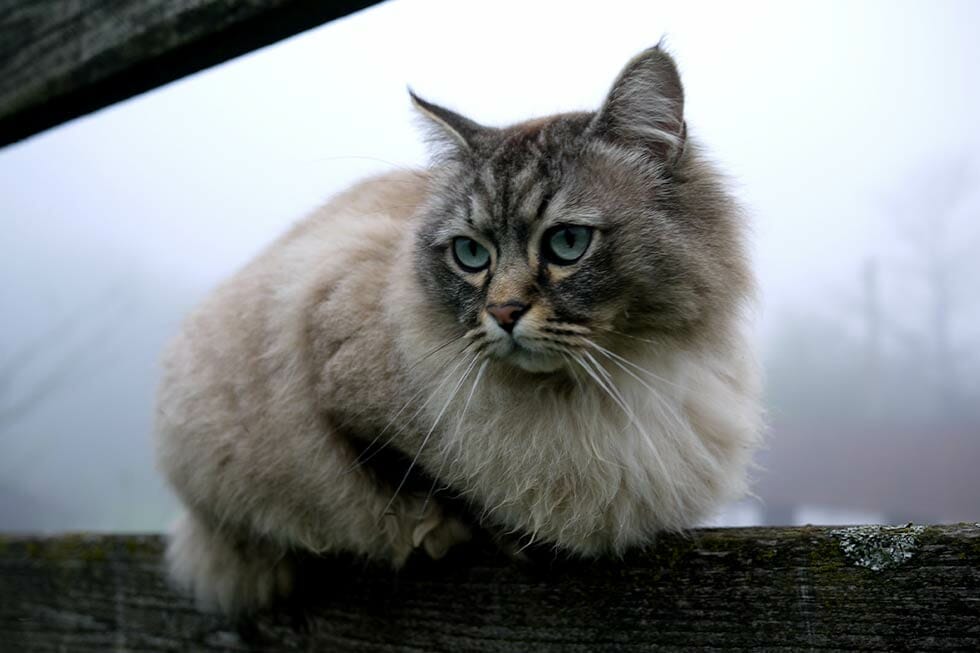 Winter Cat Care
From self-grooming to wriggling through the impossible of passages, our feline friends sometimes seem entirely self-sufficient. In winter, however, cats need our help to stay warm and safe as the cold weather hazards can be a great danger to their health. Whether you keep your cat indoors or outdoors, these winter care tips will definitely come in handy to protect and meet the needs of your furry companion.
Keep their sleeping area cozy and warm
Cats enjoy warm nooks and cozy beds, which can keep them from wandering around outdoors. Utilize the vertical space as these natural climbers will enjoy sleeping on shelves, chairs, cat trees and scratching posts, which will also keep them safe from the draft and cold floors. Heated cat beds, cat caves and enclosed crates are purrfectly secured and cozy for the cats to get tucked up in a narrow and small space.
Provide plenty of water
Cold weather brings dry air and the possibility of dehydration. Your cat should always have access to plenty of water, both inside and outside the house, so if you're away a lot for work or prone to forgetting, it's wise to invest in a cat water fountain. Anti-freezing water bowls are also great for the cold winters since they have a heating mechanism that always prevents the water from turning into solid ice.
Provide shelter, food and water outdoors
Some cats just like to roam around outdoors all the time, which makes them even more exposed to the cold and dangers. If you can't make your kitty to get back inside, create a small shelter near the house, with fresh water and food inside. The shelter should be high from the ground and the entrance away from the wind. Consider adding some extra padding, but make sure there's a waterproof layer underneath that will not retain moisture or create mold. It can turn out crucial in the blistering nights.
Watch out for garage dangers
If your cat is comfortable spending time in your garage, there are possible dangers to be aware of. A bottle of Antifreeze, for example, will commonly have its place in a car garage, however, it is highly toxic and potentially a health threat to your furry friend.
Since cats can reach anything that sparks their interest, make sure to keep all the chemicals, sharp tools, engine oil, etc. locked in cabinets or simply in a different room. In cold weather, a car bonnet is a safe and warm and common place for a cat to crawl under, so before you start the engine, tap the hood a couple of times and go around the wheels and tires just in case.
Winter hazards around the house
Wintertime means getting warmed up and comfy around the house, but for your cat, it can mean hot stoves, a burning fireplace, burning candles, hot radiators, and other wintery dangers. Never leave your cat unsupervised around open flames and keep the cat in rooms where he or she cannot get burnt or injured.
Look for the dangers of low temperatures
If your cat likes to spend most of the time outdoors, watch out for extremely low temperatures as they can cause dangerous frostbites and even mild hypothermia. The frostbites usually appear on the tips of the ears, tail, and paws, mostly pale and greyish in color. Symptoms of hypothermia may include shivering, muscle stiffness, low blood pressure, and short breath. Make sure to immediately contact the vet if you notice any of these signs.
Although cats will typically sense by themselves when they are uncomfortably cold, monitor the time your pet spends outdoors as some cat breeds are less resilient to icy weather.
When indoors, carefully dry your cat with a towel and make sure their paws are dry. The best solution to cold hazards is to keep your cat inside for the sake of their safety, at least during the freezing days.
Make the time spent indoors appealing
To keep your cat indoors as much as possible, you can always engage in fun activities to spend some quality time together. Cold winter evenings are perfect for curling up in a warm room and playing with your pet companion. This mental stimulation and the interactive play will not only strengthen your bond but also keep your pet's mood high. Cats enjoy anything they can toss around a chase, so you can use a simple shuttlecock and a string to create a plaything for the cat. A classic red laser pointer chasing will keep any cat busy, and you don't even have to move from the couch.
Use these simple suggestions to upgrade your cat's winter care and keep him or her secure and happy during the colder days.
Photo by Brett Jordan on Unsplash
Get the latest Pet Insider Tips & News
We offer award-winning* pet insurance policies to protect your furry friend's health and wellbeing. Get a quote today and give your pets the care they deserve.
get in touch
Do you have any
enquiries about our
insurance policies?
Archives
Categories