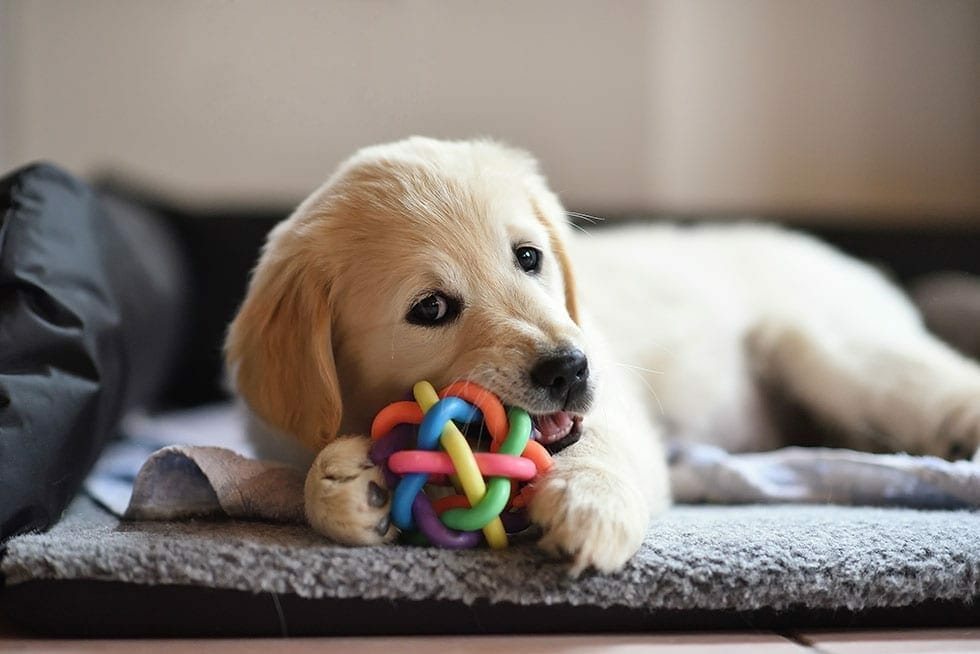 Top Puppy Pet Supplies
Getting ready to invite a new puppy into your home? Pet Insurance Australia takes a look into all the products, and services you need to think about before your new family member arrives.
There is nothing more exciting than the anticipation of a new puppy. Inviting the pitter-patter of pads into your home is simply one of the most joyful journeys a pet owner can experience. However, before your new bundle of fluff arrives, it's a good idea to get prepared with all the important stuff.
Basic Puppy Supplies
There are some basic things that all puppies will need when arriving into their new home. These include:
Bedding – ensure your bed is the right fit for your puppy. If it is too big, your wee pup will get lost in all the padding. Too small – will just mean a super uncomfortable situation. Correct sizing is important, as too, looking for a bedding with high sides. Remembering that your pup has come from cuddling up to a few litter mates and their mum, so they will want to feel secure and able to really snuggle down.
Leads & Collar – Like with bedding, it is very important that this is the correct fit for your pup. For young pups use a very light lead will allow your puppy to get used to the feeling of being on lead. Collars need to fit correctly for safety reasons. You should be able to snuggly slip two finger widths under your dog's collar at all times. If it is too tight, it's time for an upgrade. Too loose? Could cause snagging that can lead to choking.
Food & Water – new puppy owners also need a small food and water bowl. Again, depending on the size of your breed this may need to be upgraded as your puppy grows, so go for the cheaper alternative. Keeping your puppy on the same food their breeder was using is also important. If you wish to change this food to a different brand, it is advised to wait until your puppy has settled in your new home (normally a few weeks) and then go very very slowly to prevent tummy upsets. Always feed your puppy the correct food for their age. It is vital at this stage your puppy gets all the correct nutrients to grow into a strong and healthy dog.
Toys – think some snuggly ones for bedtime, and some chewing ones for play time. Get a good selection of toys and pop some away. By rotating your toys daily, you'll keep your pup interested in the toys and not looking for some alternatives – like your best leather shoes. It's also a great way to check toys for any damage that can cause obstructions.
A Pen/Crate – if you haven't' considered crate training, it is still a very good idea to have a pen area for your pup that they can go and sleep undisturbed during the day. It's also a wonderful place to pop your puppy when you are unable to 100% supervise. Having a crate/pen area also helps with basic training and toilet training. However, no dog, or puppy, should spend endless hours in this area. In this area should be their bedding and water bowl, and a few snuggly toys.
Travel Crate – you'll also need a good crate to transport your pup between vet visits. Many pups will fit into a cat carrier at first, but this will need to be upgraded as they grow. Many owners will then invest in a seatbelt type halter for their dogs to keep them safe while in the car.
Other Services?
Other services your puppy may require include:
Finding a good vet – Take a walk through your local vets and find the one that feels right for you. Talk to the vet nurses and you can even get your puppy signed up and ready for their first vet health check.
Puppy Preschool – these book up very fast, so it is important to book up a puppy-preschool well before you take ownership of your puppy. Puppy preschools are wonderful for safe socialization in the early days, and also basic training.
Pet Insurance – When it comes to pet insurance there are some very important things to consider. One of the biggest is; pre-existing conditions. These are conditions that insurance providers generally do not cover. For example; if your pet was treated and diagnosed for a skin condition at the veterinary clinic before you took out your pet insurance policy, skin conditions would be considered 'pre-existing' meaning that for the life-time of your policy you would not be able to claim for anything skin related. Signing up to pet insurance during puppy-hood or kitten-hood may help prevent the occurrence of pre-existing conditions.
Get the latest Pet Insider Tips & News
We offer award-winning* pet insurance policies to protect your furry friend's health and wellbeing. Get a quote today and give your pets the care they deserve.
get in touch
Do you have any
enquiries about our
insurance policies?
Archives
Categories