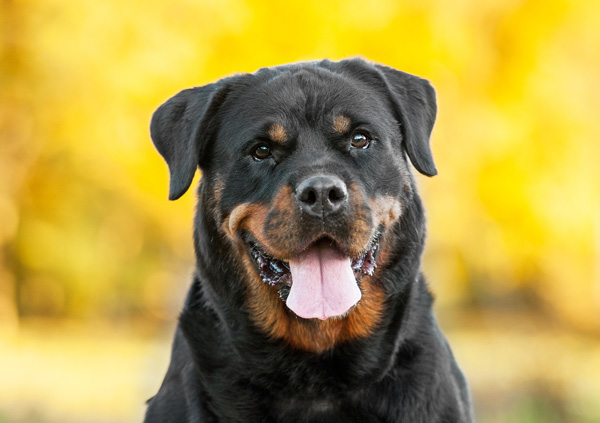 Rottweilers
Everything You Need to Know About

Rottweiler

Dog Breed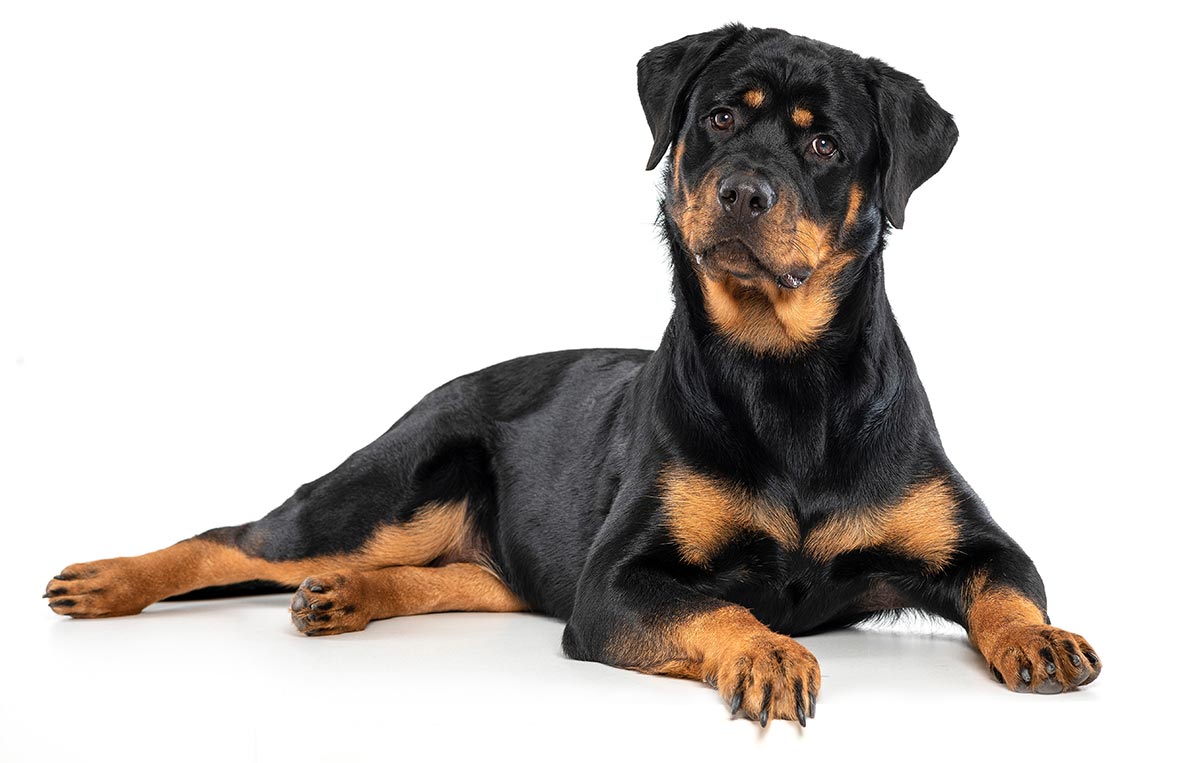 Rottweilers, or Rotties, as they are known, are incredibly loyal and loving dogs with a natural streak to protect.
Rottweilers make excellent guard dogs and can be fantastic family-friendly dogs in the right home.
The Rottweiler dog breed is concerned by many to be one of the oldest living dog breeds in the world and has a long, rich history in protecting humans and driving cattle.  
Rottweiler Origin
Known in Germany as the "butchers' dog" due to their livestock herding and butcher cart pulling duties, the Rottweiler dog breed descended from cattle-driving mastiff-type dogs.
History suggests the Roman legions left behind the breed in Rottweiler Metzgerhund, Germany, when the Romans abandoned Germany in the 2nd century CE.
Germany embraced the Rottweiler dog breed as a robust working dog.
After WW1 the breed grew in popularity and now grace the homes of many around the world.
The Rottweiler Dog Breed History
Rottweilers were once "Roman Drover Dogs".

When the Romans journeyed across Europe, they made exceptional use of herd dogs to drive and guard cattle.

Rottweilers are named after a town in Germany.

Rottweiler Metzgerhund is where this loyal and courageous breed of dog inherited its name. 

Rottweilers nearly became extinct in the middle of 1800.

The near-extinction of the Rottweiler was blamed on industrialisation as railroads and roads were built – making it much easier to transport herds of stock.
However, fans of the breed kept this wonderful dog breed alive and ensured they continued to have an active
job
to do.
Rottweilers are well-known in fiction. "The Good Dog Carl" book for children is a familiar series about a Rottweiler.
Rottweiler Personality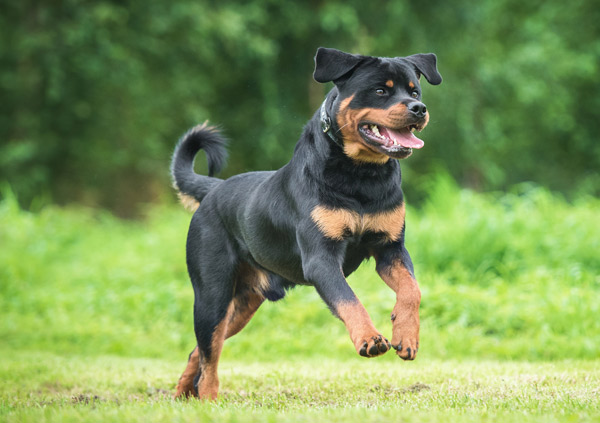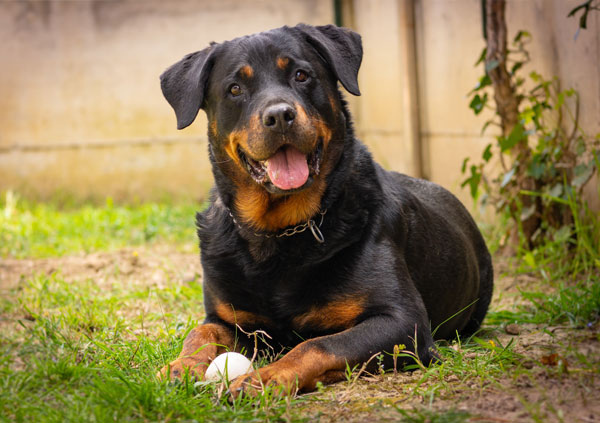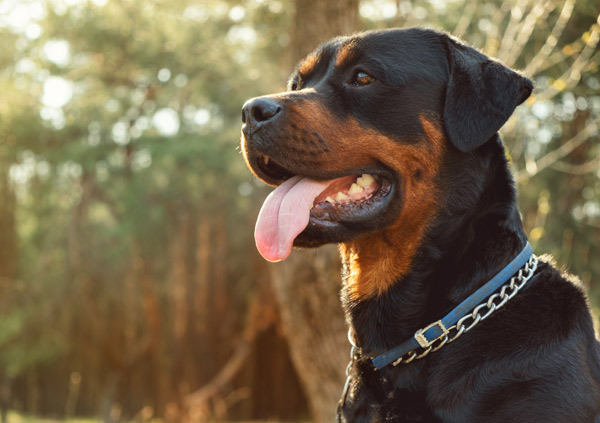 Rottweilers are well known for their protectiveness and aloof confident traits. Making them perfect guard dogs.
Rottweilers are one of the "V8s" of the dog world.
For this reason, the breed requires good training and strong leadership to grow into well-rounded adult dogs.
They are a strong, robust breed known for their gentle nature with those they love.
Positive training is a must and should continue for the lifetime of the dog. As with all dog breeds, Rottweilers will not respond well to harsh punishment forms of training.
Rottweilers are loyal, brave, and very protective of those they adore.
Being a highly intelligent breed, your Rottweiler will benefit from the company of their pack – AKA you and your family. Rottweilers are known to be silly and incredibly loving toward their families.
With their big lips and goofiness, they thrive in busy homes that love the great outdoors.
Personality Traits – Rottweiler Breed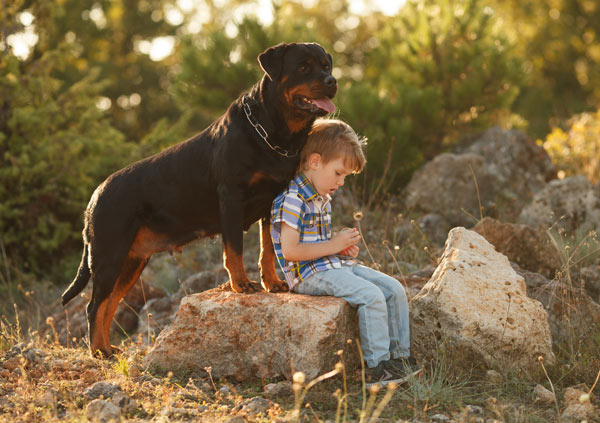 Personality Traits
Protective
With a long history in guarding, the Rottweiler is a natural guard dog and will be very protective of its loved ones.
A strong and confident breed, the Rottweiler is incredibly loyal and loving to its owners.  
Personality Traits
Easy to Train
Rottweilers love to please their strong leaders.
Being very intelligent, Rottweilers are easy to train.
However, you must socialise and train your puppy from an early age. Exposing them to as many people and other pets as possible to prevent behavioural problems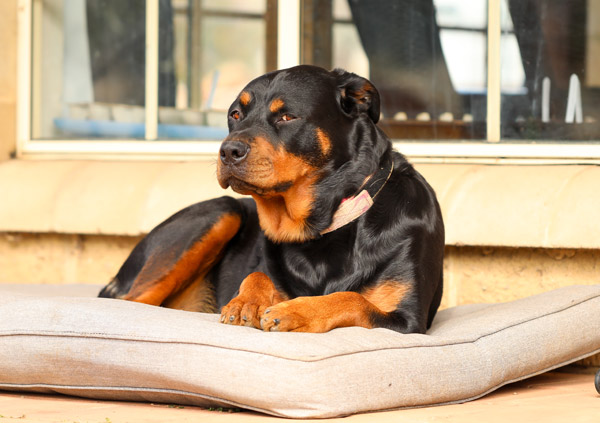 Personality Traits
Independent
Rottweilers are known as independent dogs and, if left to their own devices, will occupy themselves with whatever they find suitable.
Being masters at creating their entertainment, your Rottweiler must not get bored!
A bored dog can be a destructive dog – cue the new shoes. The correct amount of exercise paired with boredom-busting techniques is essential.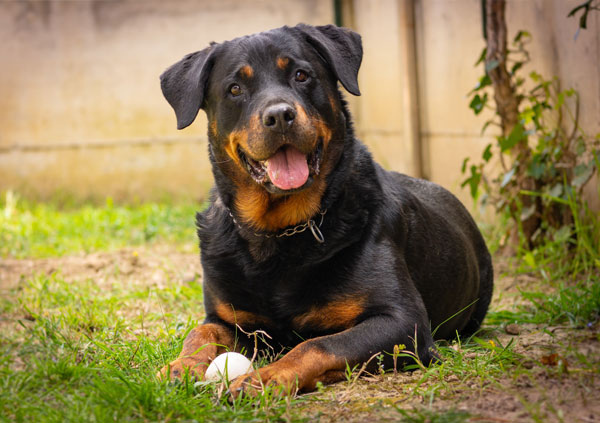 Personality Traits
Intelligent
The Rottweiler dog breed is ranked 9th on the intelligence spectrum for dogs. Making them super intelligent and loyal dogs.
Rottweiler Temperament
Being a natural guard dog, the Rottweiler dog breeds temperament can be very protective.
For this reason, Rottweilers are best suited to dog owners with a decent amount of experience, particularly with training and socialisation.
However, they make loyal and loving pets in suitable homes with a confident and calm predisposition.
The Rottweiler dog breed is not overly aggressive if trained and loved correctly. 
Rottweilers can be slightly aloof; however, they are well-known for their silly side. They adore playing and acting the clown, bringing happiness and joy to those who invite this wonderful breed into their homes. 
Rottweiler Dog Breed – Common

Behavioural

Problems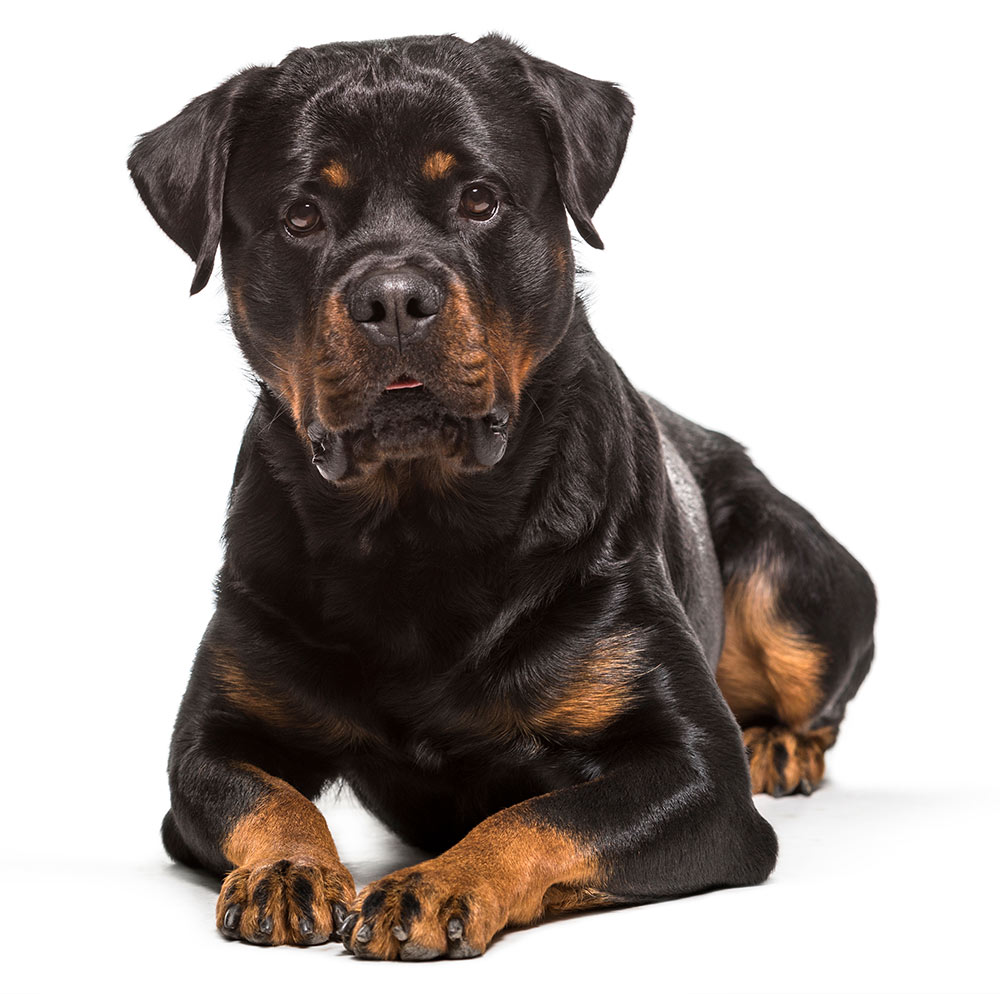 The Rottweiler dog breed will only take nicely to short periods left alone. This is because they create powerful and protective bonds with loved ones.
However, extended periods left unattended can lead to separation anxiety and destructive behaviours. 
A bored dog will quickly become destructive and exhibit symptoms such as nuisance barking, digging, chewing, and escaping.
Consider boredom-busting techniques, such as rotating your 'home alone' toys daily, and ensure you exercise your Rottweiler correctly. 
It is also imperative that you correctly train your new Rottweiler puppy.
As with any dog breed – aggressive forms of training can lead to a fearful aggressive dog.
Rottweilers are natural guard dogs. If trained incorrectly, this can lead to an overly aggressive tendency towards strangers or those they deem suspicious.
As a large and powerful dog, playful mouthing as puppies should also be limited and discouraged. 
The Rottweiler puppy will be clumsy, as with all fast-growing larger breeds. Their legs and large paws commonly cause them to stumble and trip during play.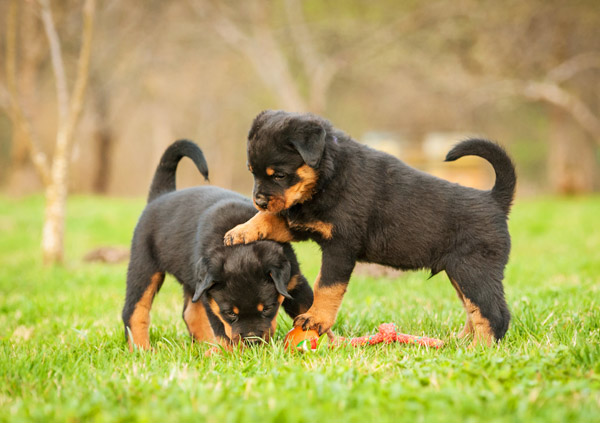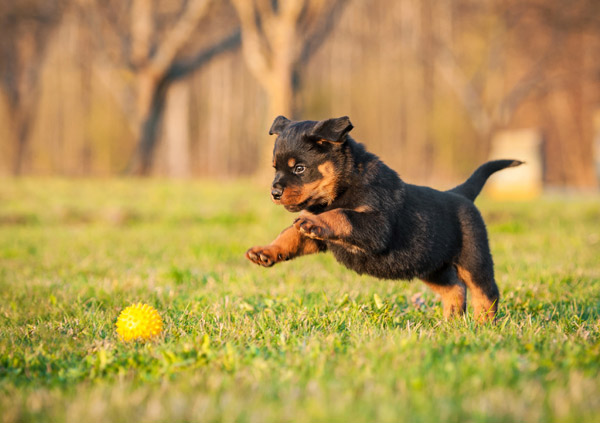 It's important to remember that your pup will grow into a hefty large dog. Discouraging 'cute' puppy behaviour, such as mouthing and jumping, is vital as your pup grows and matures into a fully grown dog.
Rottweiler puppies need as much socialisation as possible.
Rotties have been known to be highly suspicious of other dogs and need as much interaction with people and other pets as possible to prevent future problems. Puppy preschool is highly recommended.
If you are experiencing behavioural issues with your Rottweiler, it is crucial to seek professional advice from an experienced dog trainer.
All behavioural problems can be overcome with patience, understanding, and good training practices. 
Rottweiler Appearance
Rottweilers are large dogs with muscular and lean bodies, able to endure incredible athletic feats with ease.
Males are slightly larger than their female counterparts and both have thick muscular hindquarters and a stunningly strong trotting gait.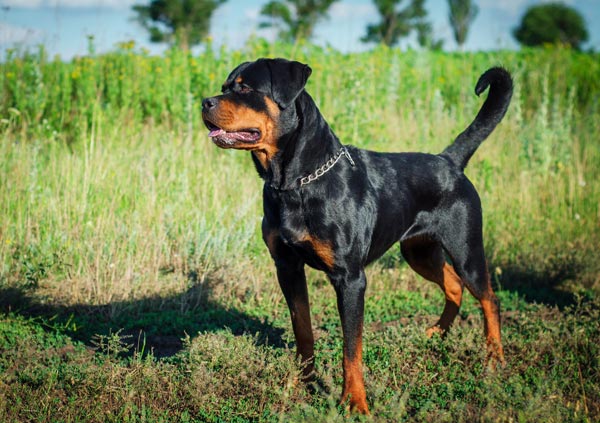 The Rottweiler's colouring sits within the darker ranges of the scale with distinct brown and black markings.
In addition, they have a shimmering short coat and showcase pure muscular strength.
The Rottweiler dog breed has a solid square muzzle with loose lips, often drooling wherever they walk. Being a natural guarding dog with impeccable hearing capabilities.
The Rottweiler Dog Breed – Most Defining Features:
Large-Bodied: Rottweilers are large. This is often why many are attracted to the Rottweiler dog breed. They are intimidating-looking guard dog that has a bark to match.
Muscular: Rottweilers have an athletic and robust build.
Droopy Lips:

A Rottweiler's droopy lips can attract a fair bit of drool, mainly if something delectable is around.
Rottweiler Coat Colours:

Rottweilers are predominantly black with brown faces, paws, and chests.
The brown colour comes in a variety of shades, those shades being tan, mahogany, and rust.
You can read more about the Rottweiler coat colours here.
Adopting a Rottweiler
There are many Rottweilers for sale, but it's always important to remember a few things.
So, when looking for Rottweiler Breeders in Australia, have a lookout for these specific things:
It's in your best interest to look out for breeders with good reviews and longstanding history.

Look out for breeders who don't often have litters available.
This indicates that the breeder has taken the proper precautions concerning breeding Rottweilers.
Breeders who are knowledgeable about Rottweilers.
These breeders should know almost everything there is to know about Rottweilers.
Breeders who would like you to meet your new Rottweiler's parents.

A good breeder will interview you to ensure you meet their requirements as a responsible dog owner.
Also, check their club affiliation and ask questions regarding their breeding reputation.
Use this guide when looking for a breeder you can trust. 
It may seem better to go to a shelter when wanting to adopt a Rottweiler. Still, shelters usually only consist of adult dogs, and purebreds are more challenging to find, but there are always exceptions. 

Adopting through a shelter or rescue should be considered when: 
In search of an older dog. Adult Rottweilers have already matured in training; they adapt to their new homes more efficiently than any puppy Rottweiler would.

You consider giving a puppy another chance at a comfortable life. There are plenty of adorable dogs in need of a home around the country. 
How Much Do Rottweilers Cost?
Rottweilers can cost anywhere from $200 to $4,000. Depending on your breeder or if you choose to adopt one of this precious dogs.
Prices can also vary depending on the breeds popularity and demand for puppies.
Always screen your breeder carefully and ensure you are not contributing to any puppy mill breeding establishments.
Breeders should ask you all the important questions and will interview you to ensure the breed is the correct fit with your home and lifestyle.
Long waiting lists are very common with good breeders.
As with all dogs, a Rottweiler puppy should not be an impulse purchase.
Dogs can live for a very long time. Ensuring you take the time and do the correct research before inviting a Rottweiler into your home is imperative.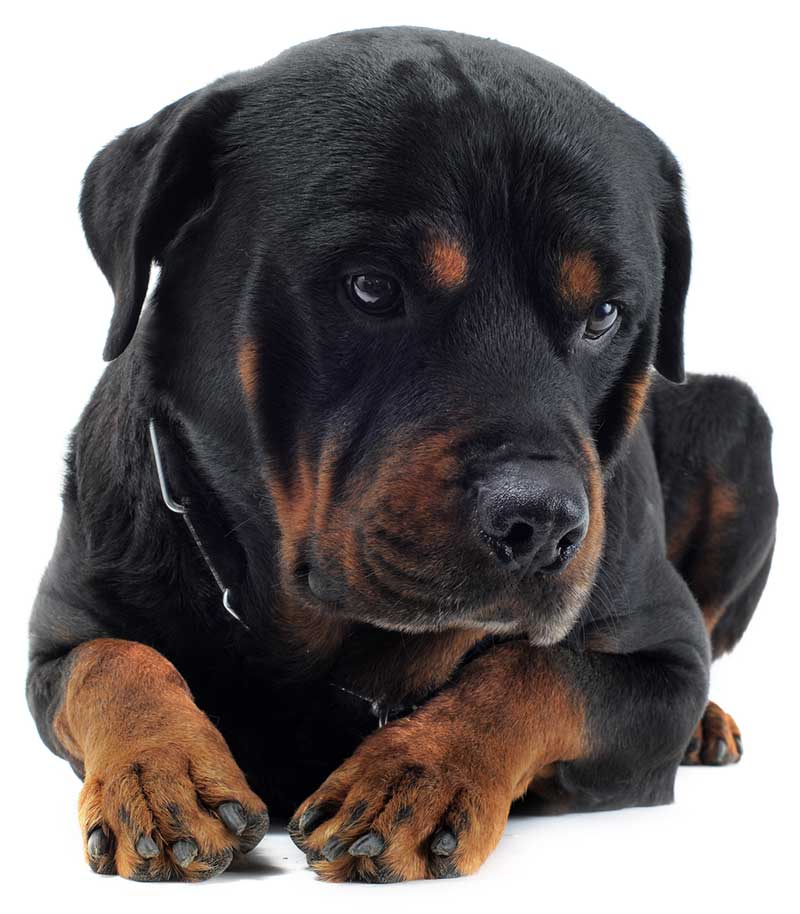 Rottweiler's Common Health Problems
Hip Dysplasia

Elbow Dysplasia

Cruciate Ligament Rupture

Eye Disease & Heart Conditions

Cancer

Parvo
Hip Dysplasia
This hip instability can be a hereditary predisposition caused by shallowness of the hip socket. Always ask your breeder for hip scores and the prevalence of hip and elbow dysplasia in their bloodlines.
Elbow Dysplasia
An abnormal development in the elbows of dogs can lead to pain and lameness in the front limbs. Always ask your breeder about elbow evaluations in their bloodlines.
Cruciate Ligament Rupture
Protect your fast-growing puppy from cruciate ligament issues by ensuring you exercise them correctly and avoid jumping until their joints are fully formed.
Keeping your Rottweiler at its correct weight throughout its lifetime is also essential.
Eye Disease & Heart Conditions
Eye disease and heart conditions can also commonly affect the breed. Therefore, asking the important questions of your breeder is imperative, as to only purchasing your puppy from a reputable source.
Cancer
As with all dog breeds, cancer can be an issue with the Rottweiler. Keeping your pet in top health with a good diet, exercise, and vaccination regime is fundamental.
Parvo
The Rottweiler dog breed is seemingly more susceptible to the Parvo virus. Ensuring your puppy is fully vaccinated before socialisation is important.
Frequently Asked Questions
Can you leave a Rottweiler alone at home?
Due to their loving and strong bonds, Rottweilers, left alone for long periods, can exhibit signs of separation anxiety.
If leaving your Rottie, ensure you have exercised them correctly before leaving and give them a job.
Rotating toys daily and only allowing your Rottie access to these unique 'home alone' toys when you are not there. Ensure you collect these toys when you get home.
Are Rottweilers Dangerous?
All dogs can be dangerous, but the proper training and understanding will prevent your Rottweiler from becoming hazardous.
You must treat your Rottweiler respectfully and invest in training and socialisation from a very young age.
Are Rottweilers Aggressive?
As a natural guard dog, the R
ottweiler dog breed can easily exhibit symptoms of aggression, particularly if not socialised or trained from a young age.
Do Rottweilers like to cuddle?
Rottweilers are large dogs but don't often realise their size. They love being on people's laps and having a snuggle with those they love.
How long must a Rottweiler exercise for?
Adult Rottweilers can never exercise enough, but according to the Kennel Club, a minimum of 2 hours of exercise daily is required. So if you enjoy running, take your Rottie with you.
Are male or female Rottweilers calmer? 
Female Rottweilers are generally calmer than male Rottweilers. However, they can be much more protective due to their mothering instincts.
How many hours do Rottweilers sleep? 
Fully grown Rottweilers will sleep between 13 and 14 hours a day. The most significant portion of that sleep is during the night, while only four of those hours of sleep are during the day.
Is a Rottweiler a good family dog? 
Rottweilers are very loyal and affectionate dogs towards their owners. They make excellent family pets if raised by a strong and knowledgeable leader.
Are Rottweilers suitable for first-time owners?
They are generally not a good fit for first-time owners as they are big and sometimes too strong. As a V8 dog breed, experience is needed in raising a well-rounded Rottweiler.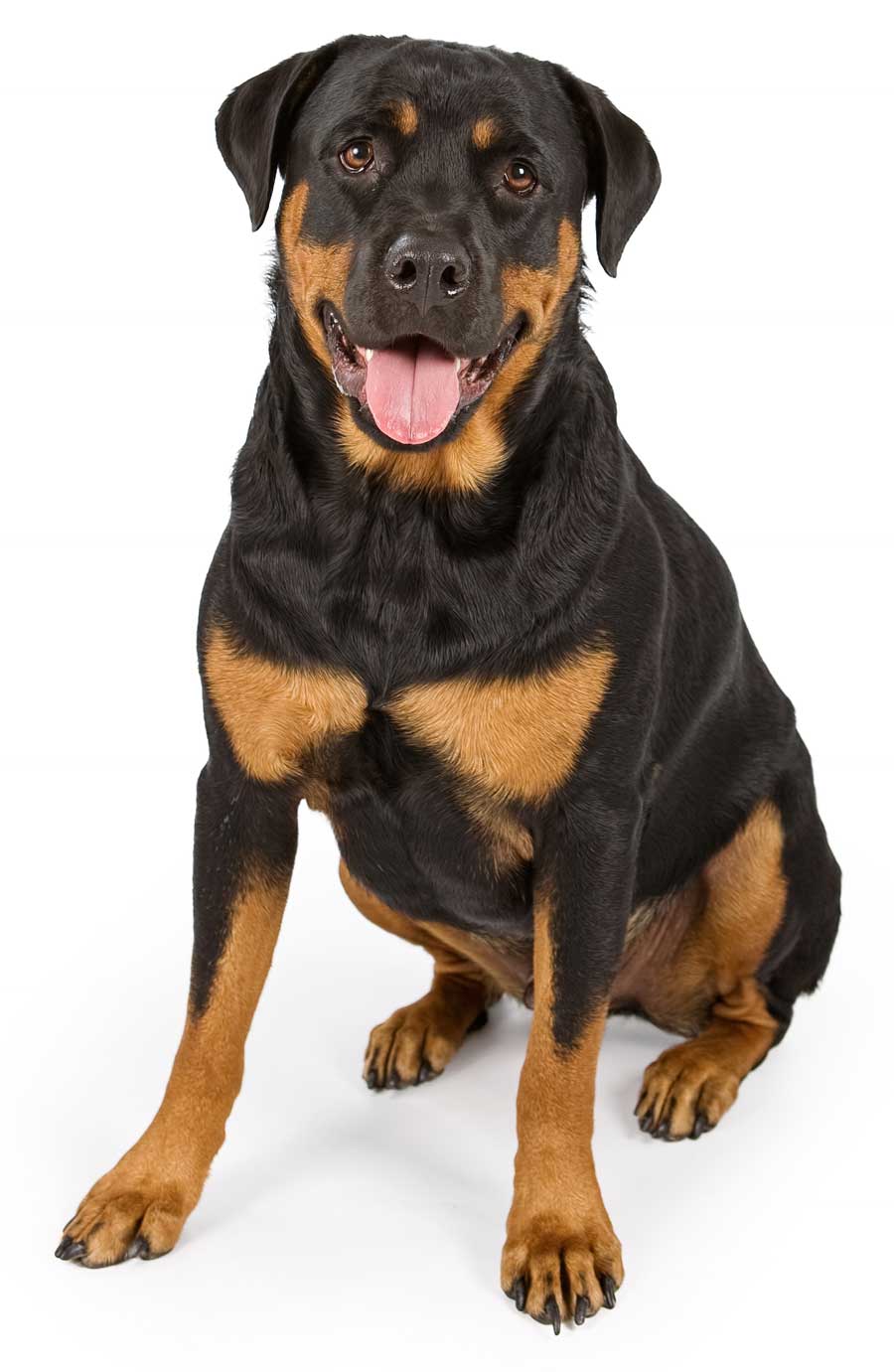 Rottweiler's Common Pet Insurance Claims
Gait Abnormality – Lameness

Hip Dysplasia

Hypersensitivity (Allergic) Skin Disorder

Hypersensitivity (Allergic) Skin Disorder

Hypoadrenocorticism (Addison's Disease)

Mass Lesion – Skin (Cutaneous)

Osteoarthritis (Degenerative Joint Disease)

Osteosarcoma

Otitis Externa

Thrombocytopenia – Immune-Mediated
Pet Insurance Australia
We Know and Love Rottweilers!
When you've finally adopted or purchased a precious Rottweiler, Pet Insurance Australia is there to help you get your dog's insurance sorted.
PIA offers comprehensive plans to cover accidental illness, injury and more for the popular Rottweiler dog breed.
Disclaimer:
This blog does not replace a qualified veterinarian's medical expertise or advice. Please consult a registered veterinarian for further information on the blog topic.
The material and information on this blog are for information purposes only. Please note that any linked websites or mentioned products are not sponsored affiliate links or paid endorsements.
Pet Insurance Australia does not accept liability for any damages arising from your interpretation of the information presented on this blog. This includes Pet Insurance Australia not being liable for: any false, inaccurate or incomplete information on the blog; any damages that arise from technical issues on the website and the blog being unavailable; any damages from clicking through a link in the blog to a different website.
Get the latest Pet Insider Tips & News
We offer award-winning* pet insurance policies to protect your furry friend's health and wellbeing. Get a quote today and give your pets the care they deserve.
get in touch
Do you have any
enquiries about our
insurance policies?
Archives
Categories