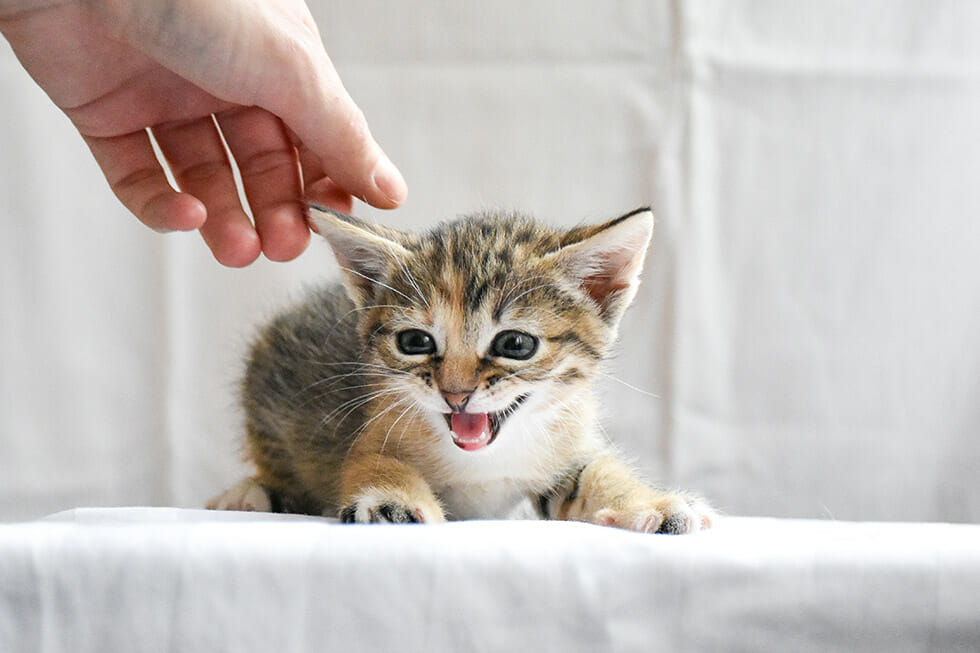 What Does My Cat Mean When They Meow?
As a cat owner, you can often feel like you can't read your cat.
Perhaps you feel that they're unpredictable and unreasonable at times and you wish you could read their mind.
Understanding your cat is vital to being a good cat owner, but learning what their sounds and body language mean isn't too difficult and will give you insight into how they feel.
You'll get to know when they feel sick, scared, affectionate or when they need food, and sometimes even be able to preempt illnesses before physical signs show.
Feline behavior professionals highlight the advantages of taking the time to decode your cat's meows even if you think your cat isn't that vocal.
What Does Each Type of Meow Mean?
As you know, cats have many different meows, which all mean different things.
Meowing is mostly reserved for communicating with humans. Cats communicate with each other in other ways and although they will meow at each other on occasion, their interactions are built more on body language and other vocalizations.
The average or standard meow (and sometimes a 'bbrrpp' or chirrup!) directed at a human is usually simply used as a greeting.
Cats have learned through observation over millennia that noise is the best way to get a human's attention, so they meow at us a lot.
Different meows can mean different things, but the main purpose (apart from a greeting meow) is that your cat wants to alert you to something it needs.
Let's look at some typical types of meow.
●     Your Cat is Saying 'Hello'
We already said that a meow is often just a greeting. When you enter a room that your cat is in, you may have often heard them meow. This is because they are simply saying "hello!". These meows will generally be short and medium pitch. Some more friendly cats may come up to you and even circle you when you enter a room as a way of acknowledging your presence. A cat that meows and rubs up against you with a soft meow is very pleased to see you. Many cats will also meow a lot when meeting a new person as a way of greeting them.
●     Your Cat is Happy
Cats can use meowing as a way to show you that they are grateful and happy. You can often observe your cat meowing after you've fed them or when they are cozy on the couch. Many professionals say that slow, medium-pitched meows convey that your cat is showing its appreciation. Additionally, multiple meows can portray higher levels of excitement.
●     Your Cat Wants Food…
As any cat owner is aware, your cat meows when they want food. Around mealtime, cats become very demanding. Constantly meowing and vying for your attention. Many cat owners are familiar with a cat waking them up early to be fed and constantly meowing in their ears. Cats learn meal times and meal cues, so become confused and upset when food doesn't arrive on time! A relentless meow gets results so your cat will use it!
●     Your Cat Needs You To Do Something
A meow will often be your cat getting your attention for something else it wants. That could be asking you to open a door, turn on the sink tap, or maybe even a request to play. A meow that is for something they need will not always be for food. The longer the meow is can indicate a level of insistence by your cat to make sure that they get what they want – the length means it's more of a demand!
●     Your Cat is Getting Older
Cats are affected by age similarly to humans. As they get older, hearing can decline as well as cognitive abilities. Cats, when they get older, can get more irritable leading to more meowing. Older cats will also get confused more and need more aid, so make more demands. This means that they will meow more to ask for help and to signify when they are in pain.
●     Your Cat is In Trouble
It can seem quite obvious when your cat is in trouble or when your cat is in pain. Your cat will meow very differently when it's in distress. Compared to the slow and steady relatively soft meow, a distressed cat will exhibit frequent and high-pitched meows. Their meow can often mimic a cry or a screech to show that they need help or are in danger. Additionally, since cats only really meow to humans, their excessive meowing quite literally means they are asking for immediate help.
●     Your Cat is Not Happy!
If your cat makes a series of low-pitched meows he is likely to indicate you have done something wrong. In essence, that lower pitch means he's grumpy with you because you're not doing what he wants or you've done something to annoy him. Like not feeding him quickly enough. When these low-pitched meows turn into a growl then his displeasure has gone up a notch and you might be about to get a nip or a whack.
What About Purring, Hissing, and Chirruping?
As well as meowing, purring is a sound all cat owners are familiar with.
It's a sign of contentment, telling you that your cat is happy and relaxed.
Nonetheless, it has been observed that, on some occasions, cats can purr when they're anxious or stressed. Cats can use purring as a sort of anxiety blanket. Calming them down when they are most stressed. For example, anxious purring is most often observed at the vets.
Hissing and growling are sounds that all cat owners don't want to hear. It shows that your cat is angry or threatened. A hissy cat will often display defensive body language and should not be disturbed. However, unprovoked hissing could be a sign that your cat is in pain. There may also be hissing when your cat is anxious, but this will be accompanied by body language that should alert you to their anxiety.
Chirruping or chirping is another sound that you'll know well. It can be a greeting as we said, but it can also be an expression of interest. Such as when seeing something enticing out of the window that your cat would like to get to but can't. It's a mix of a meow and chatter that displays both excitement and a little frustration in that scenario.
Should You Worry If Your Cat Meows Too Much?
Cat owners often worry if they think their cat meows more than normal, but the thing is, there is no normal. You could just have a chatty cat.
That said, excessive meowing can be a sign of something more.
Sometimes cats who feel neglected can meow more than usual, so increasing the amount of play or petting your cat can be a simple solution to this problem.
Meowing constantly and persistently can show that your cat is sick. They're trying to tell you that something is wrong. Often when your cat is following you around and meowing loudly, they are forcing you to listen and ask for help.
It's therefore important to be able to discern when your cat is just being chatty or when they are in pain.
It's very important not to yell or get mad at your cat when they are meowing. They are simply just trying to get your attention. So treat excessive meowing with care and compassion.
The Cat's Meow!
All these tips and tricks should help you be able to understand your cat better and become a better cat owner.
Knowing what a cat is trying to tell you can make your life so much easier!
Being able to understand when they're in pain allows you to catch health problems before they are serious which should mean your cat lives a longer and healthier life.
Listening is key and by training your ear to discern between all the different types of meows you can confidently give your cat whatever they need.
Along with understanding your cat's body language, knowing what their meowing means gives you a comprehensive idea of what is happening in your cat's head!
However, most of all, make sure not to dismiss your cat when they're meowing – after all, they're just trying to talk.
Photo by Artem

Get the latest Pet Insider Tips & News
We offer award-winning* pet insurance policies to protect your furry friend's health and wellbeing. Get a quote today and give your pets the care they deserve.
get in touch
Do you have any
enquiries about our
insurance policies?
Archives
Categories