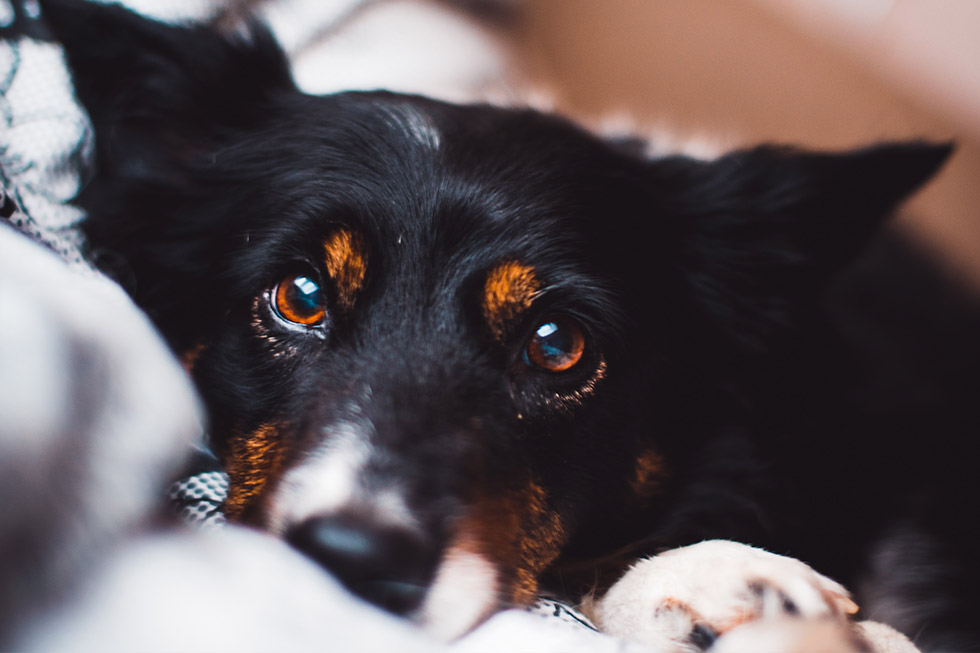 What Are The Common Eye Conditions In Dogs?
Particularly in spring and summer, many dogs can suffer from eye complaints. Pet Insurance Australia discovers the top eye conditions in dogs and when it is vital to visit the veterinarian.
It's not uncommon to hear of many dogs suffering from runny and clogged eyes during the warmer weather. However, some eye conditions in dogs can signify something more serious, and veterinary advice is paramount. All eye conditions in dogs should be carefully monitored to prevent any permanent eye damage that could affect your dog's ability to see.
Conjunctivitis in Dogs
As one of the most common dog eye problems, conjunctivitis can leave your dog with red, runny eyes. It can be caused by a range of reasons, with the most common being allergies. However, some conjunctivitis cases can also be generated from a bacterial infection. In some cases it can also be transmitted to humans. If your dog is suffering from conjunctivitis, it is essential to wash your hands regularly and only clean each eye with a clean cloth to prevent it from spreading from eye to eye.
Treatment for conjunctivitis in dogs will vary depending on its cause and if it is non-infectious. Conjunctivitis in dogs can also be an indication of other health complaints. If left untreated, your dog could have vision or severe eye problems. If you suspect your dog is suffering from conjunctivitis, it is crucial you seek professional advice and treatment from your local veterinarian.
Cataracts in Dogs
For many older dogs, cataracts can become prevalent. A cataract in dogs is the clouding of the lens inside the eye. Some cataracts in dogs can become so large they will completely restrict your pet's vision and can lead to blindness. Dogs typically require surgery to correct this problem. If you suspect your dog is developing a cataract speaking to your veterinarian is essential. The condition can also cause inflammation and lead to other eye conditions in dogs, such as Glaucoma.
Cherry Eye in Dogs
This condition can seem rather scary at first glance. A dog's eye is made up of an impressive three eyelids that help protect their eyes from dust and debris. Cherry Eye in dogs is a condition that causes the third eyelid – the closest one to the inner corner of their eye – to inflame and prolapse. Leaving your dog with a cherry-looking lump protruding from the inner corner. Some breeds are more suspectable to Cherry Eye in dogs, especially brachycephalic dog breeds, including Boston Terriers and French Bulldogs. Other dog breeds commonly affected by Cherry Eye include; cocker spaniels, bulldogs, beagles, and bloodhounds. Treatment for Cherry Eye in dogs includes surgery to prevent further damage to the eyelid and anti-inflammatory drugs.
Corneal Ulcers in Dogs
These can also be prevalent complaints with our canine companions. Corneal Ulcers in dogs are caused by the eye's outer layer becoming damaged from a trauma incident.
Common symptoms of Corneal Ulcers in dogs include eye-rubbing and discomfort, discharge and tearful eyes, and redness. Treatment options vary depending on the severity of the ulcer and can consist of basic ointment and drops to surgery.
Dry Eyes in Dogs
A case of Dry Eyes can cause some dogs' eye problems. This is mainly due to the tear ducts not working correctly and supplying enough lubricant and tears to clear the eyes of common debris – think dust, pollen, and everything in between. This can cause your dog to constantly squint and blink while producing a thick discharge. Eye scratching is also a common symptom of this Dry Eyes in dogs. Treatment will typically include drops to allow your dog's eyes to clear debris and stay lubricated.
Entropion in Dogs
This condition is widespread in certain breeds and is characterised by a sagging of the lower eyelid. Breeds include bloodhounds, Great Danes, St. Bernards, and Bullmastiffs – commonly short-nosed and large/giant dog breeds. Entropion in dogs causes the eyelid to fold inwards and can lead to eyelashes scratching and rubbing against the cornea causing eye irritation and damage. Infections are common as too, corneal scarring if left too long without sufficient treatment. Treatments for Entropion in dogs can include antibiotics to treat dog eye infections, artificial tears, and surgery. If you suspect your dog is suffering from Entropion, veterinary advice is paramount to protect your dog's precious eyes.
Eye Allergy in Dogs
Eye allergies in dogs are also common, particularly with dogs suffering from grass, food, or pollen allergy-related problems. Symptoms can include constant scratching and rubbing with a clear discharge. The eye may also seem red, with inflammation on the surrounding skin and eyelid. Treatment will generally contain antihistamine drops to help your dog's discomfort during their allergic peak season, while also having their allergen exposure reduced and the underlying allergy treated. It is also important to note that many perfumes, smoke, and even household cleaning products and deodorisers can cause your pet to have an allergic reaction that can affect their eyes.
Glaucoma in Dogs
This can be a severe condition in dogs, and any signs of Glaucoma need to be assessed by your local veterinarian. Glaucoma in dogs is primarily caused by the eye being unable to drain correctly, leading to pressure around the eye. Common symptoms are clouding of the eye, excessive tears, and dilated or bulging pupils. Many dogs can develop this eye condition due to inflammation and trauma. Tumours can also cause Glaucoma in dogs. Your vet will suggest the best treatment for your dog, including medication or eye surgery.
Lumps & Bumps on Dogs Eyes
Lumps and bumps are also very common when it comes to eye health in our dogs. They can be caused by various reasons, the most common being cysts or tumours. However, it is vital you have any lumps or bumps checked out by your veterinarian to rule out dog eye cancer. Some lumps and bumps can be easily removed, particularly if they are causing your pet discomfort.
Preventing Eye Conditions in Dogs
Trauma can significantly contribute to many dogs suffering from eye conditions. Luckily there are a few steps dog lovers can take to prevent eye problems in dogs. The top five tips to prevent eye conditions in dogs are:
Protect Your Dogs Eyes – If your pet loves to cruise in the car with its head out of the window, purchasing specially designed glasses can help prevent this common eye trauma. If your pet does not like wearing goggles, consider closing the windows when driving with your pet.
Keep it Clean – keep your dog's face clean and wipe often to prevent hair or debris from getting caught in the eye. Clean with a soft damp cloth carefully around the eye and regularly check for any issues.
Seek Help – if your pet suffers from allergies and is causing eye discomfort, seek veterinary advice for specially designed drops and medication to prevent them from scratching.
Get Grooming – if your dog has lovely long locks of hair around their eyes, this can also cause trauma. Keep all hair around the eyes short.
Check Check Check – check your pet's eyes daily, and if you suspect a problem, book an appointment with your local vet. Grass seeds can also be a common complaint. In addition, checking your pet's eyes daily for any foreign body or discharge is essential.
What Are the Common Symptoms Of Eye Infections In Dogs?
If your dog is showing symptoms for any of the below, a check-up with your veterinarian is advisable to rule out any severe problems.
Inflammation on or around the eye
Bloodshot eyes in dogs
Discharge
Constant blinking
Closing one eye
Pawing, rubbing, or scratching the eyes or skin around the eyes
Sensitive to light
When it comes to your pet's health and vision, it is important to check any dog eye complaints with your veterinarian to rule out any possible condition that may lead to blindness. Many eye conditions can be easily treated before they cause any permanent damage to your beloved dog.
Photo by Simon Hesthaven
Get the latest Pet Insider Tips & News
We offer award-winning* pet insurance policies to protect your furry friend's health and wellbeing. Get a quote today and give your pets the care they deserve.
get in touch
Do you have any
enquiries about our
insurance policies?
Archives
Categories