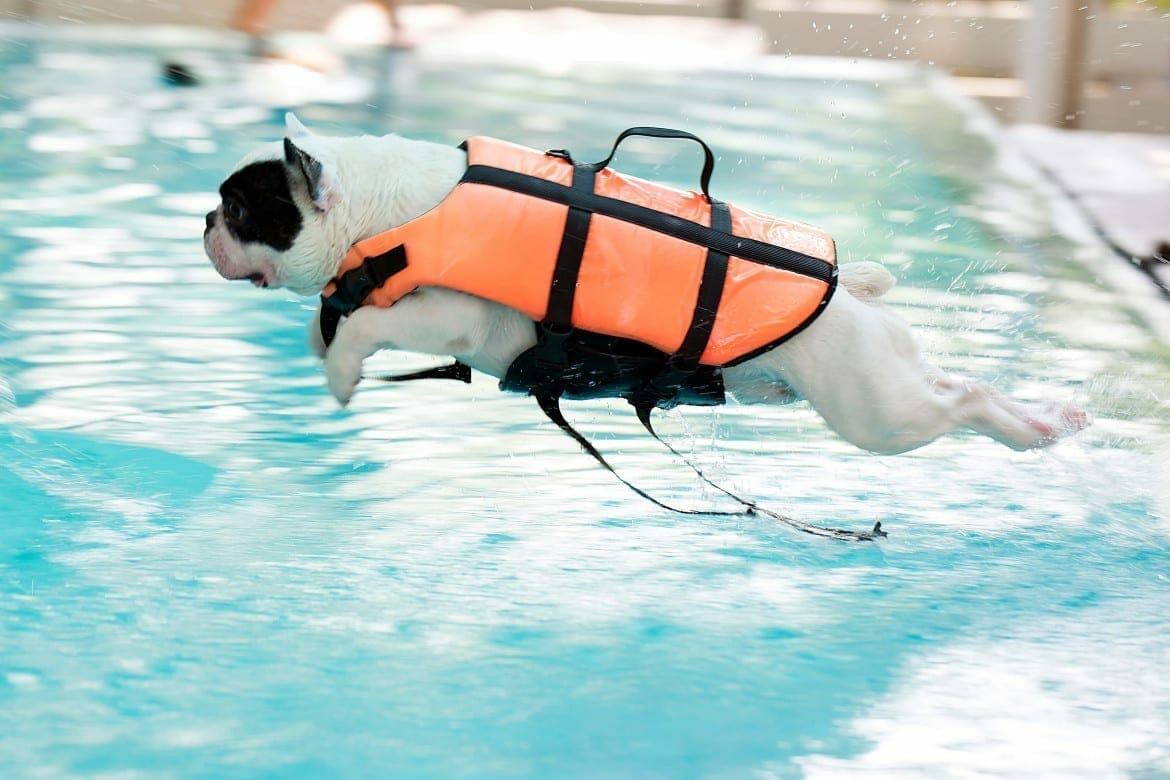 Water Safety for Dogs
Keeping dogs safe around water is paramount in responsible dog ownership. Nadia Crighton takes a look at how to ensure your pups (and grown dogs) are safe in, and around water.
Many dogs are natural born swimmers. They seem to have tails that act as rudders and can, for the most part, swim better than many of their human-counterparts. However, for some dogs (and certain breeds), swimming can be as foreign as flying.
Take my 18month old Dobermann for example. After ripping around the poolside for the best part of 15 minutes, misjudging her footing she fell head first into the water. Expecting her to swim from the deep to the shallow towards a barrage of family calling and clapping, my beloved dog started to paw at the water.
However, the pawing actions of her front legs were so extreme it simply propelled her to the bottom of the pool! Jumping in fully clothed to save a very large pup was no easy feat. Soaking wet and exhausted it left me pondering how many dogs simply cannot swim? After all, dogs that can't swim, or are petrified of water, are not normally on show synchronize swimming with tennis balls down the beach. The more I researched the more I realised that many dogs have difficulty swimming. Here is some of the advice I've picked up along the way.
Learning To Swim
As some pups launch themselves off riverbanks only to paddle like professionals across the water, without leaving a ripple of dissatisfaction or fear. Others simply will not go near the water, or, like in my case, will have a terrible first experience. So how can you get your pup confident in water and using their 'natural abilities' to swim rather than to 'panic' when submerged?
LOCATION:
First find a good place to teach. Remembering that you don't want your dog to be able to touch the bottom. Stay clear of the bathtub or boring places such as these. Try a calm day at the beach or a waterhole at the river, a baby-pool or even a pond. I've always found it easiest if there is a distinct 'shallow' end they can walk in and out of (unlike pool steps). Basically some place with no waves or currents to worry about. Remember you also need to be able to stand.
ENCOURAGEMENT:
Now encourage your pup to enter the water (stay a few steps in front). Think treats or favourite toys just in front of you dog. Try and get them to walk to you in the water. You can even encourage them to lick and paw at the water (as long it's not chlorinated). The aim is to get their front legs completely submerged. Go slow. This may take a few tries over a few days until they are happy to splash in the shallows.
TIME TO SWIM:
Once your dog is comfortable playing in water try and coax him deeper. Some prefer to use a lifejacket for this until they are confident of their dog's ability, while others are comfortable supporting their dog. It's completely up to you as a pet owner and what you feel best doing. In my experience I've never needed to use a lifejacket as I was able to support my dogs by using my arms under the rib-cages and guiding them back to the shallow if their body language changed and they were losing confidence. Hold your dog's lifejacket or physically hold your dog under the ribs with your arm over the top of their body (like you would hold a ruby ball). Take your dogs full weight once their paws have left the bottom and keep moving (around in circles or back and forth to the shore) to encourage your dog to use its legs to swim. You will feel when your dog is confident and you can slowly reduce your support. Within a couple of lessons your dog will be confident and happy in the water.
BODY LANGUAGE:
Always ensure you listen to your dog's cues. If they are not happy, stop, go back a step and take it at your dog's pace. If you rush a dog into the water (and I have seen this countless times with puppies) your dog may NEVER like the water, no matter how hard your try.
AGE:
Steer clear of teaching pups around from 8-11 weeks of age. This is a fear period, and something that might just slightly upset them could imprint for life. The best time to teach a dog to swim is after 16-weeks. Also ensure the weather is warm, and remember to make it a fun adventure for both you and your dog.
WATER SAFETY
Please always keep pool gates closed for the safely of your children and your dog.
If you allow your dog to swim in the pool, teach them how to get out. Many dogs are great swimmers but have been found struggling to climb out of a pool. Teach them where the steps are. If you do not have steps specialized doggy pool ramps are available for added safety. Or always make sure you are there to give your dog a helping hand.
If you dog is a companion on a boat please buy your dog a life-jacket. Even the best of swimmers may not have the strength to get back to shore in the event of an emergency.
Your dog is like a child and relies on your experience for their water safety. If you have a dog who does not fear the surf beware of conditions before you head to the beach, or you may find yourself in danger trying to save your pet from huge swells.
A BIT ABOUT THE BLOGGER:
Nadia Crighton is a well-known and accomplished Australian Journalist and pet magazine Editor. As a busy mum of four humans, two dogs, 50 sheep, three cats, a handful of chickens and a goat named Billy, she simply adores pets of all shapes and sizes.
Get the latest Pet Insider Tips & News
We offer award-winning* pet insurance policies to protect your furry friend's health and wellbeing. Get a quote today and give your pets the care they deserve.
get in touch
Do you have any
enquiries about our
insurance policies?
Archives
Categories