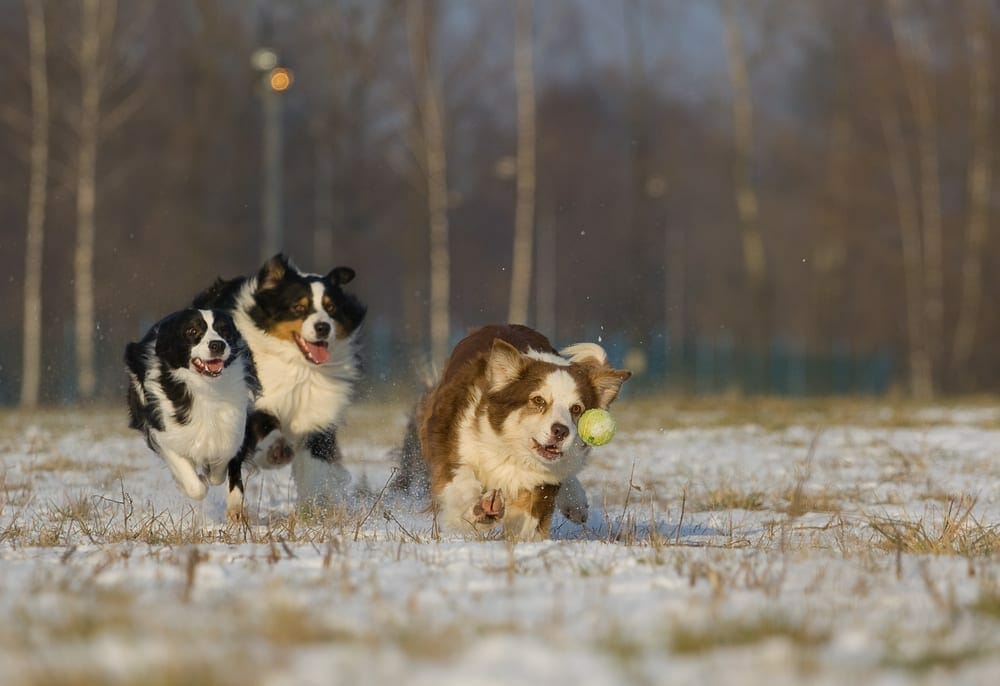 Top Winter Toys & Accessories
Pet Insurance Australia has done some digging to find the most impressive doggy toys and accessories for winter to help keep your pet entertained and warm.
"Winter is most certainly here," Nadia Crighton from Pet Insurance Australia says. "It's a great time of year to just cuddle up and lock the cold out, however this is not the best thing for our pets and it's important to keep moving and exercising during these cold snaps."
PIA is urging all Aussies to get out and play!
"Play is vitally important for our dog's and can help break the cold and also keep our pets moving."
Jonathon Kiklis, Retail Marketing Specialist at PETstock agrees that winter is an important time to keep up with your pet's exercise regime and play can help immensely with this.
"When it gets a bit colder outside it is easy to seek the warmth and stay inside, but our dogs need the same level of socialisation and activity no matter what the weather," he says. "Soft inside toys are great for an indoor game of fetch (always supervise toy play) and look at inviting a friend over for a puppy play date.
PETstock also agree not to be afraid to get out and about in the cold brisk air.
"Don't be scared to get out there and brave the cold and keep them warm with a quality dog coat that fits them well," he says. "Lastly ensure that you maintain a good grooming routine. A matted coat will not work to effectively keep them warm.
TOP Winter Toys & Accessories
NERF Dog Tennis Ball Blaster
Take aim with the NERF DOG Tennis Ball Blaster! High powered blasting action launches your dog's favorite fetching tennis ball over 50ft in the air. POW! Just place the barrel over the tennis ball and pick it up hand and slobber-free. The NERF DOG blaster's mechanism is also safe for your hands and works with all standard tennis balls; tennis ball included.
Huggle Hounds
These wonderful snuggly toys are super strong and lovely and soft! They are made with three layers of varying material and topped with soft corduroy and super strong heavy-duty stitching. A great snuggly chew toy that is hard-wearing for all dogs chewing capabilities.
Bark-a-boo The Woods Jute Rope Braided Snake
A great twist on the classic rope toy. A super long super tough toy that is sure to keep your pup entertained all day long. A great home alone fun toy to beat the cold-weather boredom! Measuring in at 100cm long and made from durable braided rope it's sure to be a winter day pleaser.
Chuckit – Indoor Ball, Roller and Launcher
At last a safe ball you can use to play with your dog – INDOORS! This soft ball is great to play with your dog inside without the risk of damaging any household items. Chuckit also make a safe indoor roller so you dog can play the day away in the warmth and comfort of your home. Both products also work with the Chuckit Indoor Launcher – cue the long corridors and hallways! Making indoor fun as good as outdoor.
KONG – flyer
This great rubber flying disk is perfect for encouraging your dog to run and play. Wonderful for the game of fetch. It's also super durable making it great for strong breeds and it's also easy on gums and teeth.
Petlife – Self Warming Dog Bed
This is a wonderfully warm bed without the need of mats or pads, making it perfectly safe for when you are not at home. The special material actually traps and reflects your dog's body heat keeping them toasty warm all day. The fleece cover and raised edges also add a sense of comfort and sheer luxury. A great way to sleep the day away after a busy play!
RuffnRugged Oilskin Dog Coat
That's right, it's not just us two-legged variety that can enjoy the warmth and protection of an oilskin coat. Now your dog can too. This durable outback style rain coat is a great way to keep your pet warm and snug when out and about during the cold weather. Made from hard wearing material and designed to provide protection from the cold, wind and rain.
Aussie Dog Home Alone
The perfect energizing interactive toy for the dog who is spending time alone. Can help alleviate boredom. The toy allows your dog to play a safe tug-o-war on their own with a hanging bungie ball that rattles and can also dispense treats.
Get the latest Pet Insider Tips & News
We offer award-winning* pet insurance policies to protect your furry friend's health and wellbeing. Get a quote today and give your pets the care they deserve.
get in touch
Do you have any
enquiries about our
insurance policies?
Archives
Categories