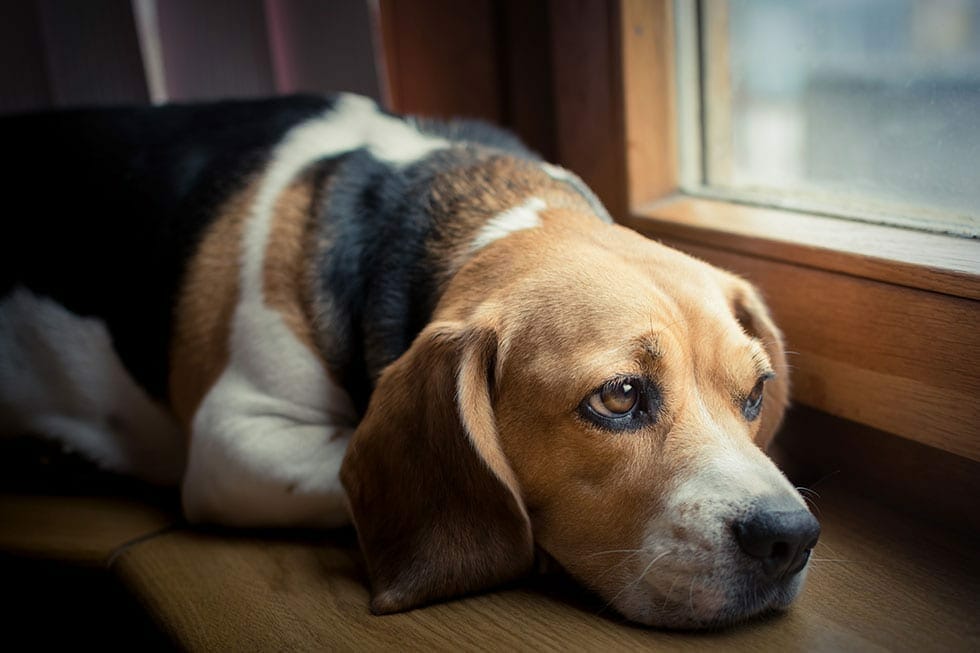 Top Signs of Sickness in Dogs
Wondering if your dog is sick or in pain? Pet Insurance takes a look at the common symptoms that could indicate your pet is not well and in need of veterinary treatment.
As a pet owner, there is nothing worse than discovering that your furry family member is sick. Particularly if you have been suspecting that your pet is a little under the weather, only to discover they are actually seriously ill.
This is not uncommon. All dogs are masters at masking serious illness and pain, leaving some owners feeling terrible at the discovery that their beloved animal has been suffering in silence. So how can we tell if our pets are not feeling their best and in need of a visit to the local vet?
Excessive drinking/urination
If your dog is clearly drinking too much or urinating more than unusual it is very important to seek veterinary advice quickly. Excessive drinking and urination could be a sign of bladder or kidney problems or even possibly indicate liver issues or even diabetes. Your vet will run a test on your dog's urine and also undertake blood tests to understand the underlying reason as to why your pet is exhibiting this behaviour. Other symptoms to be aware of are:
Blood in urine
Straining to wee
Straining to toilet
Incontinence
Licking
Licking is a very normal part of being a dog! Some dog's lick to say hello or 'I love you' while others may lick to clean themselves or even for comfort. Interestingly it has been proven that when a dog licks it creates those lovely endorphins that help calm and soothe.
However, if your dog starts to lick – obsessively – it could be a sign of pain or upset, and a trip to the vet is in order. Licking can be one of the main symptoms of arthritis or sore joints. Licking and biting of the feet can also indicate allergies. Other causing of sudden or persistent licking could be caused by:
Pain in joints
Upset tummy
Allergies
Anxiety
If you are concerned about your dog licking or it gets worst, it is important to seek veterinary treatment.
Appetite Changes
If your dog is suddenly eating more, or eating a lot less, it may be time to book in to see the vet. Dogs that are not feeling their best may stop eating all together. Also; sudden or unexplained weight gain or weight loss can be a symptom that something may not be right with your pet. If you are concerned about your dog's eating habits, it's a good idea to book in for a check-up and to check that all is well with your pet. Also feeding a good quality 'complete' dog food is paramount. Ensure you follow the manufactures instructions on feeding and ask your vet if you wish to supplement your dog with any additional nutrients.
Other common symptoms include:
Change in activity levels
Over sleeping
Stiffness when moving
Trouble lying down or getting up
Coughing or difficulty breathing
Discharge from nose or eyes
Consistent shaking of the head
Scratching/biting skin or feet
Behavioural changes
Bowel changes
Red eyes
Bad breath
Excessive drooling
The bond that pet owners share with their canine companions is unparalleled.For this reason; it's a good idea to tap into your own intuition. If you feel like there is just something not quiet 'right' with your pet it's best to get it checked. Early diagnosis can help prevent your pet from feeling unneeded pain.
Get the latest Pet Insider Tips & News
We offer award-winning* pet insurance policies to protect your furry friend's health and wellbeing. Get a quote today and give your pets the care they deserve.
get in touch
Do you have any
enquiries about our
insurance policies?
Archives
Categories