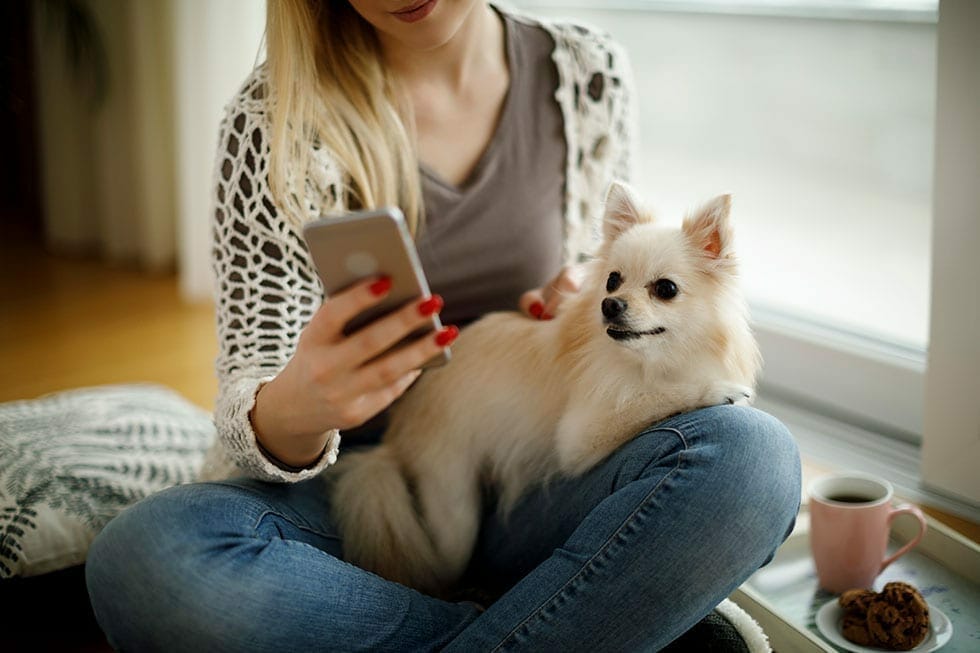 Top 10 Pet Apps 2019
Pet Insurance has released their top 10 Pet Apps for 2019. From medical apps that can help save lives, to helping train dogs, cameras and more! Who made the cut this year?
"Living in a fast-paced technology world it's no surprise there are so many wonderful apps available to our pets," Nadia Crighton from Pet Insurance Australia says. "From the apps that can help during an emergency, or take the purrrfect photo, to ones that encourage us to get up and get moving with our pets – they all provide an important an aspect to responsible, and fun, pet ownership."
PUPPR
This wonderful step-by-step video and photo instructions will have your training your dog in no time at all! With built-in clickers you can teach your dog basic obedience to more advanced training such as 'fetch leash'. Great for new or experienced dog handlers with over 50 tricks taught by celebrity dog trainer Sara Carson & The Super Collies from America's Got Talent. It even contains a reminder to help potty train your pup!
Google Photos
Need place to pop all those great photos of your pets and share all those great moments with your fellow animal lovers? Google Photos is a smarter home for all your photos and videos, made for the way you take photos today. It can help you organise our most important memories, create a movie dedicated to your furry friend, identify popular breeds with Google Lens and even search by breed and emoji. The ap also allows you to take the perfect shot of your furry friend without the need of a fancy camera.
Woofr
Woofr is the world's first doggy dating site and 'social pet-work'. Based on similar principles to modern dating apps like Tinder users are able to add pictures and create a profile of their pooch! Then, using geo search, and even searching by breed, are able to search for similar hounds in their area! Once they find the pawfect partner, a quick swipe to the right and then they can get chatting before setting up a doggy play date! Who knows, love could be on the cards for hoomans too. Available for free on iOS and coming soon on Andorid!
Cat Training
A fantastic training aid for cats. From curing litterbox issues and toilet training your cat to teaching your feline friend to love the cat carrier. Also looks at; taking medication, cat communication, scratching, fitness, grooming and even using the cat flap.
PetRescue
Easily find and adopt a pet in your local area, using the official PetRescue app. This great app links possible pet parents with various types of pets who are looking for their forever homes. Easy to navigate with great photos and details of the pet. A fantastic app that is helping rescue pets find homes quickly.
First Aid for Pets Australia
In an emergency situation, would you know what to do? Effective first aid could save your pet's life. First Aid for Pets Australia is an educational tool that contains many helpful and potentially life-saving articles for quick reference in the event of an emergency or potential health risk for your pet. This app also links with your local vet clinic* to provide fast access to contact information in the event of an emergency. You never know when an emergency will happen, however, with First Aid for Pets Australia you can always be prepared.
* Please note, not all veterinary clinics participate in this program so you may not be able to connect with your clinic via the app, however, you can still access the valuable first aid information by selecting any clinic from the list. In this case we recommend that you ensure your vet clinic is also added to your phone's contact list.
Tractive GPS Tracker for Dogs and Cats
The Tractive GPS dog and cat finder app works with the Tractive GPS Tracker products and is giving pet owners peace-of-mind that they can always find their pets. Features include; real-time tracking, follow the path of your pet, see history of where your pet has been, set a virtual fence (Safe Zone) and get notified as soon as your dog or cat leaves this area. It will even notify you when the batteries are running low!
iKibble
Can my dog eat this? A very common question in pet homes. This app allows owners to quickly see what foods are safe for Rover and what is not. It's easy to navigate and great to have on hand for all pet owners. Thorough descriptions about each food details everything from the general healthiness of the food, to advice on how and when to feed your dog certain types of food, and even how to prepare some foods.
The Dog Massage App
Who doesn't love a good massage? Well our pets are no different! Improve the physical and emotional bond you share as you learn how to perform massage on your dog in your own home. Massage improves animal health and wellbeing, but most importantly it provides an incredible way to connect with your pet. Schedule in your pets daily massage with short videos and easy to follow instructions.
Paint for Cats
That's right your feline friend can become a world class painter! Chase a mouse! Paint a painting! Painting with your cat has never been more fun. Features include: share your cat's masterpiece on Facebook or email and choose from 10 crazy palettes. You can even print out your cats painting to hang on the wall! A great interactive cat game.
Get the latest Pet Insider Tips & News
We offer award-winning* pet insurance policies to protect your furry friend's health and wellbeing. Get a quote today and give your pets the care they deserve.
get in touch
Do you have any
enquiries about our
insurance policies?
Archives
Categories