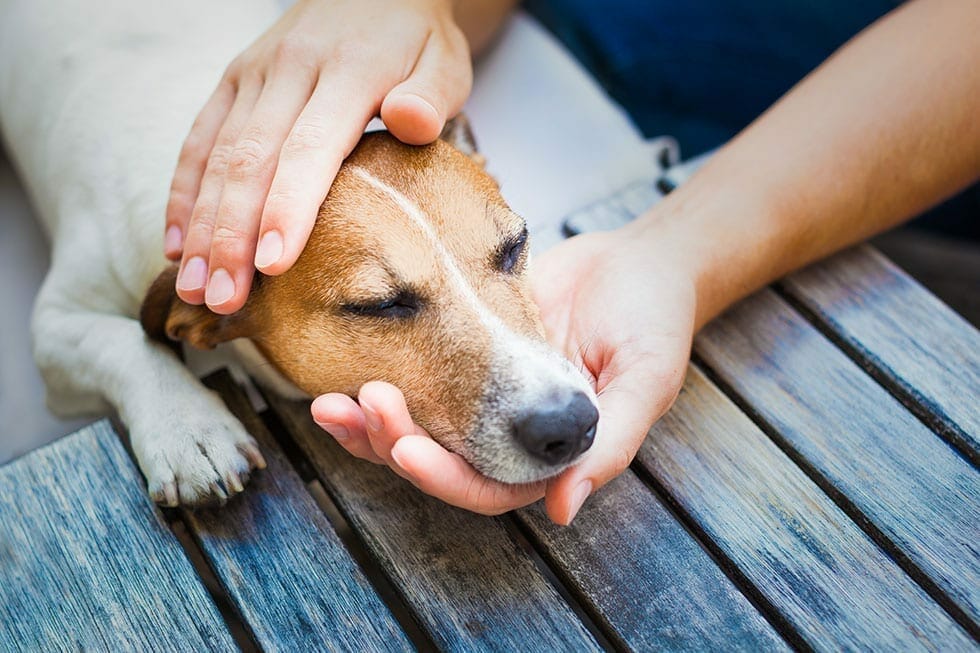 Toohey & the Fish Hook
Pet Insurance Australia caught up with one of their clients to discuss the difference pet insurance has made to their lives, particularly when dealing with a seriously sick or injured pet.
"Like with most insurance policies, you don't really get a full understanding of the impact it can have on a situation until you need to make a claim," Nadia Crighton from Pet Insurance Australia says. "Sadly, it is when we need something the most, that the seriousness of not having pet insurance can come to light."
This is certainly true for a large percentage of Pet Insurance Australia clients. The heartfelt reviews and stories across social media, for all pet insurance providers, is one indicator that having insurance is a good thing, for pet owners and pets.
Meet Toohey, an adorable Delta Therapy Dog from Sydney who had a very nasty accident involving a fish hook.
"I'd gone out at night to take photographs of Sydney Vivid and took Toohey with me as I thought he'd enjoy getting outside again," owner, Josie Crawford says. "I took a photo of the night sky and then looked at him and he looked back, wagging his fluffy tail."
But to Josie's horror a fishing-line and weight was hanging out of Toohey's mouth! The terror raced through her at the thought of what was attached to the other end.
"We'd just moved house and I didn't even know where the nearest vet was on this side of the Sydney Harbour Bridge, and I didn't have my phone.. it was awful," Josie recalls.
Once at the vet, an x-ray revealed that Toohey had ingested a large fish-hook. Being late at night, the vet team called the surgeon out of bed, to perform an emergency endoscopy and remove the hook.
"It took a long time, as the fishing-line was wrapped dangerously around his little insides and Toohey nearly had to have his stomach cut open," Josie says. "But the surgeon finally got it out and presented it to me in a specimen jar when I came to collect Toohey the next morning."
Having pet insurance allowed Josie and her family to concentrate on Toohey rather than the mounting medical bills to get him back in good health.
"I can't tell you how glad I was to have pet insurance," Josie says. "In the case of the fish-hook, yes the treatments would have been an option without pet insurance, we would have gone ahead anyway but it would have meant paying less off our mortgage."
However a few years later, Toohey had an undefined spinal issue that didn't respond to anti-inflammatories. An MRI was recommended to further investigate.
Josie notes that without pet insurance, that would have been a more difficult decision to make.
"Do you spend $2,500 on a test or leave it longer to see if it gets better by itself?" She says. "With pet insurance the decision was easy, we just went with all the vet's recommendations – which in this case was an MRI and the anaesthetic costs so they don't leap around inside RPA's MRI machine."
The peace-of-mind of having pet insurance has allowed Toohey access to the best medical treatment available, especially when he needed it the most.
"Having PIA pet insurance made my decisions easy," Josie says. " There was simply no question. I knew, because of the cover, that I could give him the best care.  I was worried enough about my puppy, so it was so nice not to have to worry about the finances, too."
Like with all policies or important documents it's vital to read the fine print and take the time to fully understand what you are paying for.
"At PIA we strive to make our Product Disclosure Statement (PDS) clear and easy to understand." Crighton says. "Understandably we all live in a very fast, click-on click-off world and people just don't have time to spare. We have kept this in mind when developing the PDS and have made it as compact as possible. At PIA we urge all of our clients to take a tea-break, pull up a chair and spend the time reading the PDS and getting a good understanding of what they are covered for, and what they are not covered for."
The PDS is also available online so clients can easily access this information at any time of the day or night.
Get the latest Pet Insider Tips & News
We offer award-winning* pet insurance policies to protect your furry friend's health and wellbeing. Get a quote today and give your pets the care they deserve.
get in touch
Do you have any
enquiries about our
insurance policies?
Archives
Categories