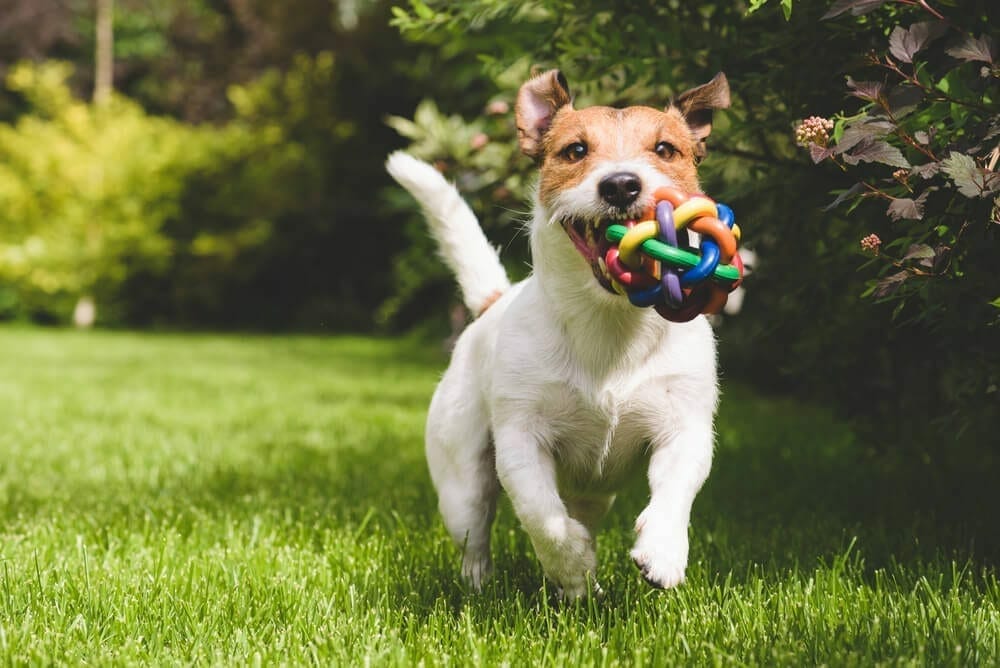 The Importance of Enrichment
Concerned that your dog is not living an enriched life? Looking for ways to enhance their environment and the reasons behind this? Pet Insurance Australia catches up with Enrichment Expert; Joseph Parsons, the Director Aussie Dog Products, to find out why it is so important in our dog's wellbeing.
Joseph Parsons has been developing toys to combat boredom in dogs since 1992. Since then he's gone on to develop durable toys for zoos around Australia to enrich the lives of various animals including elephants, seals and even monkeys!
When it comes to enriching environments through play and interaction, he is certainly an expert of his trade. Pet Insurance Australia wanted to know why boredom is such a big problem facing many canine companions and how loving dog owners can battle this issue.
"Boredom is a causative factor of many social problems with domestic dogs," Joseph tells Pet Insurance Australia. "Dogs are pack animals and need company to stay happy when they are alone they need enrichment to stimulate them or they will become bored."
Joseph also notes that boredom can lead to escaping, digging, damage to fence lines and property, that can cause a huge amount of frustration for both the owners and other people. Depending on the breed, boredom can also cause dogs to be aggressive, anxious and listless that can lead to ill health.
The only way to combat this boredom when you are not at home, is through environmental enrichment.
"Not only does the dog have food, water, shelter and air it must also have some form of enrichment as it also has a brain that never stops," Joseph smiles. "Enrichment exercises the body and mind of the animal and this adds to the animal's wellbeing, the owner reaps the benefits of a healthier happier dog."
What Do Animals Need?
With so much experience, Joseph informs Pet Insurance Australia of what animals really need to say happy and healthy.
"In our experience over the last 25 years, we have designed many enrichment items for animals from meerkats to elephants," he says. "All by requests of zoo keepers across the world. To enrich the lives of captive animal in their care. This is the most interesting and rewarding exercise, as we can see many different species lives becoming more enriched due to our work."
As with all their enrichment devices, design in the main to incorporate what Joseph would call the animal instinctual rule:
to hunt
to chase
the color
the movement
food
noise
"Using these six components has been an interesting journey and a very successful one," he says.
Enrichment – Life Essentials
"Understanding the dog's needs is a most important part of dog ownership.
This also differs from breed to breed where herding dogs are born to run, whereas other breeds except a life of the 'couch potato'. Aussie Dog has had many questions put to us; why are dogs destructive, barking, anxious and anti-social? We simply reply that the dog needs enrichment in its life, and this should be added to the life essentials and duty of care."
Home Alone?
If your pet is being left home alone there are some simple steps you can take to enrich their daily environment, so you return to a happy stress-free pet.
"For the dogs left at home alone dog owners should provide devices to stimulate the dogs mind," Joseph says. "For example, challenging toys to stimulate their senses such as food releasing devices.
He warns that care should be taken regarding the quantity of food released, and the type of materials the device is made of.
"This is because you can overfeed your dog or the dog can destroy the device and either get cut mouth, damaged teeth, or ingest parts that will be detrimental to its health."
It is also important to consider how you interact with your dog when you return home or on the weekends.
"When you are home interaction games such as fetch and tug of war, regular exercise by walking the dog," Joseph suggests.
Training is also important aspect of enriching your dog's life. Training provides an opportunity to socialize while leaning important 'doggy' manners.
"It is essential to have your dog properly trained as this will avoid many of the well documented problems that we see in the media. It takes a sensible person to be a good dog owner," Joseph says. "Remember a bored dog is a destructive force in many ways."
The Expert,
Joseph Parsons, the Director Aussie Dog Products.
For over 25 years Joseph has been developing durable toys to enrich the lives of countless dogs and zoo animals. For more information visit;
www.aussiedog.com.au
Get the latest Pet Insider Tips & News
We offer award-winning* pet insurance policies to protect your furry friend's health and wellbeing. Get a quote today and give your pets the care they deserve.
get in touch
Do you have any
enquiries about our
insurance policies?
Archives
Categories