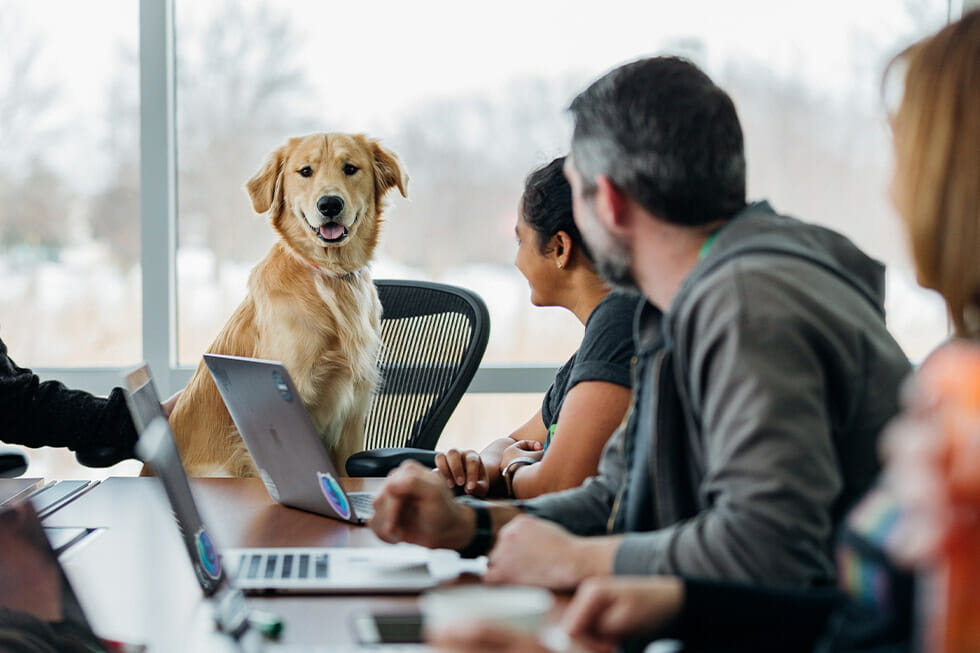 Take Your Dog to Work Day – 26th June
With so many workplaces now seeing the real benefits of having pets around the office. Pet Insurance Australia is encouraging more workplaces to embrace the upcoming, Take Your Dog to Work Day on June 26th.
"Pets are certainly an integral part of many Australian homes," Nadia Crighton from Pet Insurance Australia says. "Having the opportunity to take your pet along to work, is a real benefit for pet owners and workplace alike."
The proof is certainly in the pudding or the pooch! With pet-friendly workplaces springing up around the nation the science behind the reasoning is compelling. *Researchers have known for years that employees are less stressed, relaxed, and even more trusting after interacting with a dog. The real-life benefits of having companion animals grace the boardroom is currently playing out in many businesses across Australia.
"Pets are a wonderful way to break the stress in a workplace," Crighton says. "For many businesses that are considering becoming more pet-friendly, this is the perfect opportunity to see the benefits of allowing dogs into the workplace on Friday the 26th of June."
Other benefits include;
Improves communication in the workplace. A pet is a wonderful icebreaker and many employees are witnessing their pets start many conversations within the workplace.
Encourages a better work/life balance.
Promote creativity and problem-solving. Having dogs around allow office workers to take mental breaks while adding a whole lot of laugher and fun energy.
"Chat to your HR department, you might be surprised at the response," Crighton says. "With so much positive research into the benefits of pets in the office, this Friday could be the best excuse to have the first-hand experience."
PIA also advises talking with your colleagues about the possibility of embracing this day and allowing dogs into the office.
"Some may suffer from allergies or have a fear of dogs, so it's always best to gauge how a pet-friendly day would be perceived by your fellow workers."
Don't forget to dog-proof your work-space. Baby-gates are a must and will help keep your pet around your desk. Also, consider hiding computer cords and any other hazardous office staples such as bins and plants.
"It's also important to ask yourself how your pet will respond to spending the day in the office?" Crighton says. "Some pets will not be suitable for office space."
Taking Your Dog?
Don't forget to pack for the day and be prepared.
Water and food bowls
Leash and collar
Sweeping pan and brush
Toys – puzzle balls
Bedding
*http://www.emeraldinsight.com/doi/abs/10.1108/17538351211215366
Get the latest Pet Insider Tips & News
We offer award-winning* pet insurance policies to protect your furry friend's health and wellbeing. Get a quote today and give your pets the care they deserve.
get in touch
Do you have any
enquiries about our
insurance policies?
Archives
Categories