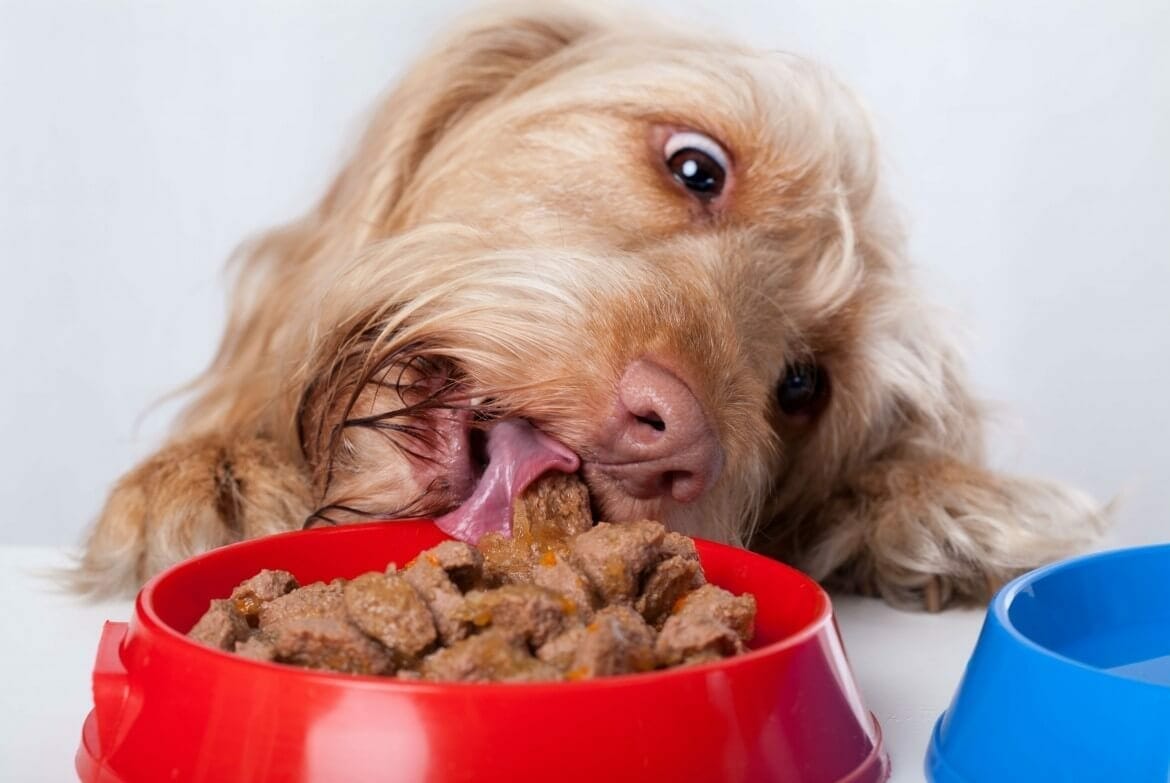 Supercharged Eating
Do you have a puppy or dog that eats extremely fast? Gulping food down at supercharged speeds? Nadia Crighton takes a look at some of the problems associated with fast eating and how you can help prevent it.
It's not uncommon to hear of shocked puppy owners at how quickly their little bundle of fluff and fur can devour a bowl of food. To some dog owners horror; this can also include the dog throwing up most of their dinner, only to go back to eat the regurgitated mess! So why do many pups exhibit this type of behaviour and what can you do to prevent it?
Most pups are born with numerous littermates. Even as blind and deaf wee balls of love they learn very quickly that it's the survival of the fittest to ensure the best milk teat from their loving mum. As they grow and gain their sight (between 10 – 16 days), they learn that the quickest normally wins. By the time they are sampling and eating solid foods, between four to six weeks, they know that whoever gets to the bowl first will normally always get more. Eating superfast alongside their furry siblings is very normal. However, this behaviour can sometimes follow them into the family home even when there is no competition from littermates.
This, particularly for large breeds, can cause problems. It is best to 'train' your pup out of this behaviour quickly. The easiest way to stop this behaivour is to feed your pup in a larger bowl and pop a tennis ball into the food. Your dog will have to push the ball out of the way with his nose disturbing his eating speed. This is a very easy option. There are also some wonderful specially made bowls that can slow fast eaters down, if the tennis ball is not working. If you are having problems with this, try using a heavier ball, like a rubber ball, or one of those heavy chew rings. Just remember to remove the ball after their meal or it may go 'missing'. For older dogs you may need to supervise during feeding times, as some will just remove the ball from the bowl and continue to gulp their food at lightening pace.
Also consider feeding smaller meals. For pups; four small meals a day is perfect and for older dogs two smaller meals per day. Also consider the environment you are feeding your dog. Is it really busy with other pets? Or is it calm and quiet? Removing the 'need' to eat really quickly with possible 'competition' can also help.
Remember if you are doing this with a pup, pop your hand into the bowl while your puppy is eating to help prevent food aggression. Let them get used to having hands around them when they are eating. This is so very, very important particularly if you have children or are going to have children in the presence of the dog. This simple step can help childproof your dog around food.
Understanding Bloat
Large deep chested breeds, dogs that eat very quickly, dogs having one large meal per day, and those who are allowed to play after eating are at a higher risk of developing bloat. This is a very dangerous condition that can lead to death. When a dog eats too quickly, they can gulp in lots of air during their meal, which can lead to bloat. The food, gas or liquids expanding in the stomach can put pressure on organs and even cause the stomach to twist. This can lead to a whole host of scary situations for your dog that can cause serious problems if not treated immediately.
Symptoms include:
Restlessness
Anxiousness
Swollen belly
Pacing
Drooling
Unusual behaviour
Pale gums
Bloat is at the higher end of the 'eating too quickly' problem. But it's best to prevent your dog from this condition by getting them to slow down during mealtime.
A BIT ABOUT THE BLOGGER:
Nadia Crighton is a well-known and accomplished Australian Journalist and pet magazine Editor. As a busy mum of four humans, two dogs, 50 sheep, three cats, three axolotl's, a handful of chickens (and not to mention the goat named Billy), she simply adores pets of all shapes and sizes. These are her personal thoughts and advice from many years of pet-ownership.
Get the latest Pet Insider Tips & News
We offer award-winning* pet insurance policies to protect your furry friend's health and wellbeing. Get a quote today and give your pets the care they deserve.
get in touch
Do you have any
enquiries about our
insurance policies?
Archives
Categories