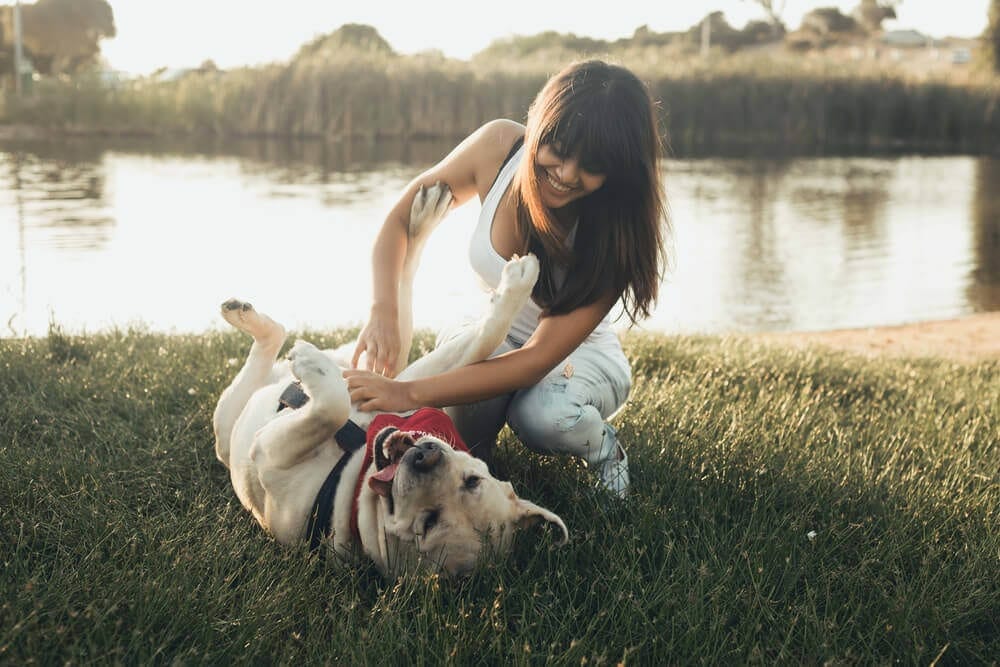 Ruby's Story
Grab the Kleenex! Pet Insurance Australia catches up with Donna Lorenz from nutrition and wellbeing; I Love a Dog to talk about her first-hand encounter and journey through pet cancer.
It's every pet owner's worst nightmare being told that your beloved dog has cancer.
"I discovered Ruby had cancer after taking her to the vet a second time to investigate a persistent and painful lump on her front right leg," Donna recalls.
"At first, we thought it was a sprain from jumping out of a large car, and she was treated with anti-inflammatories, but when the swelling had increased regardless of the anti-inflammatory meds, the vet quickly referred us to SASH oncology suspecting bone cancer."
As the shocked settled in Donna prepared herself for the worst. Naturally, like all pet lovers, she feared for the future of her beloved dog. Her beautiful Labrador, Ruby, was only five at the time.
"I was shocked and devastated," She says. "Just having a loved one's name and 'cancer' in the same sentence – dog or human – is terrifying and I couldn't believe it was happening to us. There's a tornado of denial mixed with fear and defiance and a responsibility that you know that, regardless of your immediate emotions and fears, your dog needs you and you need to bring your best self to the situation to help them."
Donna was determined to do everything in her power to help her best-friend. Being the owner of her well-being and pet nutrition business, I Love a Dog, allowed her to expand her knowledge to ensure every angle was being examined to help Ruby's chances of survival.
"It was a hard time, but I was determined to build on my dog nutrition knowledge and do everything I could through nutrition and natural medicine to support her veterinary care," she says.
Diagnosis & Treatment
Once Ruby was officially diagnosed with bone-cancer it was decided to quickly amputate the leg and start chemo in order to save her young life and stop the cancer from spreading.
"This was a huge shock to fathom," Donna recalls. "I thought she had a sprain and now I'm being asked to consider limb amputation? Even with the surgery and chemo, I was told the likely maximum prognosis was less than two years. She had just turned five."
However, Donna refused to give-in and tried relentlessly to save her dog's leg. Through her understanding on natural nutrition and medicine, she worked day and night to help her beloved Ruby. Unfortunately, even though the tumour didn't grow any larger, it 'broke', and it was quickly decided to amputate the leg. On 30 September 2015 Ruby became a tripawd.
The chemo then began. Luckily for Ruby, she had pet insurance.
"The road from carefree and loving pet owner to guardian in a health crisis – especially cancer – is an incredibly short one and I was in shock at first," She says. "Each day can bring a different issue and decision. Having the assurance of health insurance for her was a huge relief."
The Ruby Recovery Program
During chemo, Ruby was able to receive the best of both worlds. Combining the very best traditional veterinary medicine with nutrition and natural remedies.
"I called it the 'Ruby Recover Program' and kept records of everything I was doing," Donna says. "I was a full-time cancer caregiver and researcher."
Ruby had regular blood tests alongside scans, consults, anti-inflammatory meds and also chemo.
"We were not going down without a fight but in November a scan revealed three small lesions on her lungs, and they told me 'six months'," Donna sadly recalls. "That meant she'd be gone by May 2016…I was devastated."
Donna did what any other pet lover would do. She put her life on hold and enjoyed every second she had left with Ruby.
"I decided that the only thing to do was take Ruby on a road adventure and enjoy whatever time we had left. I would regroup after that. I bought a van, and in January 2016 we hit the road and headed north along the coast," she says. "I continued with the chemo meds and the nutrition and natural medicine support, and returned to SASH in North Ryde for each two-month check-up."
The Miracle
Then it happened;
At the first two monthly checkups, there was no growth – stable disease.
At the four-month checkup, there was still no growth – stable disease.
At the six-month checkup, THEY COULDN'T FIND IT – clinical remission.
"Clinical remission means it can come back anytime so, while this was an incredible result, there was still the threat that this was an anomaly and it could return," Donna warns. "I kept on with the meds and the nutrition and the natural medicine… and our adventure."
At the eight-month mark, there was still no sign of cancer.
"The 12month check-up was the most nerve racking of all," Donna says. "Throughout my efforts I'd not really thought about the idea of getting rid of the cancer completely, just hoping to extend her life for as long as possible."
Today Ruby is still cancer free.
"Ruby is stronger and healthier than she's ever been and is no doubt still cancer free," Donna smiles. "We will have a checkup again at the end of the year, but I'm not worried. I continue with the great nutrition and a maintenance regime of the natural medicines."
Ruby is no longer on chemo and Donna now dedicates herself to helping other pet owners deal with cancer through her thriving business.
Do you have a story like Donna's? We'd love to hear from you. Send PIA a private message and get in touch.
Get the latest Pet Insider Tips & News
We offer award-winning* pet insurance policies to protect your furry friend's health and wellbeing. Get a quote today and give your pets the care they deserve.
get in touch
Do you have any
enquiries about our
insurance policies?
Archives
Categories