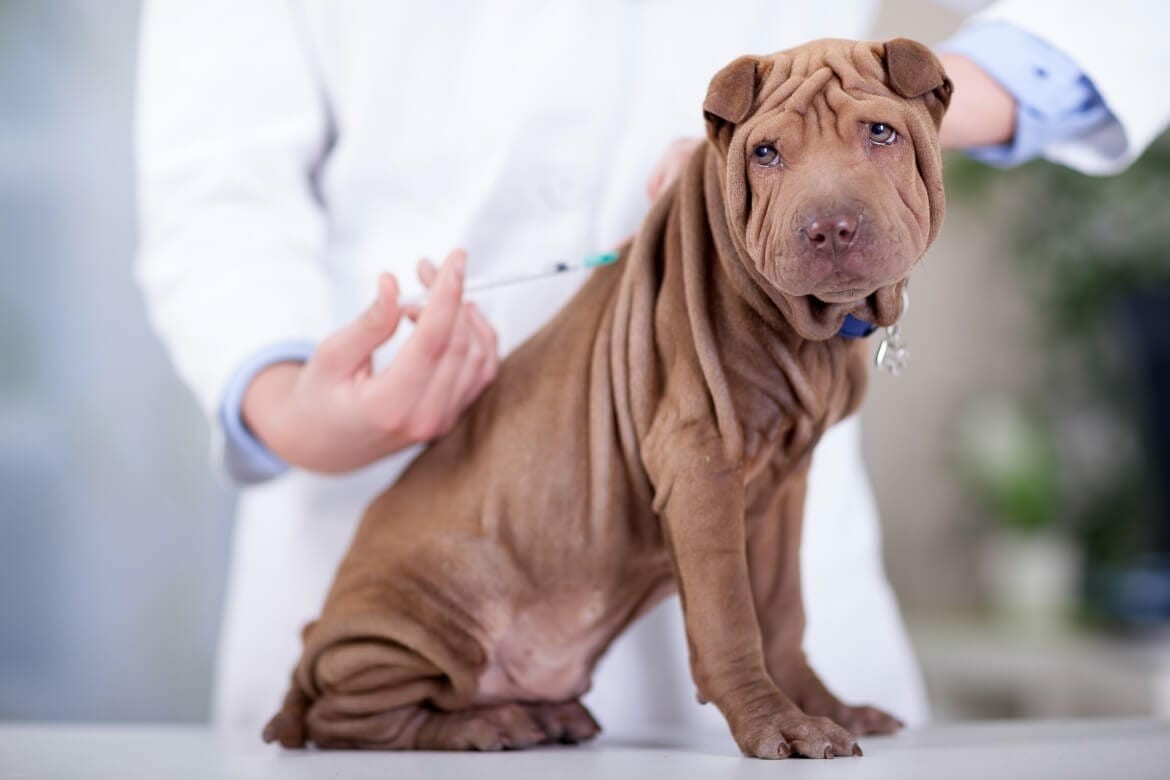 Puppy Vaccinations what does it all mean?
Nadia Crighton takes and in-depth look at puppy vaccinations and what we are protecting our dogs against.
With so much misinformation circulating about vaccinations we thought it was time to debunk some myths and make an informed list of what vaccinations do for your pet and why they are so important. For pups it is important they are fully covered in a vaccination schedule. After this time they will require a yearly booster shot.
If you are concerned about your vaccination schedule or you want to know more, please speak with your local vet. They are a huge resource and have information on many statistics such as; what the mortality rate is for these diseases in your area. They see first hand the reasons why you should, or should not, vaccinate. Some vaccinations, like tick treatments, are only needed in certain areas.
Age of pup
Protect Against

6-8 weeks

Parvovirus

Infectious Hepatitis

Distemper

12-14 weeks
Parainfluenza (kennel cough)

Bordetella (kennel cough)

Corona Virus

Leptospirosis (certain areas)

Parvovirus

Infectious Hepatitis

Distemper

16-18 weeks

Corona Virus

Leptospirosis (certain areas)

ANNUAL BOOSTER
Parainfluenza (kennel cough)

Bordetella (kennel cough)

Parvovirus

Infectious Hepatitis

Distemper
Parainfluenza & Bordetella (kennel cough)
Canine Parainfluenza virus (CPIV) is a highly contagious respiratory virus that can cause illness in dogs. This is loosely called kennel cough but can be made up of two problems, one being canine influenza, and the other being caused by a bacterial infection known Bordetella. They are both highly contagious and can cause the same symptoms. Many boarding facilities will require that your dog is fully vaccinated for both Parainfluenza and Bordetella before their stay. Kennel cough causes inflammation in the dog's windpipe leading to coughing and discomfort. Symptoms include continuous coughing and hacking alongside a possible water nasal discharge. Although many times kennel cough is not severe if left untreated in can become a serious condition that may lead to fever and even pneumonia. It's important to seek veterinary treatment immediately if you suspect your dog is suffering from kennel cough and always keep you vaccinations up-to-date.
Leptospirosis
This bacterial infection can wreak havoc on your dogs system. It can burrow through the skin and affect their entire body. Including kidneys, liver, nervous system, reproductive system and eyes. Most vets in tropical areas on Australia (like North Queensland), will recommend vaccinating for this condition. Symptoms include: sudden fever or illness, shivering, weakness, vomiting diarrhea, runny nose, speckled gums, depression and lack of appetite. There are many more possible symptoms. If your dog seems unwell and is not vaccinated against Leptospirosis and you have lived or visited a tropical area with your dog, advise your vet ASAP.
Parvovirus
Canine parvovirus (CPV) infection is a highly contagious viral illness, which affects dogs of all ages, but in particular puppys. This can cause your dog to become very ill very quickly. This disease can remain in the environment for up to 12 months, meaning your dog can come in contact with this deadly virus at anytime. Sadly, approximately half of all animals infected will die or euthanized as a result of infection. Common signs include vomiting, bloody diarrhea, depression, and severe abdominal pain. Parvovirus is a highly infectious and contagious, and the consequences of your dog contracting this disease is horrendous. Many dogs die in the absolute agony, within a matter of days.
Coronavirus
Like with parvo, coronavirus in dogs can cause huge intestinal upset. The virus invades the intestinal tract causing vomiting diarrhea and sickness. It is also passed from dog to dog via feces. Puppies can become very sick, very quickly, however does not have the mortality rates as with parvo. Symptoms include diarrhea and possible vomiting.
Infectious Hepatitis
Canine Hepatitis is a liver infection in dogs that can cause illness and death. It is spread from one infected dog to another through salvia, urine or fecal matter (better known as poop!). Symptoms include; lack of appetite, vomiting, weight-loss, increase in thirst, abdominal pain, a yellow look to the skin or eyes (jaundice) and a distended stomach.
Distemper
The Canine Distemper Virus (CDV) is a horrific viral disease that affects the gastrointestinal, central nervous systems and respiratory system in canines. It is a highly contagious virus that causes death, particularly in young dogs and pups. The disease is resistant to many cleaning products so it can live in the environment waiting to infect another dog. Dogs who are suffering from CDV will also remain infectious for several weeks after recovering. Symptoms include; diarrhea, vomiting, fever, breathing difficulties and coughing.
Why Choose to Vaccinate?
Luckily many responsible pet owners have been vaccinating their dogs for generations and some of these diseases are not as common as they once were. However some believe that we should not be vaccinating our dogs or only partly vaccinating our pups. On a personal note, after watching a young pup die from the consequences of contracting parvovirus while visiting a veterinarian's office for work, it is a simple choice for my family. However, if you are not sure if you want to vaccinate your pup, please chat with your vet about this. It's important that you seek professional advice from the people who care for the dogs who contract these diseases. They can offer real time stories, plus also give you a run down on the above diseases and when they were last seen in your area. Make an educated choice on whether to vaccinate or not. The life of your pup is in your hands.
A BIT ABOUT THE BLOGGER:
Nadia Crighton is a well-known and accomplished Australian Journalist and pet magazine Editor. As a busy mum of four humans, two dogs, 50 sheep, three cats, a handful of chickens and a goat named Billy, she simply adores pets of all shapes and sizes. These are her personal thoughts and advice from many years of pet-ownership.
Get the latest Pet Insider Tips & News
We offer award-winning* pet insurance policies to protect your furry friend's health and wellbeing. Get a quote today and give your pets the care they deserve.
get in touch
Do you have any
enquiries about our
insurance policies?
Archives
Categories