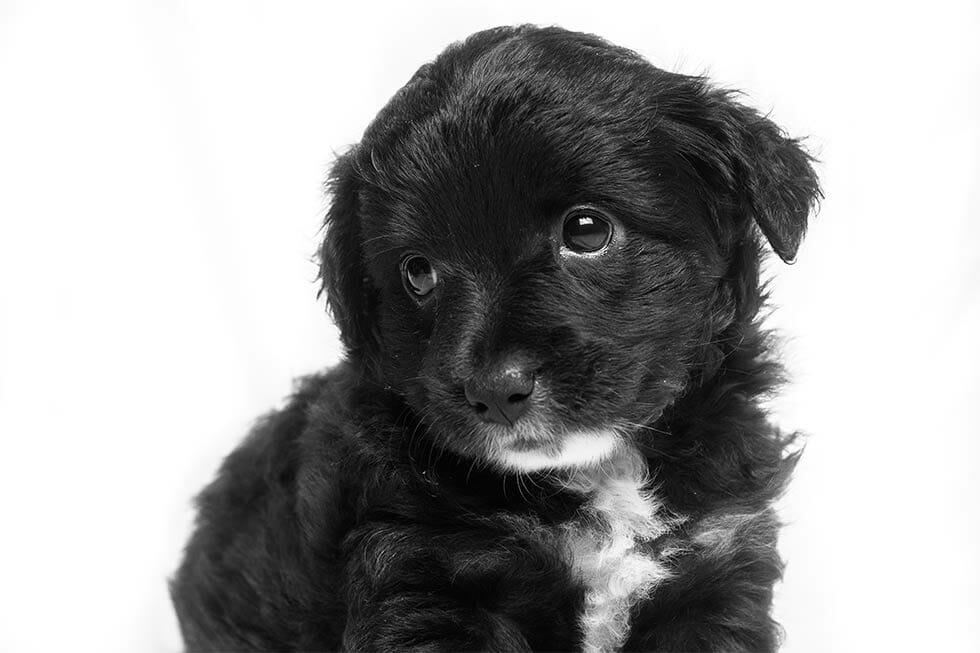 Puppy Problem Prevention
Dr Jo Righetti, Animal Behaviourist
If you have a new puppy, congratulations! Having a new furry family member is an exciting time but, as well as having fun, putting a few behavioural strategies in place will help prevent future puppy problems…
1. Friendly Introductions
Ensuring that a puppy feels safe and comfortable in their new home is a necessity but so too are friendly introductions to their entire new family. Your new pup should meet your children and other pets in a careful, controlled and positive manner.
Supervise all interactions, keeping dogs on a lead. Control your pup's movements and make intros positive for your other pets by offering pats or treats when your pup is present.
Model the behaviour you would like your children to display, showing younger children how to pat the puppy and older ones how to walk their dog and pick up poo. Your new pup will also welcome a safe, child-free space.
Friendly introductions help your dog accept people and animals throughout their life.
2. Positive socialisation
Socialisation expands on these first encounters, introducing your young dog to many more experiences, including meeting people of all ages, appearances and abilities and encountering vehicles, objects, substrates and sounds. All experiences should be positive and ideally all begin before 14 weeks of age.
When a young dog is not given adequate socialisation or the encounters have been negative ones, the dog is often left fearful. For instance, the puppy that has never heard thunder may react fearfully when encountered at a later age. Playing sounds of thunderstorms and pairing this up with a play session, cuddle or mealtime can help prevent fearfulness.
3. Happy to be alone
Young pups are often surrounded by people and lots of stimulation. Then, suddenly, when everything returns to 'normal', the puppy is left alone. Some dogs may suffer separation-related distress or anxiety and fret when alone. Unwanted behaviours may include barking or howling, inappropriate toileting, destructive behaviours such as digging or chewing, or trying to escape.
We need to make alone times positive for the puppy by starting with gradual separations. Separate from the puppy for 30 seconds, then build up alone time gradually. Give the puppy a toy or a tasty treat to occupy them, then return calmly.
Pups need to chew, so provide a range of chewable treats and toys and rotate these around, to help your pup satisfy their needs and also occupy them when alone.
4. Teaching manners
Many new dog owners wait on their puppy behaving correctly. This could be an eternal wait! Puppies are always learning, so it is worthwhile teaching your puppy from the very beginning.
Most owners find that a 'Sit command is useful. Wait until the pup is sitting, say the command "Sit" and pair this with a hand gesture such as a hand, held in a stop sign. If the entire family is consistent, doing this on many differing occasions, the new puppy will soon learn to sit.
Pups learn quickly and you can ensure they want to please you by rewarding desirable behaviours. Any unwanted behaviours should be managed by placing your puppy on a lead to control their movements (yes, leads can be used inside the home!), removing them from the situation or by ignoring attention-seeking behaviour.
These four puppy problem prevention tips should help your new canine companion become a valuable addition to your family and to the community. Enjoy your dog!
More information on cat and dog behaviour at www.petproblemsolved.com.au.
Dr Jo Righetti is an animal behaviour consultant, helping people understand pets. Through her company, Pet Problems Solved, Jo works with pet owners, companies, councils, organisation and media. Jo lives with a dog, cats and chickens.
Feature photo by Joel J. Martínez
Get the latest Pet Insider Tips & News
We offer award-winning* pet insurance policies to protect your furry friend's health and wellbeing. Get a quote today and give your pets the care they deserve.
get in touch
Do you have any
enquiries about our
insurance policies?
Archives
Categories