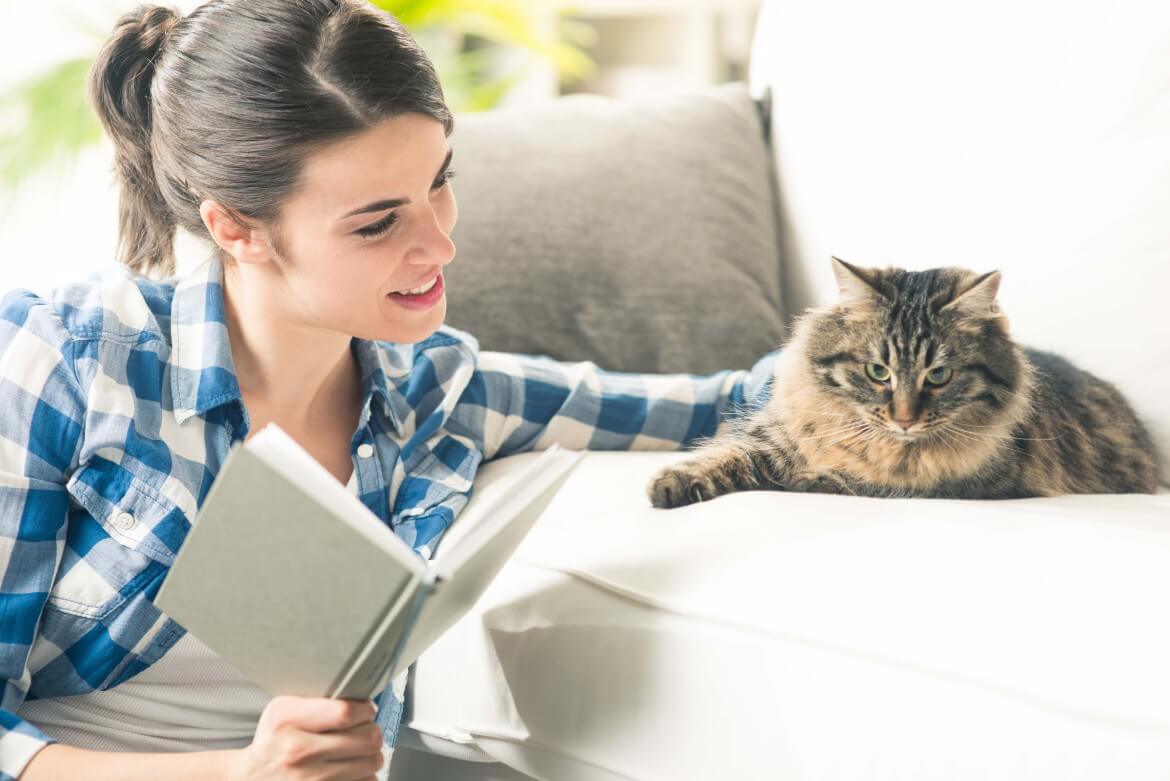 Problem Pet Hair
Is your pooch constantly leaving endless tumbleweeds of hair around your home? Nadia Crighton has some ingenious ideas on how to help you escape the pet-hair overload in your home.
If I had a dollar for every time I have cursed the endless pet-hair in my home I'd be a very rich woman. With two short haired-dogs and two fluffy cats I'm simply outnumbered by pet hair follicles! But along the way I've picked up some wonderful tips on how to reduce the pet hair problem in your home.
Firstly, why do our pets shed hair? Many of us mainly notice this occurrence as the weather begins to warm (especially with longer/heavier coat breeds of cats and dogs). It's their way of adding some 'air-con' to their bodies and is known as; seasonal shedding. However, if your beloved pet spends most of the day inside, your may noticed that they shed all year round. This is mainly due to the fact that they are not exposed to the outdoor elements enough to signal a change that brings on seasonal changes (particularly in the indoor cat vs the outdoor cat). This is when we start to see endless shedding, that can become a bit of a hairy headache.
Grooming:
Yes I know…obvious! But lets start with the basics. If you can get into the groove of grooming your pet regularly you will notice a huge difference in both their coat, and the amount of hair your pet leaves around the home. Even once a week can make a huge difference. Grooming is also a great way to do a skin/coat health check on your pet. Giving you the time to thoroughly examine your pet for any possible problem areas. The key is to start young. Many animals, which have become accustomed to being groomed, simply adore the experience, while others, not so much. However, I would strongly recommend to all pet owners, regardless of what you see on YouTube please do not attempt to vacuum your pet…I'm certain it would remove hair, but the experience on your pet would be extremely traumatic (to say the least).
Rubber Floor Brush
These are perfect for brushing pet hair from carpets that many vacuum cleaners will leave behind. Use the brush before vacuuming. They are also great for cleaning up after grooming your pet. You will see these brushes being used in in many hairdressing saloons and are normally available from department home stores.
Sticky Tape / Roller / tumble dryer
All pet owners should have a tape-roller specially designed for removing pet hair from clothes. These are simply marvelous and are a 'must have' in any pet loving home. Most white cats, for some reason or another, simply love curling up on black clothes. It's a phenomenon I'm sure you all understand! These also work great on couches and other fabrics that are in need of hair removal. If you do not have a roller, grab some sticky tape (the wider the roll the better) and make a ball (sticky side out) and rub over area.
Have a beloved black shirt that is absolutely covered in white hair (even after washing)? Pop it in the tumble dryer for a few minutes and let the filter do the work.
Pet Rug / Beds / Washing
Have a specific rug or blanket/bed for your pet. It is much easier to chuck this into the wash or give it a good shake outside than have to think about cleaning your entire couch. This is obviously not an option when it comes to cats. Keeping them well groomed with a rubber brush or glove will reduce the amount of hair on your couch. The rubber glove also works well to remove pet hair from areas like carpets and couches. Remember to always empty your washing machine / tumble dryer filters after washing a heavily haired blanket/bed, otherwise you may find your next wash is covered in pet hair and you'll be back to square one. Sometimes it is also wise to wipe out the washing machine after washing pet beds to ensure the hair is 100% removed (as too with the drain hole which can become blocked with hair and possibly lead to laundry flooding).
Vacuum Cleaners
There are many vacuum cleaners on the market that claim to do all sorts of wonderful things. When you are purchasing a vacuum it's important to ask how they rate for pet-hair as some are simply superior. Ask around and get some expert tips you'll be shocked at how far some companies go in researching the removal of pet hair.
Fabric Softener
This is simply a pet lovers best friend! Not only does it smell great it will also help your vacuum pick up more pet hair than every before. Simply dilute a capful into a spray bottle, spray the area, wait for it to dry and then vacuum. Great way to deodorise and help remove pet hair from carpets, bedding and couches.
Rubber gloves
These are great and work similarly to the rubber brush, plus they are a general household item that can be put to another great use. Simply rub over problem areas like bedding and couches and the hair will easily pile into balls for easy removal. Circular motions work best. These are also great to gently rub your dog/cat down with after grooming or bath time. You'll be surprised how much extra hair you prevent from ending up in your home.
Floors
Capet = vacuum often. Use different motions and directions to lift suborn hair. Think about a rubber brush and go over the carpet with this before vacuuming.
Hard Floors = use a micro-fiber cloth or brush. Vacuuming will just blow the hair around. Always remove all hair before mopping or you will end up with endless dirty hair streaked across your beautiful floors. The rubber floor brush is also perfect for any tiled/laminated areas.
Wood Furniture – micro-fiber cloths will stop the static and prevent the hair from re-sticking. Think about purchasing a dust repelling polish that can make hair removal a breeze (literally)!
Remember that there are also numerous physical problems that can cause abnormal shedding. If you are concerned about your pet's hair loss, or you notice bald spots please seek veterinary advice ASAP as it could be a signal that something more sinister is brewing.
A BIT ABOUT THE BLOGGER:
Nadia Crighton is a well-known and accomplished Australian Journalist and pet magazine Editor. As a busy mum of four humans, two dogs, 50 sheep, three cats, a handful of chickens and a goat named Billy, she simply adores animals and pets.
Get the latest Pet Insider Tips & News
We offer award-winning* pet insurance policies to protect your furry friend's health and wellbeing. Get a quote today and give your pets the care they deserve.
get in touch
Do you have any
enquiries about our
insurance policies?
Archives
Categories