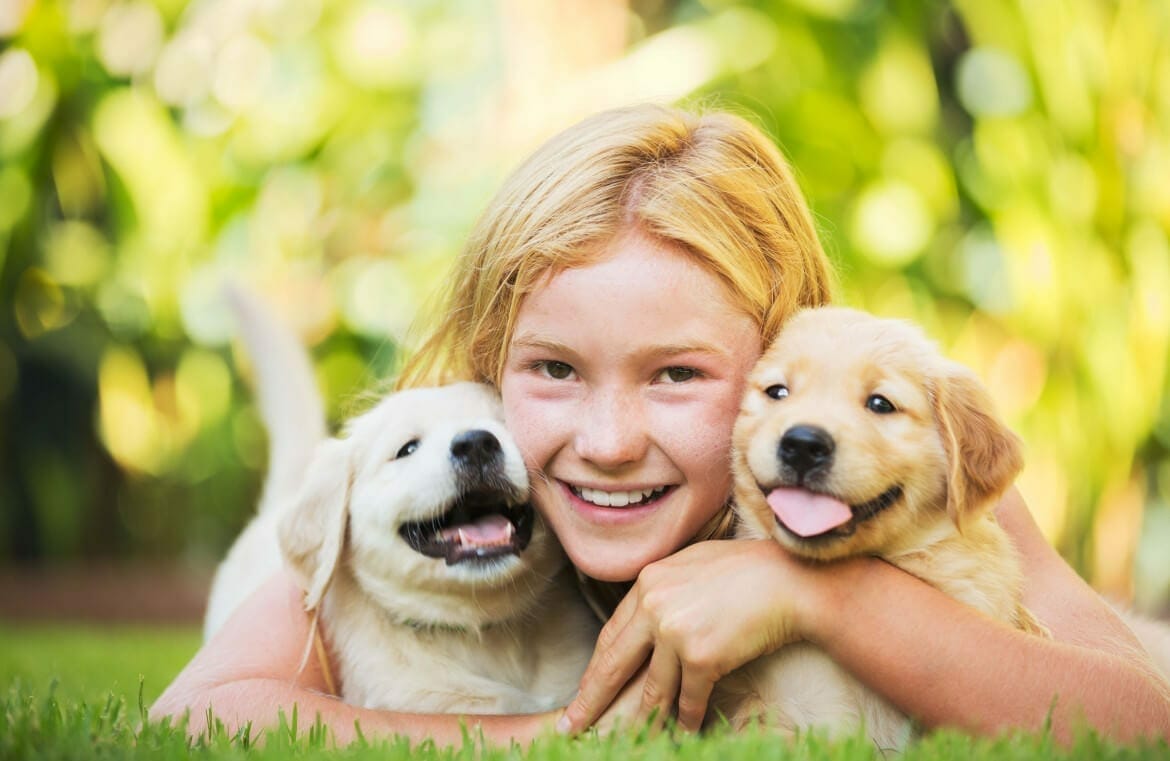 Preparing for Pup
Nadia Crighton takes a look at some of the things people should consider when preparing to bring a new bundle of fur into the family home.
The sheer excitement is almost over-flowing! After learning of the impending pregnancy we should become the proud owners of squeaky ball of black Doberman fluff in around 16 weeks (not that I'm counting or anything!)
It's been a long six years since we've owned the breed. After loosing my previous Dobermann the pain was simply too immense so we've filled our home with other pets (and children) and our beloved German Shorthaired Pointer.
After much thought, and as the greying hairs on my beloved dog cover his coat, now is the time to add another pup into the family home. Needless to say, this house is full of excitement and talk of 'pups' arrival.
So now comes the real task. Puppy-proofing the home, and getting prepared for our new arrival.
But what are important things to think about before you bring a puppy home?
QUIET AREA: Develop a quiet area for your pup so they can have their own space. This is so important when you are busy preparing dinner, or when pup needs a break from the busy household. We tend to pop a puppy pen area in our large kitchen. However, any quiet/safe area that the pup can be put to have some rest, which is out of the way of the hustle and bustle of the family is imperative. Baby gates are great for this (and very affordable) as too puppy-pens. A tiled area is preferred, like a bathroom or laundry. Being quiet, warm and safe is the most important aspect.
TIP: Pups need a lot of sleep. When you see your puppy getting tired pop him in his 'quiet area'. He'll feel secure and be safe from getting under peoples feet. It will also encourage him to have a deep sleep. Allowing pups to have the correct amount of sleep each day will help develop a good temperament and can prevent behavioural problems like anxiety.
BED: A nice warm snuggly bed and something to help settle the puppy at night. We like to use a small clock (the ticking nose sounds like a heartbeat that we place under the bed). You can even purchase those great toys that have heartbeat sounds. Sometimes these are used in infant's cots to help soothe babies to sleep and they work a treat for a pup that is getting used to his new home.
TIP: Consider what you want from your puppy as a dog. They are all so very small at this stage but if you do not want your fully-grown Great Dane sleeping on your bed, or on the couch, then it's best to expect this behaviour from day one.
Toys: A good chew toy and a teddy, or toy that has long arms and is snuggly. This can also help to comfort the pup during times away from you. Remembering that they probably had a pile of littermates sleeping around and on top of them. Pups also love to chew. Having a good selection of chew toys available will prevent your pup from chewing things he is not supposed to.
TIP: rotate your chew toys. So buy four, but keep two for you and change them weekly. It will keep your pup interested in them for much longer.
Food & water bowl: You want this to be a suitable size for the puppy. So pop out and purchase a cheap plastic one, as your puppy will quickly grow out of the bowl. If the bowls are too large your pup will not enjoy using them.
TIP: when feeding your puppy make sure you put your hands in his bowl and take the food off him and give it back. If he growls give a quick 'ah ah'. This will prevent your pup from being food aggressive. Also encourage the children to do this.
Lead & Collar: Also this will need to be replaced as your puppy grows. Think comfort, light and durable…but most importantly comfortable. We tend to stay away from fancy leather collars until our pups are older as they can be stiff and uncomfortable.
TIP: It's never too young to start basic training with your pup. Asking basic commands like "come" and "sit" can begin at any age. You'll be surprised how smart your little puppy is. Also always put your puppy on the grass to teach them not to wee only on the concrete or tiles. This will save you a lot of cleaning time (and smell) in the future.
Newspaper: Start collecting newspapers now so you can line the bottom of your 'quiet' area. This allows for easy and quick cleanup come morning time. You can also buy those impressive puppy pads that also do the same thing, or even the flash puppy-grass.
TIP: This is the BEST thing to teach any pup and is so handy when travelling. When you are toilet training your pup, use the sentence "quick go" in a high-pitched voice…say it over and over until your puppy toilets. Then big big praise once the pup has gone. After a while they will understand what you are asking them to do. Being able to ask your dog to have a wee before you get in the car or before you go to bed at night is great at preventing accidents.
Training or puppy school: Have a chat to your local veterinarian, as many will hold puppy-classes. This is a great way to keep informed about healthcare and puppy problems, plus it gets you socialising your puppy in a safe environment. You want to stay away from off-leash areas and public spaces until your puppy is fully vaccinated. Puppy-classes allow play and education in a sterile environment.
TIP: Sometimes these classes get booked up really quickly. So plan ahead and do the ring around to make sure you have your classes in the area that is best for you.
Spray bottle: Fill a spray bottle with some watered down laundry detergent. This makes for a cheap and easy cleaning product for any little 'accidents'. Laundry detergent is also full of enzymes, which actually kill the smell at the dogs level. Some cleaning products enhance the smell of urine or waste to your pup (even though it smells fresh to us!). This basically puts an invisible TOILET HERE sign on the area. So always clean the area well using an enzyme based detergent or a specially designed dog-cleaning product.
TIP: Stay away from bleach when washing your dog's area. It amplifies the smell to your dog. You can purchase some great dog kennel cleaning products that come in bulk and are great for cleaning up outside areas and kennels that can come a bit stinky during winter when some dogs are less inclined to wee on the grass.
Pet Insurance: Organise this now before your receive your bundle of joy. When considering a pet insurance company, think about ease of use, customer service and the policies on offer. Pet Insurance Australia offers a great Pet Portal option allowing you to change your details and claim on-line. Services like this make insuring your pup easy. Many times people only consider pet insurance after something has gone wrong. Be prepared and protect the healthcare options and costs for your pup. Insurance can help in all aspects of your growing pup and their needs.
TIP: Many don't realise that pet insurance offers cover for the everyday needs of your pet. For example, Pet insurance Australia offers a Routine Care Benefit under their Major Medical Plan. This policy gives a $50 annual benefit towards any one of the following: De-sexing, micro-chipping, heartworm control, dew claw removal, teeth cleaning, council registration fees, alternative therapies, prescription diets, dog training (at recognized centres) and cremation/burial. The policy also allows other benefits covering a specific sum of money towards vaccinations, health checks, heartworm tests or blood screens plus flea, tick and worm control! It is certainly worth the investment.
PUPPY PROOF
How do you puppy proof your home? To an extent completely puppy-proofing your home is impossible. You have to come to some realisation that some things will get chewed, pooped-on, wee-d on and chased. However, with a little planning you can prevent any major upsets.
Get your children to put their toys away. For some reason pups love Barbie dolls (in particular their hands and feet)! Not to mention anything with a squeak. So remind your kids…out of sight, out of mind.
Put your shoes away and out of sight and do not allow your puppy to have their 'own' shoe to eat. When they are older they will not know the difference between your best leather shoes and 'their' shoe.
If your pup takes to eating or chewing the skirting boards, sprinklers, chair-legs or wall corners, slap a little Vicks chest rub on them (or citronella oil). It's a great deterrent for pups.
Best of all, have fun, enjoy the craziness, the cuddles and that perfect puppy smell. These are the days that build that forever and magical bond with your dog.
A BIT ABOUT THE BLOGGER:
Nadia Crighton is a well-known and accomplished Australian Journalist and pet magazine Editor. As a busy mum of four humans, two dogs, 50 sheep, three cats, a handful of chickens and a goat named Billy, she simply adores pets of all shapes and sizes.
Get the latest Pet Insider Tips & News
We offer award-winning* pet insurance policies to protect your furry friend's health and wellbeing. Get a quote today and give your pets the care they deserve.
get in touch
Do you have any
enquiries about our
insurance policies?
Archives
Categories