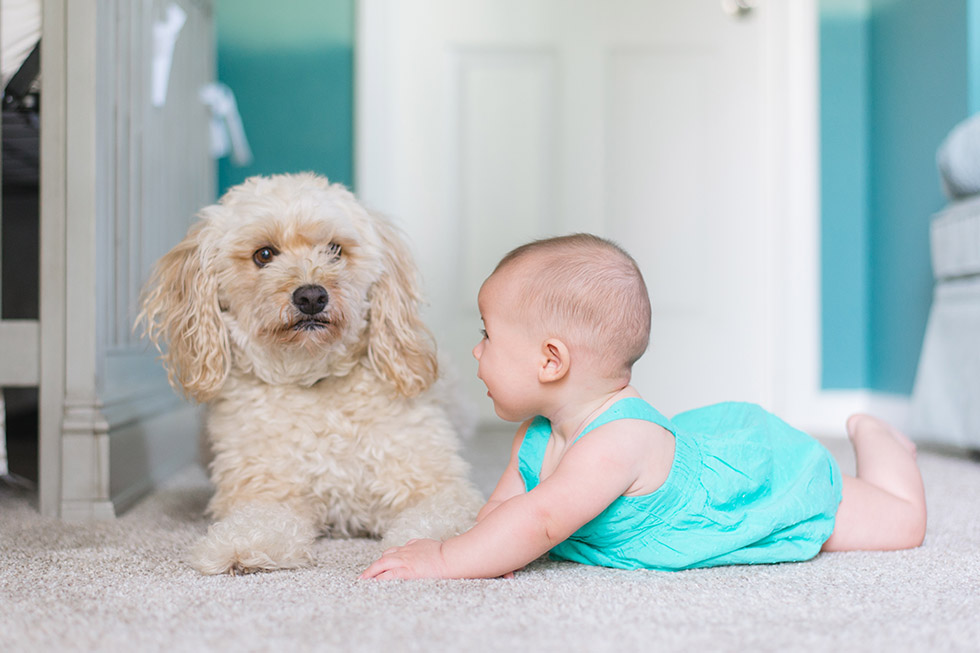 Preparing Your Dog or Cat For a New Baby
Welcoming a new baby into the family is an exciting time, but amidst the joy, pet owners often overlook how this significant change might affect their beloved furry companions. To shed light on this crucial topic, Pet Insurance Australia catches up with Dr. Lewis Kirkham, an expert in pet behaviour and the founder of www.babyandpet.com.au.
Dr. Kirkham's journey into educating expectant parents about the smooth transition from a child-free, dog-owning family to a larger family with a new baby began with the birth of his two daughters. This life-changing event ignited his passion for helping families and their furry companions adapt to the exciting changes that come with a new addition.
His ground-breaking work was first published as 'What your pet can expect when you're expecting'. It quickly became the first comprehensive resource for expectant families who owned a dog or cat. Recognising the significance of his message, 'Tell Your Dog You're Pregnant: An essential guide for dog owners who are expecting a baby' was re-released in 2012.
Building on this triumph, Dr. Kirkham's expertise extended to cat owners with the release of his second book, 'Tell Your Cat You're Pregnant: An essential guide for cat owners who are expecting a baby.' Dr. Kirkham's dedication to promoting harmony between pets and growing families has made him a respected authority in this field.
Introducing New Born Babies & Pets
According to Dr. Kirkham, many pet owners underestimate the impact a new baby can have on their pets. The sudden arrival of a baby can quickly disrupt a cat or dog's daily routine. This includs feeding, exercise, and also important interactions with their owners. Without the correct preparation, many pets may become anxious, vocal, destructive, or even aggressive. Sadly, this can lead to potentially challenging situations for the entire family and leave many feeling stressed and overwhelmed. When new parents are faced with a distressing reaction by their pet, it can cause a serious impact to the harmony within the household.
"Owners definitely underestimate the impact of a new baby on their pet," Dr. Lewis Kirkham says. "Many pregnant couples do not truly appreciate the huge changes that come with a new baby until that baby actually comes home."
To avoid such issues, Dr. Kirkham emphasises the importance of early preparation. As soon as the idea of having a baby comes to mind, getting pets accustomed to the changes that come with a new addition is vital. This includes familiarising them with baby sounds, new furniture, and anticipated changes in family routines.
"We can never anticipate how our family members will get along, and the last thing we want is to cause a beloved cat or dog any distress," he says. "Rather, we want our children and pets to be best friends. The best start to their journey together is to be well-prepared for all facets of life."
Preparing A Cat or Dog For A New-born Baby
Preparing a dog and a cat for a new baby might require different approaches. Owners report that cats are more sensitive to baby sounds, while dogs tend to rely more on their owners for routine and attention. Early preparation for both dogs and cats ensures a smoother transition and reduces the likelihood of anxiety or behavioural problems.
"An unprepared pet can become anxious with any sudden changes to their routine," he stresses. "Dogs can become vocal, disruptive, destructive, or even aggressive, which is unsettling for all family members and can lead to them being confined to other areas of the house, relegated to the backyard, or sometimes even rehomed. Cats often start hiding and become reclusive, avoiding interactions with the family if they are upset by the new addition and the changes that have occurred."
Furthermore, Dr. Kirkham highlights the significance of revisiting pet preparation even when introducing a second child. Each baby brings new experiences, and reinforcing the pet's familiarity with baby sounds and toys can prevent potential challenges.
"The earlier pets are prepared, the less stressed all family members will feel, which augurs well for a peaceful house and the best chance for the pets and the new baby to grow up to be best of friends." – Dr. Lewis Kirkham.
Dangers of Baby & Pet Related Social Media Posts
One crucial aspect often overlooked is unsupervised interactions between pets and babies, especially evident in social media videos. Dr. Kirkham strongly advises against leaving pets and babies unattended, as many "cute" videos can display signs of pet anxiety or discomfort that go unnoticed by viewers.
"I am often tagged on social media in perceived 'cute' videos of unsupervised babies interacting with dogs," Dr. Kirkham says. "Many of these are very concerning for those who are able to correctly read a dog's anxious body language. The dog is often actively trying to avoid the baby, avoid eye contact and even lick them to push them away."
Sadly, these signs are often missed by the person behind the camera. Dr. Kirkham strongly advises supervision of pets and keeping them within arm's length at all times is imperative to prevent incidents.
"I regard a video of a baby alone with a pet as 'unsupervised'," he says.
Dogs and cats may react unpredictably, posing risks of harm or injury to a child. Moreover, viewers may misinterpret a pet's body language, overlooking signs of stress or discomfort. What appears adorable might indicate the dog or cat's anxiety.
These posts can inadvertently encourage unsafe practices, as others may imitate the content without understanding the potential risks.
To address these dangers, responsible pet owners and parents should prioritise supervision during interactions, educate themselves about pet body language , and avoid putting pets or babies in risky situations for photos or videos.
A New Baby and Pets – Creating Homely Harmony
Ultimately, Dr. Kirkham urges pet owners to create a harmonious environment for their growing families. Understanding and respecting a pet's behavioural cues is vital to ensure a peaceful and happy coexistence between pets and children.
"The earlier pets are prepared, the less stressed all family members will feel," he says. "Which augurs well for a peaceful house and the best chance for the pets and the new baby to grow up to be best friends."
Prepare your furry friend for a lifetime of joy with your new baby. For expert advice on pet behaviour and preparing for a new addition to your family, visit Dr. Lewis Kirkham's website: www.babyandpet.com.au or seek out his books in any book store You can also listen to Dr Kirkham talk all things pet and behaviour related on his podcast, Two Vets Talk Pets.
Photo by Picsea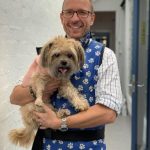 Dr Lewis Kirkham, a veterinarian with further qualifications in animal behaviour, has a lifelong fascination with pets and their interaction with their owners. Since graduating as a veterinarian from The University of Melbourne in Australia, Dr Kirkham has worked in a variety of practices in both Australia and the United Kingdom.
Get the latest Pet Insider Tips & News
We offer award-winning* pet insurance policies to protect your furry friend's health and wellbeing. Get a quote today and give your pets the care they deserve.
get in touch
Do you have any
enquiries about our
insurance policies?
Archives
Categories