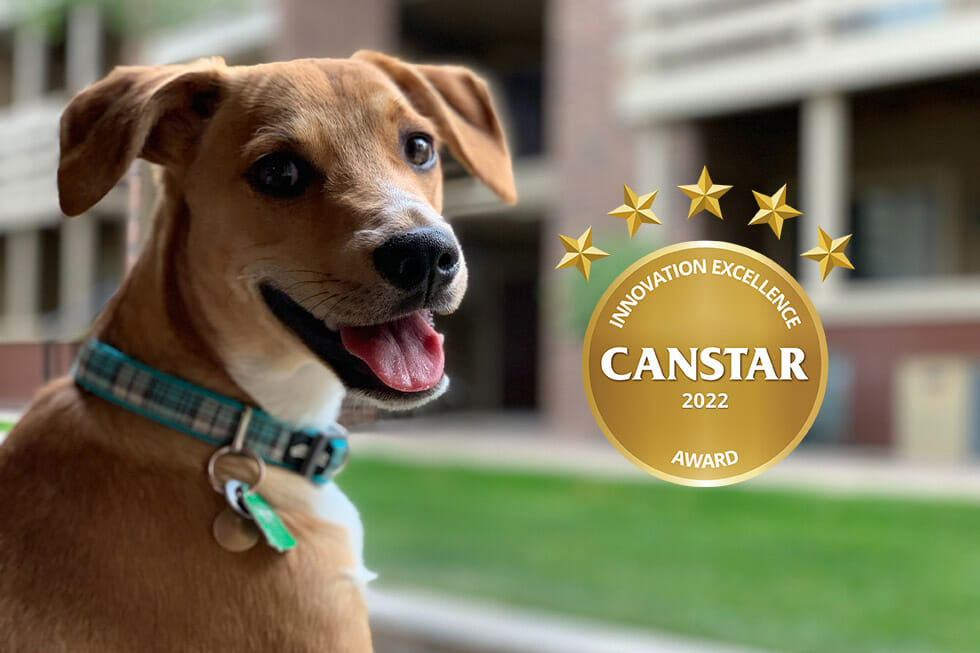 Pet Insurance Australia – Winner Canstar Innovation Excellence Award 2022
Pet Insurance Australia is proud to announce it has achieved a Canstar award for Innovation Excellence Award 2022. 
"Pet Insurance Australia is thrilled to receive such a prestigious award," Nadia Crighton from Pet Insurance Australia says. "It's really a highlight to the dedication and innovation that we continue to offer to our clients and their furry companions." 
Pet Insurance Australia (PIA) is one of the leading pet insurance providers in the market. Recently winning numerous awards including, Product Review Pet Insurance Provider of 2021, 2022 and MOZO Experts Choice Awards – Pet Insurance Provider of the Year (2020) and also Exceptional Value (2020). 
"In the past year we have partnered with GapOnly™ , introducing the GapOnly™ payment system, which allows our clients to claim on the spot at a participating vet, and only pay the gap, which is the difference between the vet's invoice and the claim benefit under their policy," Crighton says. "At Pet Insurance Australia we constantly strive to ensure our customers' needs are met by developing innovative customer service options. This includes partnering with the GapOnly™ platform for our clients to utilise." 
For a pet suffering from a condition such as foreign body ingestion, potentially facing a vet bill of upwards of $12,000*, using GapOnly™ can allow the customer to access their pet insurance benefit right away on eligible claims at participating vets. Traditionally the client would need to pay the total bill and then seek reimbursement from their insurance provider.  
"We commend  Pet Insurance Australia and others participating for their truly innovative service offering in the Australian pet insurance marketplace," said Canstar General Manager, Research and Insights, Mitch Watson.      
"Pet Insurance Australia has partnered with GapOnlyTM, allowing customers to make a claim on the spot at participating vets and pay only the gap," Watson says. "This paperless, in-clinic claims service is a unique and convenient claim solution for pet insurance customers."     
With GapOnly™, customers only have to pay the gap between the vet bill and what their insurance policy covers. This helps reduce the amount that a customer has to pay out of pocket.
The judges at Canstar anticipate that this implementation will pave the way for other providers to streamline their pet insurance claims processes with a keen focus on the customer claims experience. 
"We are noticing a huge amount of positive feedback for GapOnly™," Crighton says. "Including reviews on Productreview.com.au and Google – both increasing substantially over the past six months." 
GapOnly™ is currently available at more than 700 participating veterinary clinics Australia-wide, but the number of practices that have signed up is increasing every day, including specialist and emergency centres.  
"We're expecting many more vets to sign up to GapOnly™ as they begin to understand its usefulness for their clients," Crighton says. "The expectation is that as more vets join the GapOnly™ network, and as PIA policyholders understand the benefit of this service, it will be their preferred way to claim." 
*Based on Pet Insurance Australia data from 2021 
Featured by
Photo by Troy Bridges
Get the latest Pet Insider Tips & News
We offer award-winning* pet insurance policies to protect your furry friend's health and wellbeing. Get a quote today and give your pets the care they deserve.
get in touch
Do you have any
enquiries about our
insurance policies?
Archives
Categories