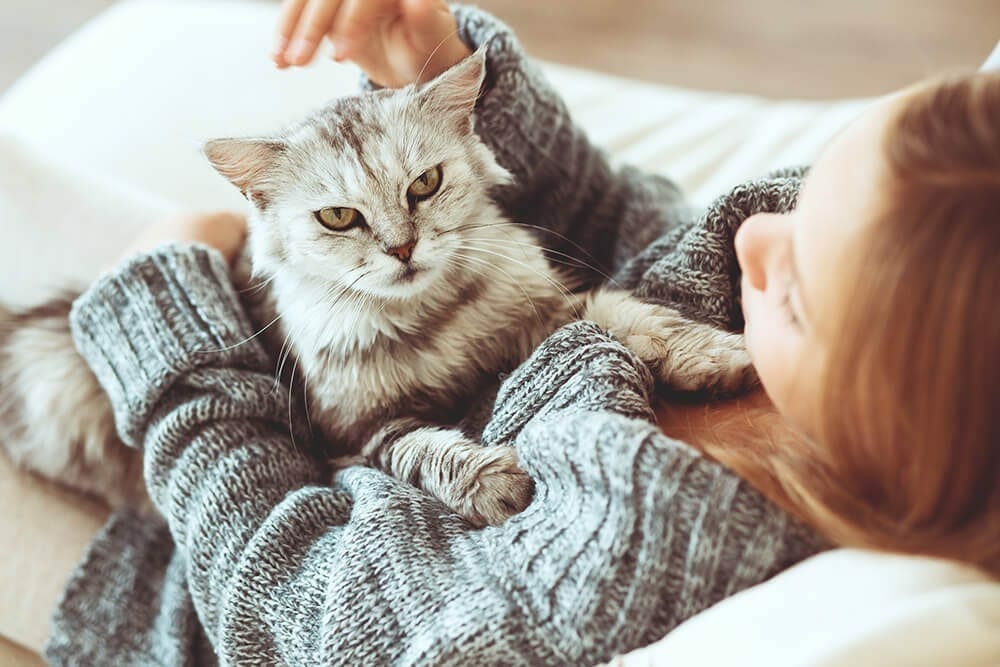 Life Hacks for Cat Owners
Wanting some great tips to help with your cat? From preventing scratching to abolishing hair, Nadia Crighton takes a look at the top life hacks for cat owners.
As cat owners we are always on the search to make our felines lives a little easier. Particularly if you own a long-haired heavy-shedding variety of love. Here are some of the best we have found.
HAIR
Rubber gloves are a must! Dampen them and rub over carpet and upholstery. It will make light work of hairy homes and furniture.
Rubber brooms are a wonderful tool in removing stubborn hair from carpets and floors. This is the reason most hairdressers use them.
Sticky tape rollers. Keep them handy (as for some reason white cats love sleeping on black clothes!). If you run out, do not despair. Grab some cello-tape or sticky-tape and wrap it around your hand (sticky side out) and it will work the same a sticky roller.
Board Cats?
Grab a plastic container. Cut some holes in the lid (big enough for paws to fit through). Line the holes with sticky-tape or masking tape (so the edges are not sharp). Pop some treats inside and some brightly coloured toys. You have your very own interactive toy your cat will love.
Ice cubes frozen alongside a few kitty-tidbits is, a great toy that will also help keep your cat nice and cool on hot summer days.
Make your own cat toys. Using feathers and string and old boxes with holes cut into them.
Scratching
Provide ample scratching areas for your cat. Think cat trees, or even get inventive and place carpet squares around your home (you can make these look really stylish if you mount them on wood and hang them at cat height on the wall). You can even use sisal and wrap it around posts or real tree branches, for the perfect homemade cat tree.
To prevent your cat from scratching your lovely leather couch try double sided sticky-tape (cats hate the sticky texture and will go elsewhere) or tape some aluminum foil to the area. It might look unsightly but it will only be temporary until your cat understands that this area is not for scratching. Make sure you offer another scratching area so your cat has somewhere to exhibit this very natural and soothing behavoiur.
Common Complaints
Cat loves to unroll the toilet roll? Tuck the end back into the roll after use. It takes a little getting used to (especially for the children), but once it's a common practice it will save you plenty of paper and money!
Keep a spray bottle of water on hand (great for kittens when learning the basic manners of the house). If kitty does something you do not want them to do (like jumping on the kitchen bench or dining table) give a little squirt of water. If you remain unseen it's even better. This will quickly and safely let the cat know that this behaviour is not allowed. Soon they will learn the basic manners of the household and will not jump on the bench or table (well not while you are in sight, or preparing food).
Fur-ball problems? You can get some great paste at your local veterinarian that can help with this problem or consider growing your own cat grass.
Dogs keep eating the cat biscuits? Consider building a cat shelf system and feed them out of reach of the dog. You can also now buy high-tech cat bowls that will only allow your cat to eat from it. By using a collar with a special microchip. Very posh and highly effective at saving money on cat food.
A BIT ABOUT THE BLOGGER:
Nadia Crighton is a well-known and accomplished Australian Journalist and pet magazine Editor. As a busy mum of four humans, two dogs, 50 sheep, three cats, three axolotl's, a handful of chickens (and not to mention the goat named Billy), she simply adores pets of all shapes and sizes. These are her personal thoughts and advice from many years of pet-ownership.
Get the latest Pet Insider Tips & News
We offer award-winning* pet insurance policies to protect your furry friend's health and wellbeing. Get a quote today and give your pets the care they deserve.
get in touch
Do you have any
enquiries about our
insurance policies?
Archives
Categories