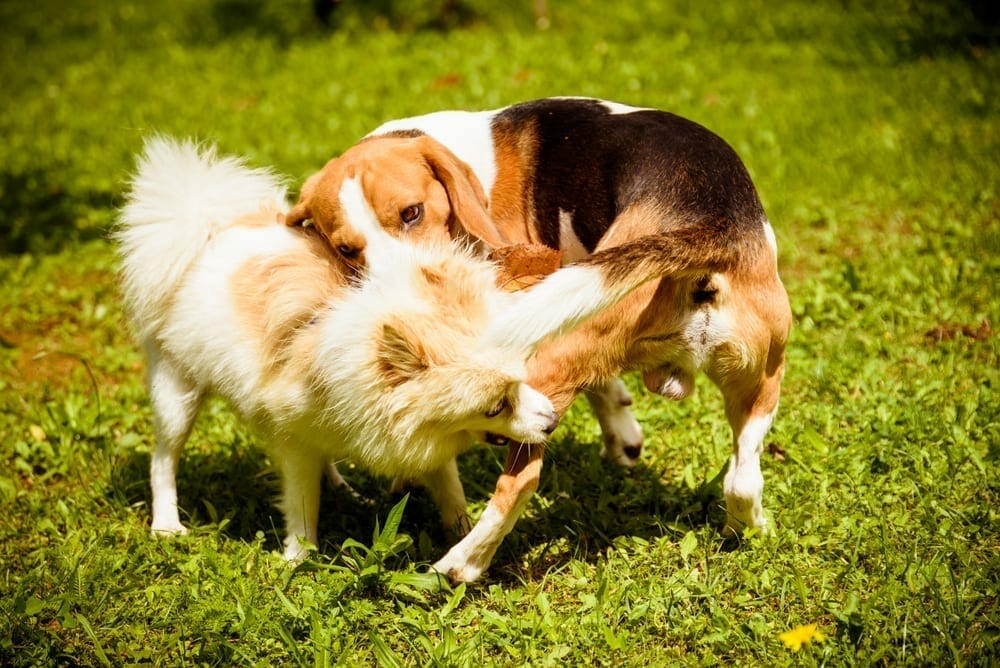 Keeping Your Pet Safe – Dog Bites
Pet Insurance Australia investigates dog bite injuries, how to keep your pet safe and what to do in an emergency situation. Plus; we catch up with renowned veterinarian, Dr Gerardo Poli from Animal Emergency Service to discuss the importance of seeking treatment quickly.
Sadly it's not an uncommon sight. Two dogs going head-to-head at the local off leash park. Owners frantically yelling and squirting water on the two dogs who have quickly switched from 'play' mode to a fully-fledged 'fight'.
Teeth are bared, hackles are raised as the two dogs snarl and grow in a deafening stance of detest towards one another. Finally, they break-free leaving both dogs panting and one bleeding.
Dog bite injuries are one of the most common emergencies seen by veterinarians across Australia. But unlike the fictional situation above, these real life cases can quickly turn from a small wound from a slight altercation, into a full blown emergency.
Keeping Pets Safe
Firstly, is there anything we can do to actually keep our dogs safe in a situation like this? It is almost impossible to prevent a dog bite attack however there are certainly steps you can take as a responsible pet owner to help prevent such a scenario.
1) Get to know your off leash area – before you head off to the local off leash area, pop down without your dog and take a look at the level of control other dog owners have. What types of dog are running free? Are they predominantly large dogs or small dogs? Are there unruly dogs, or are they all pretty well behaved? Do this every day at the same time you intend on taking your dog, for a week. Also, speak to the other dog owners if there are any problems in the park at that time etc.
2) Train your dog – if you want to use an off-leash area, no matter how well behaved you think your dog is, it is vital they are well trained. This is not only so you and your dog can 'speak' the same language, training can help keep your dog safe in an emergency situation. They are much more likely to listen to you and 'come' if they are trained.
3) Supervision – when visiting an off-leash zone it is imperative you supervise your dog at all times. Many times owners are busy chatting with a hot cup of coffee while a situation is escalating. If you notice another dog becoming overly boisterous in play or showing signs of aggression – hackles up (the hair on the top of the dog), chest puffed, showing teeth, nose to nose stare downs etc – call your dog back to you and break the interaction.
4) Be sensible – if you have a dog that does not like other dogs, or is showing signs of aggression in an off-leash situation, please seek professional advice from a dog handler and only walk your dog on-leash.
After a Dog Bite
If your dog has been bitten or caught up in a fight situation with another dog it is important to seek medical treatment quickly. Sometimes the injuries you can see on the surface hide serious problems.
Dr Gerardo Poli from Animal Emergency Service and the Veterinary Director Jindalee Animal Emergency Service has seen his fair share of dog bite injuries.
"We are lulled into a false sense of security when the only sign of trauma is a small puncture wound," he says. "A small puncture wound means a tooth has penetrated into the skin but it does not mean it has only damaged superficial structures."
Dr Poli is also quick to note that a tooth can penetrate deep into vital organs, puncturing lungs, intestines, kidneys sometimes even penetrating the skull.
"The puncture wound is often the tip of the ice burg, what looks benign small on the outside often requires surgical exploration to determine the real extent of the damage and surgical reconstruction and repair. A one inch canine from a large dog is equivalent to stab wound in a human."
Treatment?
Depending on the wound and affected areas, treating dog bites can be complex.
"The first and most important rule is exploring all wounds to their ends," Dr Poli says. "When a large dog, bites and lifts up a small dog off the ground and shakes it or when one is running away as it is bitten it can traumatise and separate tissue layers leading to 'dead space' which can fill with fluid and become infected."
In these cases often surgery is required under an anaesthetic to explore, flush and clean and close the wounds.
"Otherwise other important aspects of management include, pain relief, IV fluids and antibiotics, but also often bandaging and Elizabethan collars."
Our Expert…
Dr Gerardo Poli from Animal Emergency Service and the Veterinary Director Jindalee Animal Emergency Service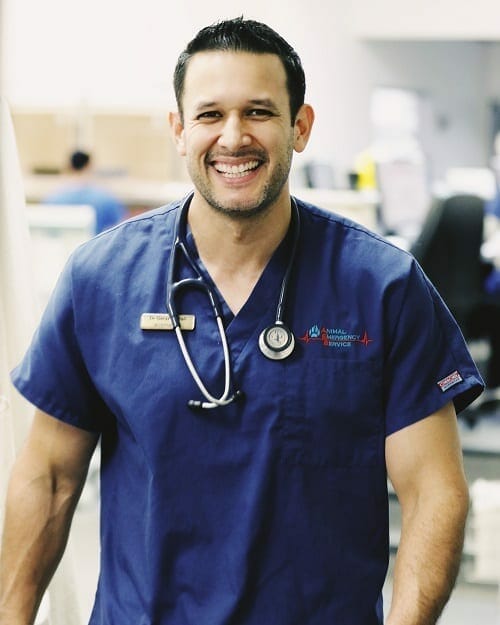 Dr Gerardo Poli completed his Bachelor of Veterinary Science at the University of Queensland in 2008. He graduated with first-class honours and was awarded valedictorian of his year. He achieved Membership with the Australian and New Zealand College of Veterinary Scientists in the field of Emergency and Critical Care in 2012 and is currently the head examiner for future Membership candidates. In 2014 he completed his Masters of Veterinary Studies in Small Animal Practice through Murdoch University which focuses on the more advanced aspects of small animal medicine. Dr Poli has a strong interest in the stabilisation and management of critically ill patients, small animal ultrasound and radiology and emergency surgery. He is currently the coordinator of the internship program and the continuing education program for the emergency clinicians at three Animal Emergency Service practices.
Get the latest Pet Insider Tips & News
We offer award-winning* pet insurance policies to protect your furry friend's health and wellbeing. Get a quote today and give your pets the care they deserve.
get in touch
Do you have any
enquiries about our
insurance policies?
Archives
Categories