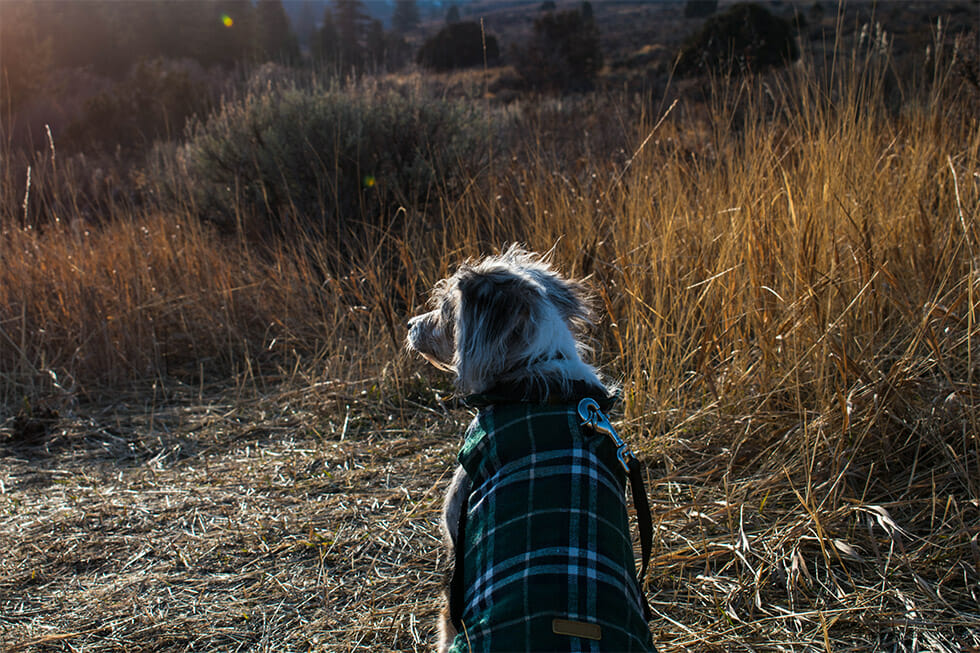 Keeping Pets Warm this Winter
As the temperatures start to plummet, we take a look at some great ideas to keep your pets warm and cosy this winter. PLUS: top winter tips for older pets.
It's no surprise to many pet owners that during the cooler months our pets can show signs of desperately seeking out warmth. It's not uncommon to hear of cats refusing to go outside or finding unusual sleeping places such as on top of computers or other electrical devices that emit heat. For our canine companions, the endless search around the home and yard for the perfect sunbaking zone or running and hiding at the mention of a bath can certainly signal the signs of winter.
For some pets, however, a little extra help may be needed to keep warm. This is particularly true for short-coated breeds, older pets, and younger ones.
Top Tips – Cats
If you have a short-coated cat breed such as a Siamese you may start to see the signs of winter early. Many of these breeds will stop going outside, particularly at night, and may also become a lot more snuggly as they search for a heat source.
If you notice that your cat is spending more time inside or showing signs of feeling the cold, there are some simple things you can do so they can easily warm themselves during the workday. Consider moving beds or cat scratchers into sun-drenched areas. A favourite blanket thrown on the floor in a sunny position will also see your kitty seeking out the sun easily during the day. At night consider using a heating pad, however, it is advisable to only use these under supervision and not to leave your pet when they are in use.
Some cats will seek out warmth from engines and if you are concerned that your cat is sleeping on the hood of your vehicle it may be a good idea to keep them inside during winter to keep them safe.
Toileting issues can also arise during the bitter cold days. Many older cats, and some stubborn ones, will simply refuse to toilet outside during the winter. If you find your feline friend is using your bathtub or another area as a litter box, contemplate adding a litter box in your home for the cold season.
Top Tips – Dogs
Many short-coated dog breeds will require a dog coat of some degree to help keep them warm. Many impressive options on the market can help keep your pet warm and dry this winter. For dogs, the best way to keep warm is through exercise. So even if it's cold and raining, pop on a dog coat and get your pet moving.
Adding extra layers of blankets to bedding is also advised, and allowing your pet to access warm areas easily and safely. Burn incidents in both cats and dogs increase during winter, and it's not uncommon to hear of pets being harmed from heating sources. Keeping our pets safe is paramount when we consider how we keep them warm. If you have a fire or electronic heater it's a good idea to use a child-proof gate to prevent your pet from getting too close.
Burnt bottoms and singed fur are a cause for concern and can lead to horrendous burn injuries. If your dog spends the majority of their day outside, ensure kennels are kept out of the weather and put in a warm sheltered area. Elevating this off the floor can also help with warmth (think an old wooden pallet). Also using straw to line the bottom of the kennel then add blankets can help keep the kennel warm and toasty during the cold days.
It's a good idea to take a look at your pet's area during the weekend to get a good understanding of exactly how much sun they can get access to. As the seasons change moving kennels and water bowls out of the shaded areas and into warm zones with shelter is a good way to ensure your pet can keep warm when you are not at home.
For all pets, the desire to eat more can increase during wintertime as they use the extra energy to keep toasty. Adjusting diets, alongside your vet, is the perfect way to keep your pet healthy and give them the extra energy they need. Exercise is also important. Encouraging your pet to move during the cooler periods will not only help keep them comfortable it will also promote good health and vitality.
Some pets may also decrease the amount of water they are consuming. If you are concerned speak with your vet. Cats simply adore fountains, as with dogs, soaking their biscuits in heated water can help with increasing their water intake during the wintertime.
Photo by Jake Green
Get the latest Pet Insider Tips & News
We offer award-winning* pet insurance policies to protect your furry friend's health and wellbeing. Get a quote today and give your pets the care they deserve.
get in touch
Do you have any
enquiries about our
insurance policies?
Archives
Categories