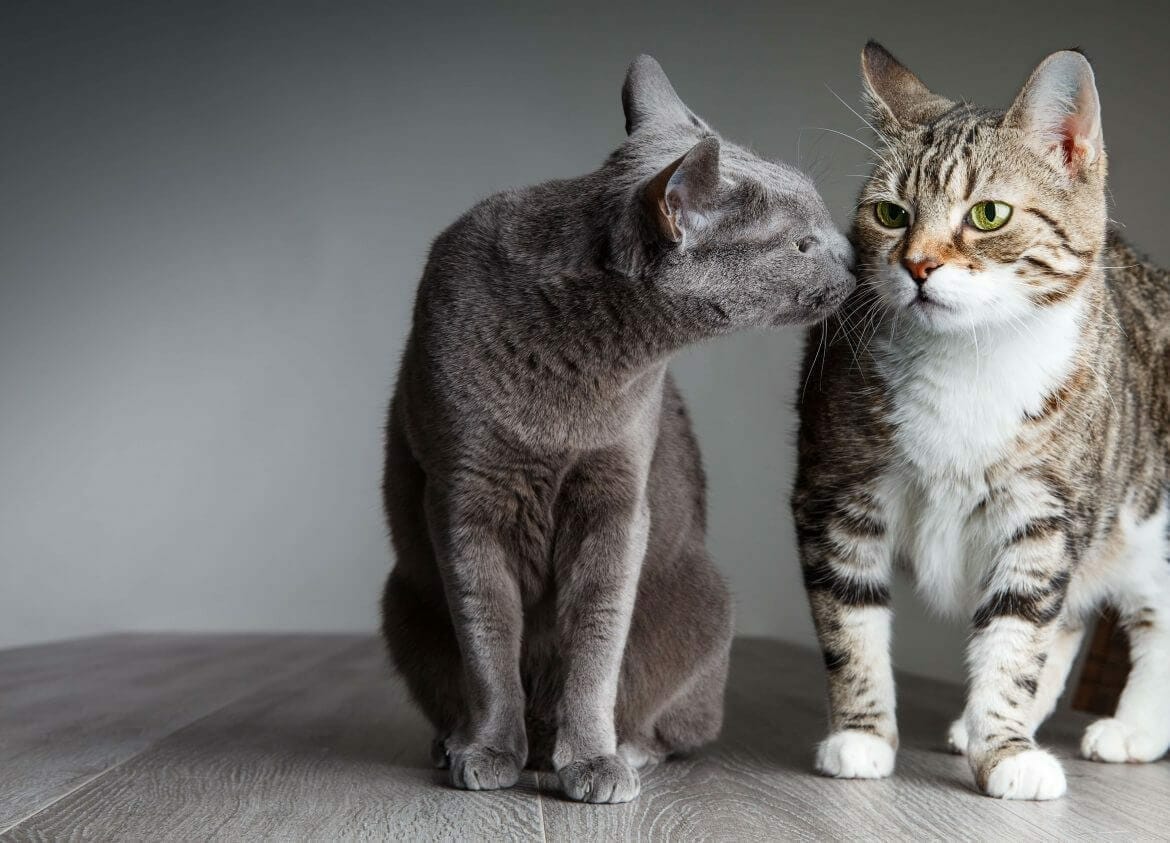 HELLO – Introducing Kitten & Cat
Are you thinking of adding a new kitten to your furry family? Do you have an existing cat and want to ensure that the pair will get along? We've come up with some great advice in helping you understand the bond between a kitten and a cat.
Cats are amazing creatures. They bring endless love and humor to millions of homes across the globe. However, it's no news to cat owners that most cats do not like other cats, well, at first that is.
Let's get a better understanding of why. Cats are fiercely territorial and do not take to change very well. This is why they rub their faces against you, corners of the couch and walls or scratch at things and sometimes even pee. This behaviour allows your cat to define their territory and what belongs to 'them'. Yes, when your beloved kitty is rubbing their faces on your legs and hands, they are ensuring that other felines know that you are their human. So back off! Of course they do this out of love because their scent is the most calming and nurturing smell around, and they want their special areas (and humans) to share this lovely smell.
If socialized as young kittens, many cats can tolerate changes in their environment. However, for most a new furry family member will create a certain degree of stress and upset or at the very least: shock!
So when introducing a new kitten to your home you need to be realistic. There will be a few hisses and protests directed at the new arrival. Chances are there may be a few growls and even head swipes to set some boundaries. But with patience and TIME, your cat will learn to love or at least tolerate, their new kitten friend.
After a few days some cats will love their new play companion, while others may not. Nevertheless, you can help provide the best environment possible to set your cat up for success.
Scent – collect some of your existing cat's scent and 'scent' the kitten. Gently use a soft tissue to rub the sides of your cat's mouth and the top of their head. Then transfer the scent onto you kitten's head. Do this for your kitten's bedding as well. The sooner the kitten smells like your cat and their scents mix together, the better.
Calming Diffusers – consider purchasing a pheromone diffuser for your home during this introduction stage. These scientific devices plug into the wall and release a scent (humans cannot smell this) that will calm your cat and create a peaceful environment.
Area – have an area just for your kitten. This could be a room that your existing cat doesn't care much for. In other words don't put the kitten in your cat's favourite space. This is the place you can put the kitten when you cannot supervise their interactions or when you are out. Remember to keep litter boxes well away from the food. A small room, such as a laundry or a bathroom can also be suitable and ensure your kitten has a nice warm bed to snuggle up in.
Big Kitty – clip your cat's nails. This is a good preventative measure just in case the first meeting does not go so well.
Litter Boxes – have TWO of everything. Have a special hooded variety for your existing cat and an open one for your kitten. This is good for two reasons: your kitten will not be able to push the cat flap of the hooded little box open and it will ensure your cat can toilet in peace. In addition keeping an open litter box for you kitten will allow your cat to smell your kitten's 'scent'. Ensure these are not located in the same areas. This also applies to feeding and drinking bowls. Once their relationship has formed this can change, depending on how well the cats interact with each other.
First Meeting
Set aside a day to bring your kitten home, so you will be there to settle everyone in and make your cat feel comfortable with the new addition. Have your kitten in their penned 'area' for a few hours before introductions take place. Also provide a hidey-hole so the kitten can hide while your cat is exploring the smells of this new friend and their designated area. You can also distract the kitten with food so your cat can have a good sniff and look around. Get someone to help you. Having two people is a good idea to ensure everyone is safe. Yes, the gaping mouth is normal- your cat is really zoning in on the smell of the new kitten. So are a few growls or hisses at the smell. Once they can tolerate each other, then you can gradually allow the kitten into other rooms. Eventually your cat will feel at ease with the new feline in the home. The key is to not RUSH this event and to ensure you keep with the same routines in the house: feeding times, brushing times and cuddle times. Your existing cat needs to feel secure, calm and safe during this transition. If your cat shows any symptoms like inappropriate toileting etc, seek veterinary intervention as this should be controlled during this early stage to avoid permanent problems.
With patience, time and understanding both felines can develop a truly amazing relationship full of snuggles and love – which, as with most introductions takes some planning. MEOW!
A BIT ABOUT THE BLOGGER:
Nadia Crighton is a well-known and accomplished Australian Journalist and pet magazine Editor. As a busy mum of four humans, two dogs, 50 sheep, one cat, a handful of chickens and a goat named Billy (and lets not forget the axolotls!), she simply adores pets of all shapes and sizes. These are her personal thoughts and advice from many years of pet-ownership and working within the pet industry.
Get the latest Pet Insider Tips & News
We offer award-winning* pet insurance policies to protect your furry friend's health and wellbeing. Get a quote today and give your pets the care they deserve.
get in touch
Do you have any
enquiries about our
insurance policies?
Archives
Categories