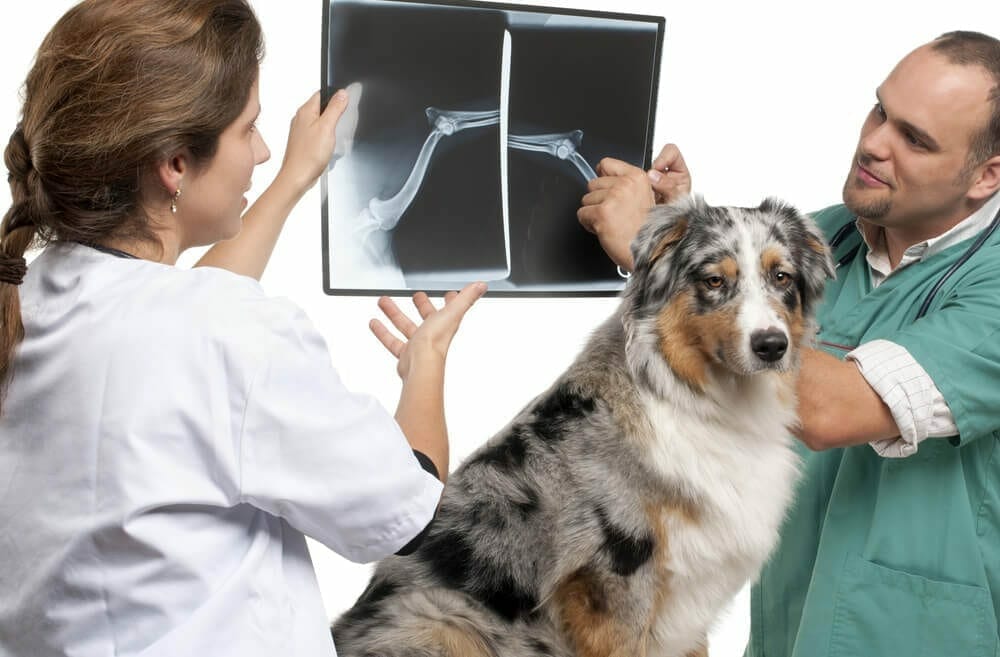 Healthy Bones
Nadia Crighton catches up with Veterinary Specialist Surgeon and Co-Director and Owner of South Paws Speciality Veterinary Clinic, Dr. James Simcock to talk about bone health in our pets.
It's all about bones. Coming off the back of Healthy Bones Week for the two-legged variety (AKA humans), the question was raised…what about our pets? Can we help ensure they have good bones and what is the leading problems affecting our pets and their bone health?
It was time to seek out the experts. Veterinary Specialist, Dr James Simcock is particularly passionate about Orthopaedic surgery in our pets.
The good news is, from a surgeon's point of view, bone health related issues other than tumours or infections are rather uncommon. It's more the osteoarthritis that causes many pets problems with their bones.
WHAT ABOUT DIET… is there a link between bone health and diet?
Dr. Simcock pointed to the importance of a balanced and correct diet for your pet.
"Feeding a balanced diet and promoting regular activity are probably the most sensible recommendations," he says. "Occasionally we will see issues in younger, growing animals related to poor bone density. This is often related to poor diets (all meat diets) as these animals are growing."
This can be a rather controversial subject as many pet owners move towards the natural diet trend. However, with any diet it is important to seek professional advice. This is particularly important for young pups and large breeds.
"Diet is a big factor for bone health especially in young rapidly growing animals," Dr. Simcock warns. "Ensuring animals are fed diets that are balanced with calcium, phosphorous, vitamins A, E and D is important. Typically feeding a commercial pet food rather than a homemade diet is the easiest way to accomplish this." 

Other conditions include:
Bone cancer – for example osteosarcoma. 
Infection – "Occasionally we will see infection in the bone (osteomyelitis). While bone infection can be a primary issue, it is typically more commonly secondary to a surgical procedure that requires the use of implants, for example having a broken limb fixed with implants like a plate and screws." 
Developmental conditions – "like panosteitis and hypertrophic osteodystrophy; these are generally conditions seen in young, growing animals and can cause lameness. This lameness can affect a single limb or possibly can shift between limbs. Often treatment of these conditions is symptomatic with pain relief, these conditions generally resolve on their own." 
OLDER PETS?
With older pet's it's important to ensure they are kept moving and also attend regular check-ups. Dogs are masters at masking pain, so if you think your pet is looking stiff or sore a health-check is in order to rule out any arthritis or bone related issues.
"General health recommendations are appropriate with older pets," Dr. Simcock advises. "Regular vet visits, keeping animals moving/active, maintaining a sensible weight and feeding a balanced diet."
Dr. Simcock also advises seeking veterinary attention if there are any concerns about your pet's limb function as the sooner these problems are identified the better the outcome for your pet.
Luckily for our pets, they now have access to many breakthrough treatments when it comes to solving orthopaedic problems. From complex fractures and breaks to developmental issues, and hereditary problems.
"There have been numerous advances in implant technology that can be used for fracture repair, these implants are typically stronger and potentially have a lower risk of failure complications," Dr. Simcock says. "Some of these implants have coatings that promote bone growth and can inhibit bacterial growth, reducing infection. In addition, there are ongoing investigations into products that will help to promote bone healing."
The Expert…
Dr. James Simcock BVSc (hons), MANZCVS (Internal Medicine), Registered Specialist of Small Animal Surgery, Diplomate of the American College of Veterinary Surgeons.
Dr. Simcock is co-director and owner of Southpaws alongside Dr. Charles Kuntz. In 2013, Dr. Simcock became a Diplomate of the American College of Veterinary Surgeons by passing the certification examinations. Dr. Simcock is one of the first Australian trained small animal surgeons to pass this examination. He is also a Diplomate of the European College of Veterinary Surgeons and is registered as a specialist in small animal surgery in Victoria. He is an Internship Director and Surgical Residency Advisor for the American College of Veterinary Surgeons.
He is a highly respected and regarded Veterinary Specialist who is also actively involved in teaching and lecturing. For more information on Dr. Simcock please visit www.southpaws.com.au
Get the latest Pet Insider Tips & News
We offer award-winning* pet insurance policies to protect your furry friend's health and wellbeing. Get a quote today and give your pets the care they deserve.
get in touch
Do you have any
enquiries about our
insurance policies?
Archives
Categories