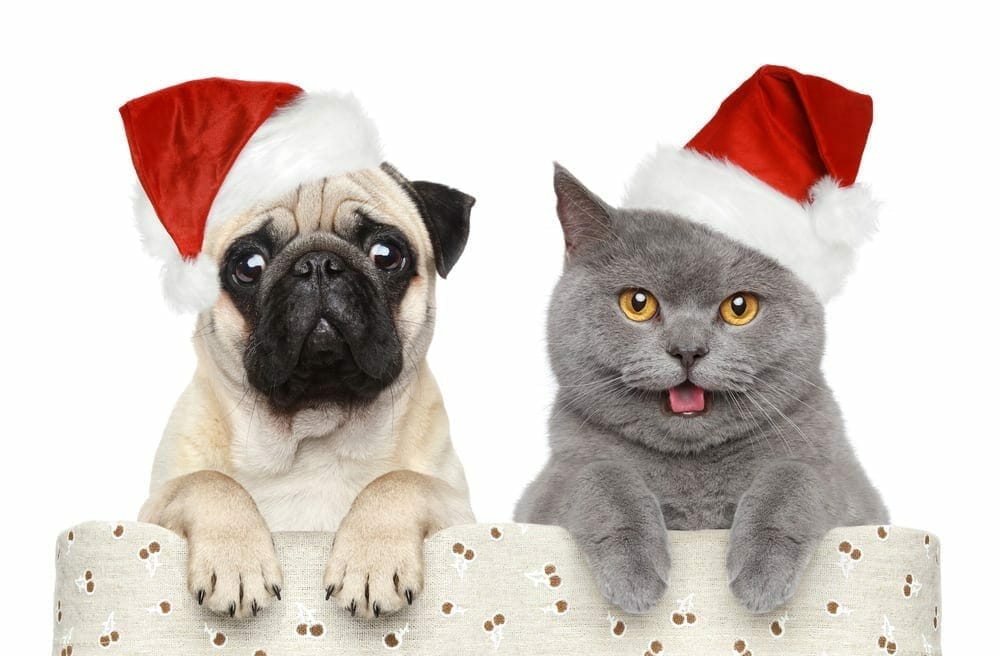 Festive Fun – Keeping Pets Safe
With the silly season being in full force Pet Insurance Australia has some top tips to keep your pets away from the emergency hospitals this festive season.
"Tis the season when pets tend to get into trouble for being naturally curious," Nadia Crighton from Pet Insurance Australia warns. "As we celebrate with friends and family it's a good idea to have a plan in place to protect the family pet."
Some 'human' foods to avoid include;
WHAT I NEED – WOOF
Fatty foods – This includes buttery fatty foods and products containing high volumes of bad fats. Dogs can suffer from pancreatitis from ingesting fatty human meals. Refrain from feeding your dog, or cat fatty foods. Good fats include omega 3 fatty acids, fish oils and flaxseeds.
Avocados – They contain a Persin that can cause diarrhoea and vomiting in dogs.
Chocolate – contains theobromine and theophylline. This is toxic to dogs and can cause poisoning. Keep the sweets out of reach!
Sugar-free lollies, treats and drinks – They contain a chemical known as Xylitol that is deadly to dogs and cats.
Raisins and grapes – They can cause liver failure. Some dog owner's report that less than a handful was required to cause problems.
Onions – are a big 'no no' for cats and dogs. They can cause severe poisoning.
Cooked bones – These can splinter in your pet's stomach and cause huge issues. Stick with raw bones only (size appropriate) and always supervise your dog or cat.
Alcohol – This can kill a cat or dog, as they cannot metabolise the toxic nature of the substance. Please keep your pets away from Alcohol.
Coffee/energy drinks – These are also harmful to your pets and should be kept out of reach.
Baby foods – Many contain onion power that is noxious to pets. Baby food is also not a nutritionally sound, well-balanced meal for your animal.
Canned tuna for humans – Canned tuna is not a well-rounded full dietary requirement for a feline. Cats only fed canned tuna can be lacking in nourishing needs.
Salt – Just like with humans, salt is not a very good additive for any pet.
If you suspect poisoning contact your local emergency veterinarian immediately.
TIPS FOR PARTIES;
"If you are having a Christmas or New Year's party consider setting up the family pet in a room away from all of the action," Crighton suggests. "This way you can be sure you know exactly where your pet is and what they are up too."
Also consider;
Putting up a SHUT THE GATE sign.
Ensure your pets tags and microchip details are up-to-date.
Have a 'pet treat jar' so your guests can safely treat your pet.
Always dispose of foods correct and secure bin lids.
If you cannot supervise your pet pop them in a safe room with their favourite toy and bedding.
Keep cats in during firework displays.
"Skewers are a big no-no for dogs and can cause huge problems so it's advisable to dispose of these well, and also secure the bins," Crighton says. "Dogs are natural scavengers and will stop at nothing in hope of a tasty morsel, wood, wrapping and all."
Get the latest Pet Insider Tips & News
We offer award-winning* pet insurance policies to protect your furry friend's health and wellbeing. Get a quote today and give your pets the care they deserve.
get in touch
Do you have any
enquiries about our
insurance policies?
Archives
Categories