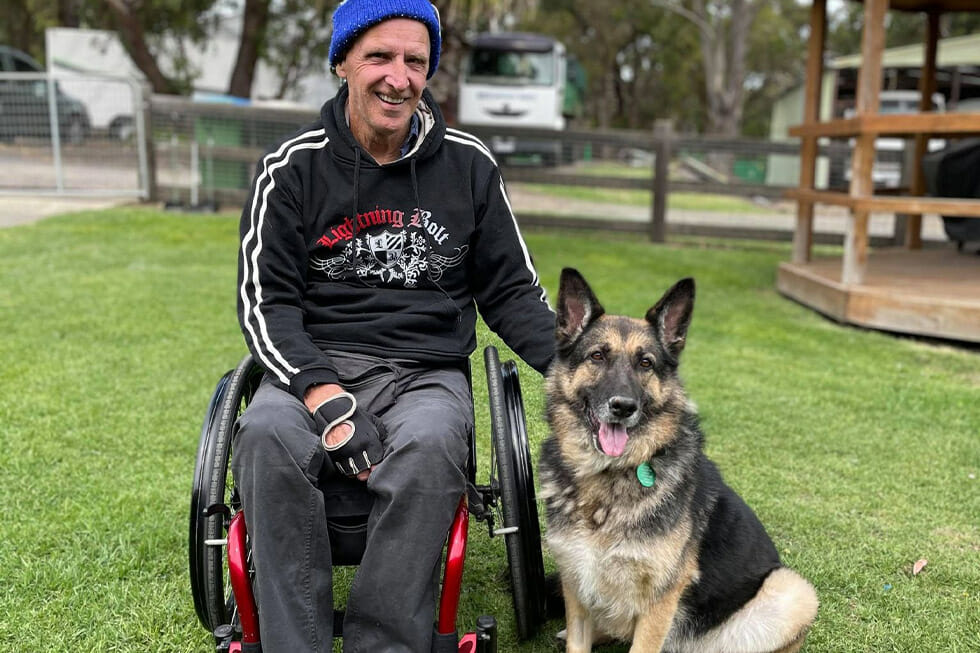 Companion Animal Rescue Awards 2021 Winners Revealed
Outstanding pet shelters, rescue groups and volunteers from coast to coast receive the recognition they deserve
Live stream video of ceremony available here
SYDNEY, AUSTRALIA: 10 Nov 2021: In another year that has been very challenging for rescue groups and animal shelters across the country, the Pet Insurance Australia Companion Animal Rescue Awards is thrilled to announce the WINNERS for 2021.
The Rescue Awards is a national program that celebrates and recognises achievements in rescue, sheltering, rehabilitation and rehoming of companion animals Australia-wide. The program is founded by Cathy Beer, professional dog trainer and pet adoption advocate from Pets4Life, an independent education resource for cat and dog guardians.
"The Rescue Awards has been very competitive with outstanding entries across 10 categories, which made it very challenging for the judges!" said Cathy. "Our amazing winners demonstrated excellence and innovation in their approach to improving the lives of companion animals during these difficult times."
 Following the announcement of the Finalists in September, one winner from each category was selected by an expert panel of 21 Judges. The winners were revealed today at 12 pm AEDT at a virtual Rescue Awards Ceremony produced and broadcasted nationally by Gold Rescue Partner Refuel Creative and supported by Nature's Gift.
This year, Pet Insurance Australia is the Platinum Rescue Hero and Naming Partner. Pet Insurance Australia CEO Ali Osmani said, "In another year of challenges for so many Australians, we are honoured and humbled to share in celebrating the achievements of rescues, shelters and thousands of volunteers who have devoted their efforts to caring for companion animals in such difficult times. On behalf of the entire Pet Insurance Australia team, we congratulate this year's winners of the Companion Animal Rescue Awards."
The People's Rescue Story and Foster Carer Story award categories received hundreds of entries from Aussie pet guardians who shared their incredible, heart-warming stories about pet adoption and fostering. This year the entries included a rescue chicken, rabbits, a guinea pig, a snake as well as many cats and dogs who have found their forever homes.
Cathy thanked Supporters for making the Rescue Awards possible by donating exciting Prizes and acknowledged the great efforts of rescue groups, animal shelters, companion animal welfare organisations and thousands of volunteers across the country, especially during extraordinary and unprecedented pandemic times.
Rescue Awards Ambassador Lara Shannon, certified dog trainer, animal welfare advocate, author of "Eat, Play Love your dog" and "World of Dogs", and Host of Channel 10's Pooches at Play, congratulated the winners and thanked rescue organisations and their volunteers for helping surrendered and abandoned pets get a second chance in a loving home.
2021 WINNERS
Live stream video of the Rescue Awards Ceremony is available here.
For updates on the Rescue Awards program, please visit www.rescueawards.com.au, sign up to the e-newsletter or follow the Rescue Awards on Facebook, Twitter and Instagram. #PIARescueAwards2021
MEDIA CONTACT
Cathy Beer, Pets4Life
0419 296 656
cbeer@pets4Life.com.au
Caroline Zambrano, Pet Journo
0403 550 730
PHOTOS & VIDEO
For photos, please visit the website here or contact Cathy at cbeer@rescueawards.com.au.
Photo credit to the Awards official photographer Jo Lyons Photography where applicable.
About Pets4Life
Pets4Life is an independent education resource for cat and dog guardians and those who are thinking of getting a cat or dog. Our goal is to help reduce cat and dog surrender and improve pet well-being in Australia. After over 20 years in the corporate world as a professional marketer, Cathy Beer pursued her passion for pet welfare and created Pets4Life in 2013 after interviewing leaders in the companion animal welfare space. Cathy is an accredited Delta dog trainer and a professional member of the Pet Professional Guild Australia. Cathy is a voluntary member of Willoughby Council's Companion Animals Committee and a casual instructor at the Sydney All Breeds Dog Club. Visit pets4life.com.au.
 About Pet Insurance Australia
Pet Insurance Australia is a family-owned Australian Pet Insurance business, with a long and successful history in the pet industry. Not only do they have years of experience, but they have an international reputation for excellence.  Pet Insurance Australia takes pride in that they are not just business owners; they are pet people and pets are part of our daily lives. They strongly believe that being passionate, and developing personal relationships is the key to business success and they have endeavoured to deliver exactly that to their customers. At PIA they treat every pet as if it was our own. Pet Insurance Australia was launched back in 2008. Since then, PIA has witnessed expressions about financial worries disappear. Seeing first-hand how beneficial pet insurance could be. Today, thousands of customers now benefit from their pets being insured. To discover more, visit www.petinsuranceaustralia.com.au
Featured by
Get the latest Pet Insider Tips & News
We offer award-winning* pet insurance policies to protect your furry friend's health and wellbeing. Get a quote today and give your pets the care they deserve.
get in touch
Do you have any
enquiries about our
insurance policies?
Archives
Categories