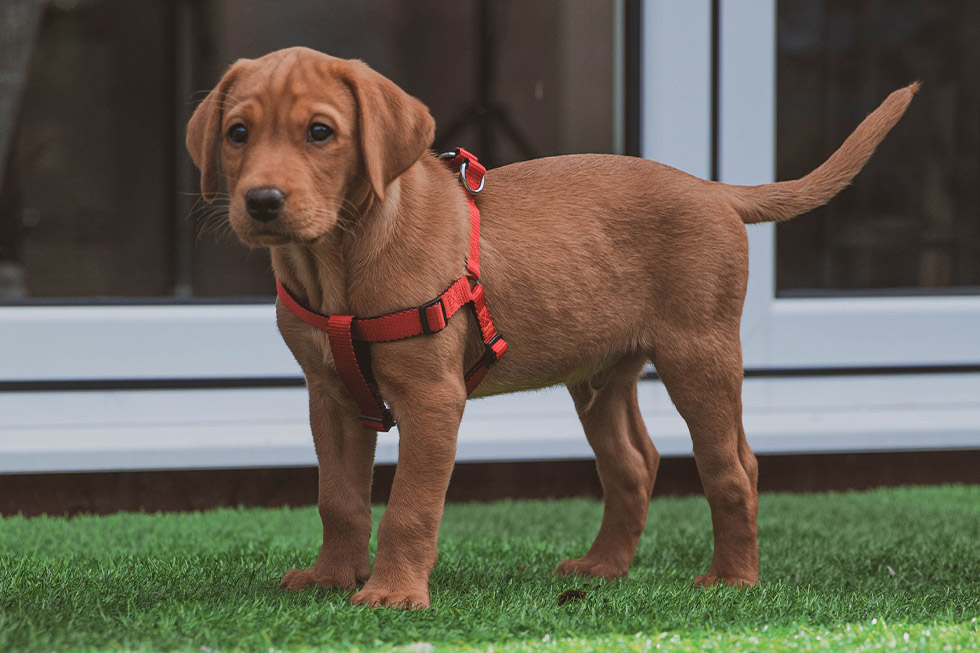 Finding A Comfortable Dog Harness
DATE: July 2023
There are many advantages to attaching your dog's leash to a harness rather than a collar. The biggest is that harnesses don't put stress on your dog's throat and windpipe, so they are less likely to injure your pet. Harnesses also don't cause choking and can provide more control over your pet.
In this article, we'll go through six tips for choosing a safe and comfortable harness for your dog. Let's get started!
1. Understand The Types of Dog Harnesses
There is a massive range of different types of dog harness on the market today. All have their pros and cons, so it's a good idea to understand the different types of harness to correctly choose which one will be best for your dog.
Here's an overview of harness types:
Back-clip harness. These harnesses often have a step-in design, along with a D-ring on the dog's back. They are great for pullers, as they distribute force across the chest, rather than focusing it on the delicate trachea.
Vest harnesses. As the name suggests, vest harnesses cover most of the dog's upper torso. They are useful for dogs that don't pull. However, they are typically weaker than other types of harness.
Front-clip harness. These are sometimes called "no-pull" harnesses, although they don't cause pain or discomfort. Instead, the leash attachment is located on the chest, so if the dog pulls they are guided in a circle rather than getting closer to where they want to go.
Dual-clip harness. These harnesses have a leash attachment on both the front and back. This provides more options depending on the situation, but also allows you to attach a dual leash for greater control.
Keep in mind that these are just broad categories. There are many harness designs, and some combine features from the types listed above.
2. Look for Harnesses With Multiple Adjustment Points
Dog breeds range in size and shape. So, harnesses with only a single adjustable strip may be too tight in some areas of the body and loose in others.
Instead, look for harnesses with at least two adjustment points, for both the neck and chest straps. This best harnesses list details the number of adjustment points certain harnesses have, to make it easier for you to choose. Ultimately, the more adjustments points you have, the easier it is to get a snug fit across the dog's body.
The buckle material is another factor to consider. Metal buckles are usually more expensive, but they are more durable and less likely to break if your dog is a strong puller.
3. Choose a Harness Type That Matches Your Dog's Breed Traits
Most high-quality dog harnesses are suitable for any breed. However, there are some breeds that need extra consideration when choosing a harness.
For example, The Dog Clinic mentions that Dachshunds are prone to back problems, such as intervertebral disc disease. Therefor when deciding on the perfect harness for your Dachshund it's important to choose a type that can reduce stress on the spine and neck. This is essential for reducing the chance of injury.
Other breeds, such as the Siberian Husky, are notorious for being able to escape from regular harnesses. These dogs may need a harness with an extra rear strap to prevent them "backing out" and escaping.
It's also important to choose a harness that matches your dog's size and personality. If you have a big breed that loves to pull, then you'll need a durable and strong harness.
4. Consider Other Requirements for Your Dog
Aside from the basic design, some dog harnesses come with extra features. While these often aren't essential, they can make walks easier depending on your dog's personality and your lifestyle.
Some examples of extra features to consider include:
Reflective material. If you walk in low-light conditions, then it's important to choose a dog harness that has reflective panels. These make it easier for cars and other dog owners to see your dog. You should also consider getting a battery-powered light for your dog when walking at night.
Extra padding. Padding can make a harness more comfortable for your pet. A padded design is particularly important for breeds with a thin coat, such as greyhounds. Look for a harness with padding in areas that are most likely to rub, such as the underarm area.
Seatbelt loops. Some harnesses come with seatbelt loops to keep your dog in one place when driving. Keep in mind that the presence of a seatbelt loop doesn't necessarily mean that the harness will be safe in a crash though. If you're buying a harness for travel, look for one that's been independently crash-tested.
Padded handles. A handle on a harness can be useful when you need quick control of your dog. These should never be used to pick up your dog though.
Quick-dry material. Does your dog love to jump in ponds or streams? If so, look for a dog harness with quick-dry material.
5. Ensure The Harness Fits Correctly
Before you buy a dog harness, you'll need to measure your pet to choose the right size. Many harnesses can be sized based on your dog's torso girth, but you might also need to know their neck size.
It's also important to understand that harness manufacturers use different measurements and size charts. Double checking the size before you buy is imperative.
Adjusting the harness is also key to ensure your dog is not only safe, but also comfortable. The harness should fit snugly over your dog, but you should still be able to fit two fingers (roughly) under each strap. If you can't, then the harness might be too tight.
You should also watch your pet for any sign that their walking movements are restricted. A properly fitted harness shouldn't have an effect on how the dog walks.
6. Avoid Aversive Training Harnesses
Some dog harnesses are designed to provide a negative stimulus to the dog when they pull. It is highly recommended that dog owners avoid these types of harnesses to prevent injury and stress.
While these harnesses might seem like a quick way to train a dog to walk on a leash, without pulling, they can have the opposite effect. Negative training methods cause immense stress for a dog, which can make behavioural issues worse.
Summary
Dog harnesses are a safer and more comfortable option for dog walks. However, it's vital to choose the right harness for your dog, and to ensure it's fitted correctly.
Here's a quick recap of the key points in this article:
Understand the various types of dog harness and their pros, including back-clip, vest, and front-clip harnesses.
Look for harnesses with multiple adjustment points, at least at the neck and chest. Harnesses with a single adjustment point make it difficult to achieve a good fit.
Choose a harness that matches your dog's breed traits.
Consider your lifestyle and your dog's favourite activities when buying a harness.
Check that the harness fits correctly. You should be able to fit two fingers under all straps.
Avoid aversive harnesses or any training tool that causes pain.
Photo by Nima Naseri
Get the latest Pet Insider Tips & News
We offer award-winning* pet insurance policies to protect your furry friend's health and wellbeing. Get a quote today and give your pets the care they deserve.
get in touch
Do you have any
enquiries about our
insurance policies?
Archives
Categories