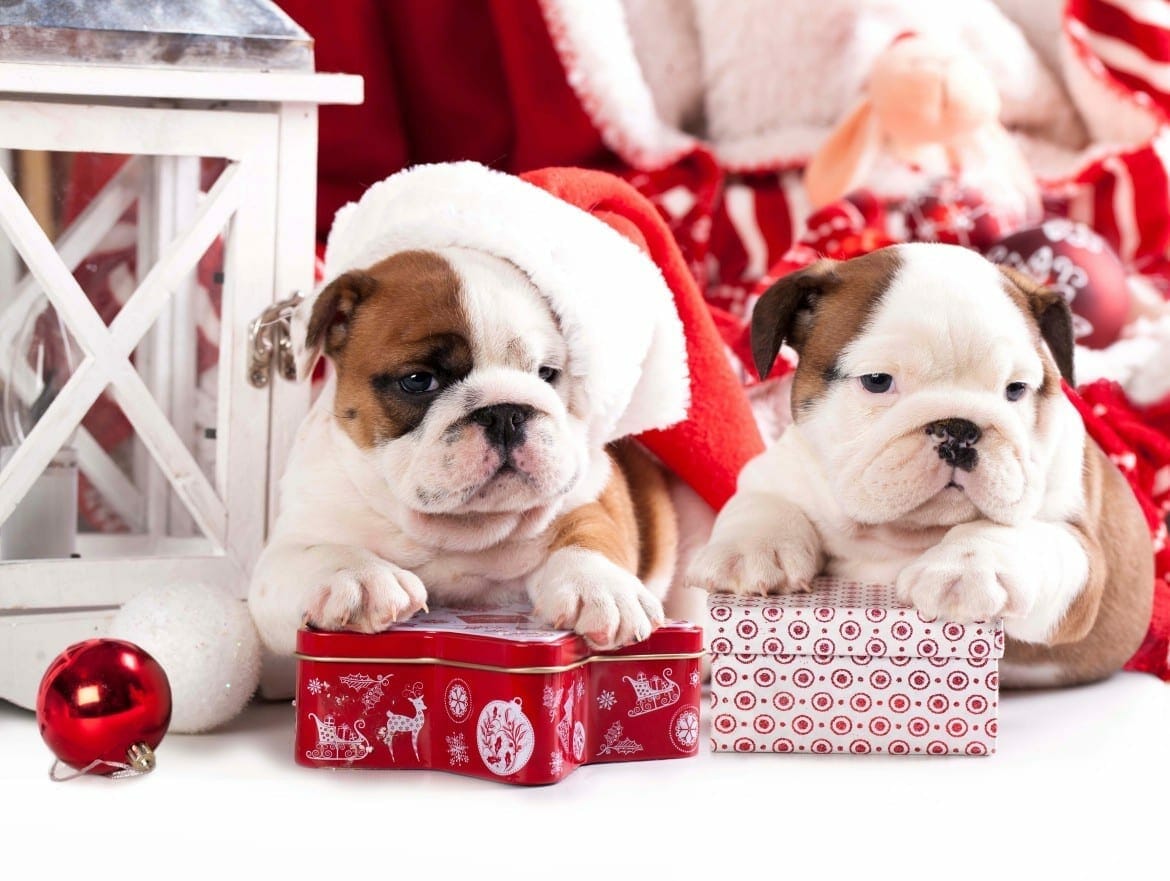 Christmas Treats
So we are all being bombarded with information on what not to feed our pets this Christmas, so what can we treat our four-legged companion with? What treats are good for our pets, and others bad?
It's that time of year when us humans likes to indulge in the delicious foods on offer. Rich foods, fatty foods, foods with bones, foods with plenty of sugar…foods, that in general are not that good for us. But let's face it…it's Christmas and a few naughty indulgences are what makes this time of year so special.
Educated owners are all too aware of why we shouldn't allow our pets to eat these types of food. Many can cause sickness, sever illnesses and even death. While others will just make your pet fat, and are generally bad for their teeth and insides.
However, do not fear lovers of Christmas foods. There are some 'safe' ways you can treat your pet this silly season, without the fear of Fido succumbing to some nasty disease.
BONES
Raw uncooked bones are great for dogs. Try raw chicken wings or necks for cats or smaller dogs. Never feed your dog-cooked bones as they can splinter and cause a whole host of problems. Raw bones provide hours of entertainment, while also helping clean teeth. To ensure your bones are bacteria free try freezing for a few days and always remove broken worn bones (once the knuckle has been removed, or the chicken wing/neck has been left). A nice bone Christmas morning is a great treat for your pet.
RAWHIDES
Raw dried hides are also a good treat for your dog. Just remember not to over-do it. I remember quite clearly giving my beloved dog one too many raw hide bones to only come home to a bad case of the 'squirts'. Not very pleasant, especially on Christmas morning! You can even get great little 'stocking' for pets filled with a few toys and hide bones. They are great for chewing and keeping your pet occupied while you play with all those new toys Santa brought you!
PIGS EARS
These are a wonderful treat for your dog. Have a big bag stashed away during the silly season and when a guest is tempted to treat your dog have them whip out a pigs ear instead. Remember, like all foods and treats, limit the amount. Your pet will feel the repercussions of over-indulging just as you do (however you are the one who has to clean it up!).
OTHER TREATS
Don't like giving your dog bones? What about trying a carrot. They are also great for their teeth and dogs simply love chewing away at them.
Try and apple. But remember to keep them to a limit as they can upset your dogs tummy if you have too many.
Always steer clear of grapes, raisins, onions, chocolate and anything with caffeine. These can be toxic to dogs so ALWAYS pop the Christmas chocolate up away from the dog (mine was particularly fond of Roses Chocolates and Bailys! So be on guard!).
Use a treat-ball, or frozen ice with treats, just remember not to go overboard.
Homemade Christmas Treats
Get out the cutters and make some of these delicious homemade biccies for your pets.
Ingredients:
2 Cups of Wholemeal Flour
1 Cup of rolled oats
1 tablespoon of chopped fresh parsley
½ cup of powdered milk
½ teaspoon of salt
2 large eggs
1 cup of peanut butter (crunchy or smooth)
½ cup water
½ cup of chopped cooked bacon *optional*
Method
Pre-heat oven to 150 degrees. Line baking trays with cooking paper.
Stir together the Wholemeal Flour, rolled oats, fresh parsley, powdered milk and salt. Add the peanut butter, eggs and chopped cooked bacon. Stir to combine. Slowly add the water until the mixture becomes dough. You may need to use more/less than specified.
Put tablespoon amounts onto your baking trays and flatten (bottom of a jar works well for this). Bake for 40-60 mins (depending on size) until dark golden brown and crispy. Cool completely before serving. Great for training or just to say 'I love you' to your fury friend at this special time of year.
Remembering to have some treats available for your animal and remind people to go to the 'pet treat jar' if they want to spoil your furry friend instead of off their plate.
Merry Christmas pet lovers!
A BIT ABOUT THE BLOGGER:
Nadia Crighton is a well-known and accomplished Australian Journalist and pet magazine Editor. As a busy mum of four humans, two dogs, 50 sheep, three cats, a handful of chickens and a goat named Billy, she simply adores pets of all shapes and sizes.
Get the latest Pet Insider Tips & News
We offer award-winning* pet insurance policies to protect your furry friend's health and wellbeing. Get a quote today and give your pets the care they deserve.
get in touch
Do you have any
enquiries about our
insurance policies?
Archives
Categories