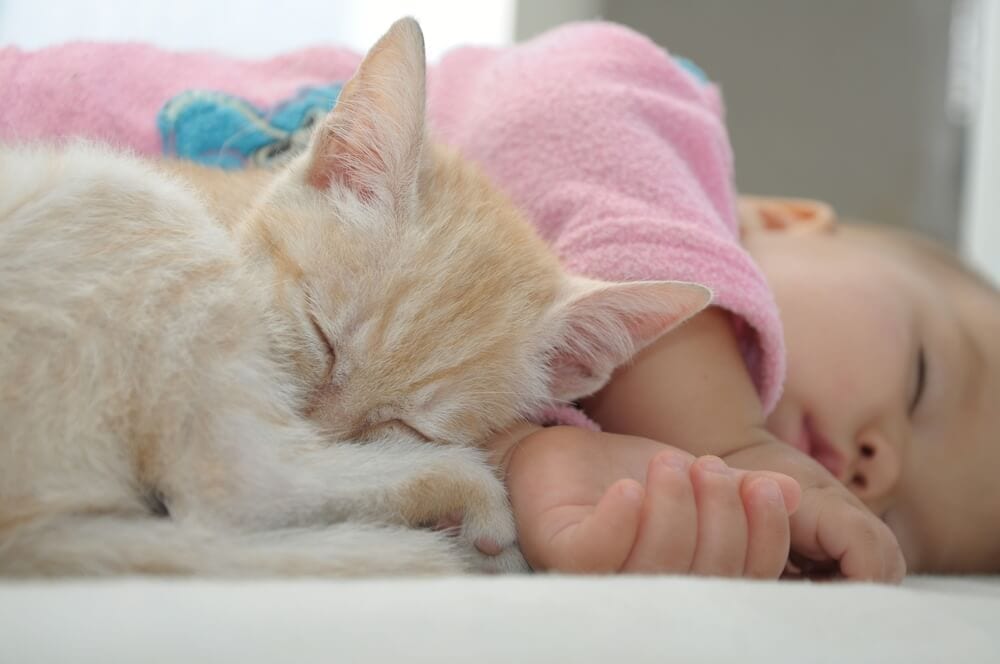 Abolishing the Myth – newborns & cats
With so many myths circulating around the safety of cats and newborn babies, Pet Insurance Australia alongside veterinary author of Tell Your Cat You're Pregnant, Dr Lewis Kirkham thought it was about time these myths were finally put to rest. PLUS: how can you prepare your cat for the new human arrival?
 
"The very sad fact is many cat owners are convinced into removing the family cat when they are expecting their first child," Nadia Crighton from Pet Insurance Australia says. "This is very outdated advice and cat lovers and owners need to be correctly educated that with the right measures you can protect your unborn child and new infant from any risks that are linked to owning a cat."
 
Dr Lewis Kirkham agrees;
 
"The biggest misconception about cats and babies is that many people still say that you should not own a cat while you are pregnant," Dr Kirkham says. "I have pregnant cat owners who quite regularly come to me, as a veterinarian and behaviourist, saying a well-meaning friend or relative has told them to get rid of their cat."
 
So how can you reduce the risks?
 
Get someone else to clean the litter tray or use gloves
Wash your hands thoroughly after handling litter
Change litter daily
Consider keeping your cat indoors
Do not feed your cat raw meat
Wear gloves when gardening
Take steps to prevent cat's toileting in your garden (cover sandpits etc)
 
"The interesting fact is; that you are more likely to contract toxoplasmosis from eating unwashed vegetables or undercooked meat than actually from your furry friend," Crighton says. "With some simple strict guidelines, you can further greatly reduce the possibility of contracting this condition from your beloved cat, or the environment."
 
Cat & Newborn Introductions
 
"Preparing your cat for the arrival of your baby is very important," Dr Kirkham says. "Most cats do not like changes to their environment and a new baby is a huge change to the household."
 
The hard-cold fact is; a new baby is a big adjustment for any household cat. Particularly for the first time. Remembering that your cat has probably not had much experienced with babies.
 
"Many owners assume that because the baby comes from them, their cat will just 'understand' and everything will be 'OK'," Nadia Crighton from Pet Insurance Australia says. "This may be underestimating the impact and inviting possible problems when bubs arrives home."
 
"The impact of a new baby on a cat can be huge," Dr Kirkham warns. "New babies make a lot of different noises – not just crying – and all or any of the sounds can be upsetting for a cat. A new baby also means a lot of new furniture, smells and routine changes to the household which many cats find upsetting."
 
Dr Kirkham's Top 5 Tips Before Bubs Comes Home:
Start preparation as early as possible
Educate yourself on toxoplasmosis and take suitable precautions
Play a variety of baby sounds and toy noises to prepare your cat (included in the book)
Make changes to the household slowly, allowing your cat time to adjust
Set-up realistic routines of play, feeding and interaction times with your cat
 
Dr Kirkham's Top 5 Tips Before After Bub Comes Home:
Take the first introductions slowly – they have a lifetime to be best friends
Make fun things happen for your cat whenever the baby is around
Stick to your routines of play, feeding and interaction times with your cat
Supervise all interactions between your cat and baby. Separate them when you are not able to provide active supervision.
Address any behavioural problems or signs of anxiety early
Get the latest Pet Insider Tips & News
We offer award-winning* pet insurance policies to protect your furry friend's health and wellbeing. Get a quote today and give your pets the care they deserve.
get in touch
Do you have any
enquiries about our
insurance policies?
Archives
Categories