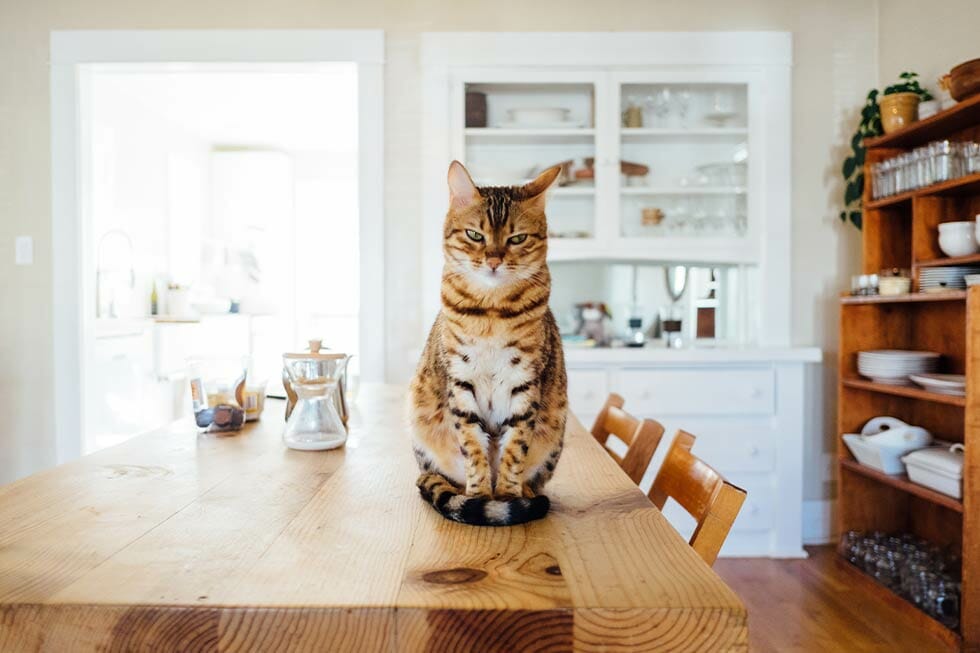 3 Things To Do If Your Cat Has Arthritis
Arthritis in cats is a result of the ongoing wear and tear and instability in the joints, but the progression of the disease can also be affected by things like injury, infection, cancer, immune disease, and genetic makeup.
Arthritis can affect any joint in the body where the cartilage lining between the bones deteriorates and the synovial fluid in joints loses its lubricating properties. Therefore the movement of the bones becomes less smooth, causing discomfort and decreased mobility.
Cat breeds that are more likely to get arthritis include Abyssinians, Burmese, Maine Coons, and Scottish Folds. Read on to find out whether your cat has arthritis and how to manage it.
Signs and symptoms of arthritis
Up to 90% of senior cats aged over 12 years show signs of arthritis and the most common joints affected are the elbows, hips, and spine. However, it's hard to notice signs of joint pain in cats as they usually don't limp. You'll know when your cat has arthritis if there are changes in their behavior. For example:
They can't get up or down furniture.
They can't get in and out of high-sided litter trays.
They have a stiff gait when walking.
They groom less.
They over-groom painful joints, causing hair loss or inflamed skin.
They become more aggressive.
They don't want to be patted, held, or brushed.
They don't want to play or go outside.
They don't want to use the scratching post.
How to manage arthritis?
The first thing you should do is schedule an appointment with your vet to discuss the signs and symptoms of arthritis in your cat and to further assess their condition by taking blood tests and radiographs. Then a personalized management plan will be put together for your cat, which usually includes:
1. Managing your cat's weight
If your cat's overweight they'll place more weight on their joints, inflaming and irritating the joints more. They'll have to lose weight gradually to prevent further arthritis and metabolic problems. Speak to your vet about the best way to do this. Current weight loss pet trends include grain-free, high-fibre foods, however grain-free doesn't guarantee weight-control, and you must talk to your veterinarian before making any drastic changes to your cat's diet.
2. Making changes at home
You can reduce your cat's pain and discomfort by:
Ensuring they have a warm, comfy place to sleep that's away from drafts.
Providing low-sided litter trays so they can access it easily and don't have toilet accidents.
Placing steps near their favourite furniture and beds to help them get up and down.
Putting ramps over stairs.
Placing carpet or rugs down on hard floors.
Trimming their nails regularly.
Brushing their coat regularly so mats don't develop.
3. Giving treatments
The best treatment to give your cat will depend on factors such as their age, severity of signs, a progression of the disease process, and if they have other health problems such as obesity. The treatments that can be offered are:
Disease-modifying osteoarthritis drugs (pentosan polysulfate) – They're given as injections: one injection a week for four weeks and this has to be repeated every 6-12 months. They stabilize joint membranes, helping joint cartilage repair and improve joint lubrication.
Anti-inflammatory and pain relief medications – Only use NSAIDs prescribed by your vet. They reduce inflammation around the joints and provide pain relief. Have regular check-ups with your vet to monitor your cat's liver and kidney function and to determine the right medication and dose rate to administer.
Nutraceuticals/prescription diets – These include Joint Guard and Hills feline J/D, which are dietary supplements or prescription diets with glucosamine, chondroitin sulfate, fish oils, and/or green-lipped mussels. They protect the joints and can be given in the long term to reduce inflammation over time.
Does your cat have arthritis?
If you believe your cat is suffering from arthritis, consult your vet for advice. Although the disease can't be cured, the above therapies will help slow the progression and ease your cat's pain. They'll probably have a good quality of life for many years after the first diagnosis. Generally, the sooner the disease is recognized, the more successful the treatments will be.
Whatever treatment you use, check for improvements in your cat's appetite, attitude, and range of movement. It may be hard to watch your cat get older and everything that entails, but the small actions you take can make a big difference in their life.
Photo by Paul Hanaoka on Unsplash
Get the latest Pet Insider Tips & News
We offer award-winning* pet insurance policies to protect your furry friend's health and wellbeing. Get a quote today and give your pets the care they deserve.
get in touch
Do you have any
enquiries about our
insurance policies?
Archives
Categories