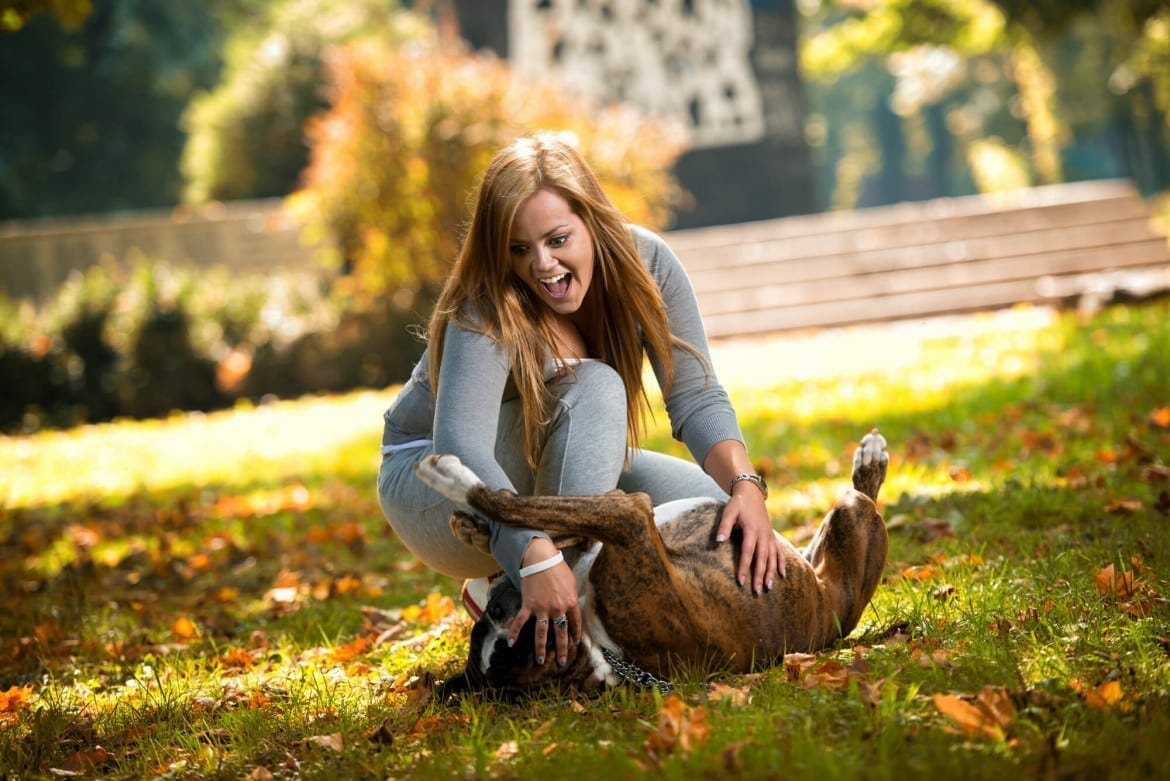 10 Cheats for Dog Owners
Nadia Crighton takes a look at some of the great cheats of the dog world, to help you and your pooch live in blissful harmony.
Over the years, I've come across many "AHHH HAAAA" moments while working in the pet industry. Some are just pure gold while others leave you scratching your head hoping that you'll never actually need to use them (but that's a whole different blog!). Here's the top 10 dog cheats.
1) Cleaning
Using laundry powder or anything containing an enzyme works brilliantly in removing smells from kennels and carpets. Always spot-check your carpets before using. It not only kills the smell for us, it also removes the smell for your pets! Some products actually enhance the stench and screams "PLEASE TOLIET HERE" to your pet. Baking soda alongside some soda water can also help lift stains.
2) Flies
Have a fly issue? Go natural. Heavily dilute lavender oil in some water and spray onto your dog. Make sure you do not get it near your dog's eyes. You can also use apple cider vinegar in your dog's area and on your dog (dilute and rub on their ears). Spraying the area with diluted citronella also helps. Ensure you clean up after your dog and always clean out their food bowls after each meal. Remove bones, scraps and waste from their area daily particularly during the summer months. Also grow rosemary and hang bunches around your dog's area.
3) Wet Dog
Don't waste endless towels…invest in a chamois for your dog! A large car chamois will get the water off quickly plus; they are easy to dry and clean.
4) Apple Cider Vinegar
This is a bit of a gem when it comes to dogs. It can help with coat conditions, itchy skin, fly and flea repellent while it can also help stop the pesky brown-lawn patches from urination. It is the un-sung hero in many pet homes. I've always used a small amount in my dog's water bowls. For a 19kg dog use one teaspoon to 4 cups of drinking water. Or I dilute and swab over your dog during high stress times like fly's and fleas in the heat of summer. Do not apply to open or raw skin, as it will sting. Keep a spray bottle 50:50 dilute handy. I've also used the dilute to clean out ears. Having a dog suffering from chronic skin allergies, apple cider vinegar was a great help when an itchy episode happened before we could seek some additional help from our vet.
5) Digging
This is a big one and I could basically write a year worth of blogs on this very topic. Most of us at some point have owned a dog that loves to dig. So you need to ask why?
Firstly you have to seriously look at increasing and intensify your dogs daily exercise regime. Most dogs dig because they are bored and in an attempt to exert extra energy they take to digging. Think training, long walks, runs, off-leash time, perhaps even on the beach where they can dig. Once you've increased this we can look at breaking the habit.
What are they digging up? Garden beds full of compost? Hiding bones/toys? Is there something you can do to prevent your dog from getting in the specific area? Putting up fences and borders to prevent your dog getting in the area.
Teach the 'leave it' command. Then if you dog goes into this area, you give the command to get out and leave it alone.
Now the big guns…once you have increased the exercise, and understood the reasons why your dog is digging you can now start sending clear messages that digging is not good. Try putting dog poop in the hole, this will normally deter them from digging in that area. You can also hide a blown up balloon containing and small amount of water. Cover the balloon with soil. Once your dog starts digging, the balloon will pop and give your dog a squirt of water and a bit of a scare. This has always worked for my digging pooches.
Ensure you leave plenty of interesting things around for your dog to do. Think raw bones, treat toys that make them think and use their senses, rotate your toys every few days to keep them interested. A combination of these things will stop the digging problem.
6) Eating Too Fast
Eating too fast? This can be dangerous particularly for larger dogs as you increase the risk of bloat (when the stomach twists and can lead to death). There are some great dog bowls specially designed for this, however my best trick is to pop a very large rock in the bottom of the bowl. This will cause your dog to have to 'find' the food from around the rock and slow eating. Also consider using part of your dog's meal in treat balls during the day. Then they have to really work to get their food.
7) Hair Hair…everywhere
Invest in a rubber brush for your carpets (most department stores sell them…they type you would see these in your local hairdressers). Grab the rubber gloves for your pet…give them a pat after a good brush to remove the remaining hair. Rubber gloves also work well on furniture to remove hair.
8) Not Eating
Having problems coaxing your dog to eat. Try using warm diluted beef stock over their meals. The smell can entice them to eat. Also a small amount of vegemite (for our Aussie readers) diluted in warm water also works well. Consider popping a few tasty scraps like raw meat through the meal alongside some warm water.
9) Training
Is your dog not interested in training? Think about the treats you are using. Have a mixture. Things like; cheese, cold meats, cat-biscuits…for some reason dogs can't resist cat-biscuits. Use a proper treat-bag that attaches to your hip for quick and easy access. Just make sure it's the hip away from the dog. Be inventive.
10) Big Dogs & Poop Scoopers
Head to your local equestrian store and purchase a horse poop scooper! It's three times the size, and sturdy as!
A BIT ABOUT THE BLOGGER:
Nadia Crighton is a well-known and accomplished Australian Journalist and pet magazine Editor. As a busy mum of four humans, two dogs, 50 sheep, three cats, a handful of chickens and a goat named Billy, she simply adores pets of all shapes and sizes.
Get the latest Pet Insider Tips & News
We offer award-winning* pet insurance policies to protect your furry friend's health and wellbeing. Get a quote today and give your pets the care they deserve.
get in touch
Do you have any
enquiries about our
insurance policies?
Archives
Categories