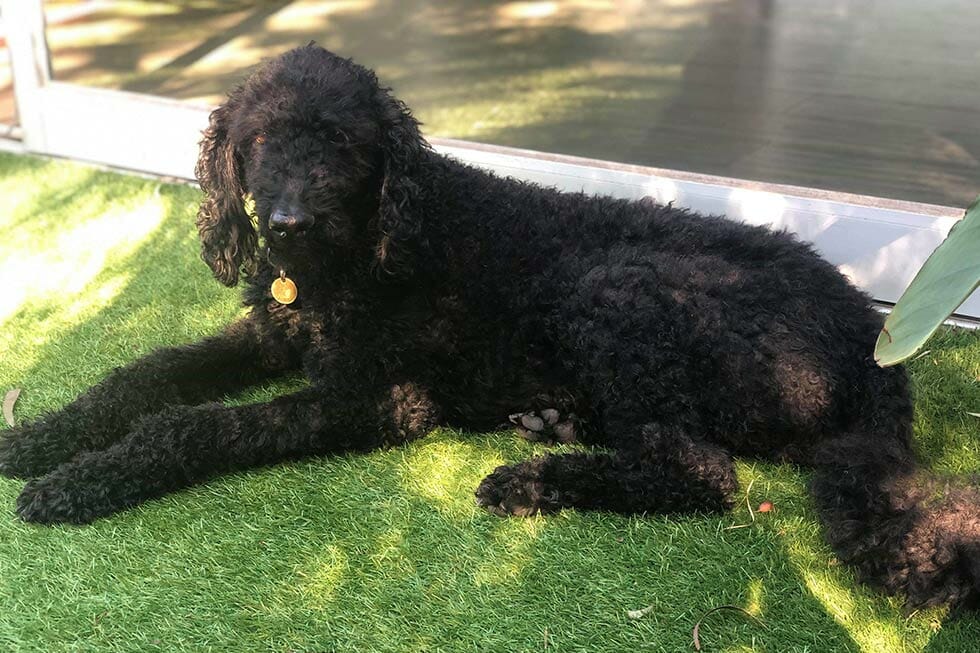 Saving Kaila
Pet Insurance Australia catches up with Brent and Warren to get the rundown on how having pet insurance helped them care for thier beloved dog Kaila after a cancer diagnosis just after her 13th Birthday.
"Pet Insurance isn't just for younger dogs," Nadia Crighton from Pet Insurance Australia says. "Like with humans, as we age, we start to rely more and more on the medical industry to keep us fit and healthy."
Older dogs are much more prone to diseases such as cancer and other medical problems. Having adequate pet insurance can help during the financial stress that these conditions can bring.
"We have many 'golden oldies' on our PIA books who are cherished clients," Crighton says. "Many of them have been with us since puppyhood and it's great to be able to take care of these wonderful pets into their older years."
Meet Brent and Warren and thier beloved dog Kaila. Just after Kaila's 13th birthday, and two weeks before Brent was set to wed the love of his life, disaster struck.
"Kaila was diagnosed early late January 2019 just after her 13th birthday and 2 weeks before we got married," Brent says.  "We were advised then that if we didn't proceed with Chemo then we might only have her for another 2 months – and with Chemo around 9 -12 months.  Put that in human years and that is about 5 more years – it was a no brainer – Kaila is part of our family"
Brent knew that this type of treatment does not come cheaply. Veterinary Oncologist, Dr Peter Bennett agrees in the value of pet insurance for those needing specialist care.
"The top end cancer treatments can vary depending on what is done," Dr. Bennett says. "A pet that has extensive investigations, surgery, radiation and then follow up or chemotherapy, can over a 12 month period have a total cost of over $25,000, sometimes over $30,000."
Luckily for Kaila, her pet insurance was firmly in place.
"It [having pet insurance] helped immensely – the cost of scans and the blood tests, then the treatment itself was not cheap.  Being reimbursed within days of claims being lodged was a huge help as well," Brent says. "We have had pet insurance for Kaila for over 10 years and only made one claim in that time – having the pet insurance eased the financial burden and the emotional stress we were going through at this time."
The great news is that Kaila is back in good health and enjoying life to the maximum once again.
"Kaila was scheduled to have six rounds of Chemo – at round six they gave her a scan and as there were no new tumours the decision was made to cease treatment and let Kaila put weight back on and not have to go through any more of the side effects of the Chemo," Brent smiles.
After two months of being chemo-free, Kaila has put weight back on and her fur has begun to grow back. The bonus…all her grey fur has vanished!
"She has her mojo back and still enjoys here twice-daily walks at the park," Brent concludes.
It's stories like Kaila's that warm the hearts of all those who work in the Pet Insurance field.
"I'm lucky enough to be in close contact with clients such as Brent and Kaila on a daily basis," Crighton smiles. "Knowing that our Policies have made a real emotional and financial impact on our clients is just wonderful…the proof is in the countless happy pet insurance customers around the globe."
Get the latest Pet Insider Tips & News
We offer award-winning* pet insurance policies to protect your furry friend's health and wellbeing. Get a quote today and give your pets the care they deserve.
get in touch
Do you have any
enquiries about our
insurance policies?
Archives
Categories