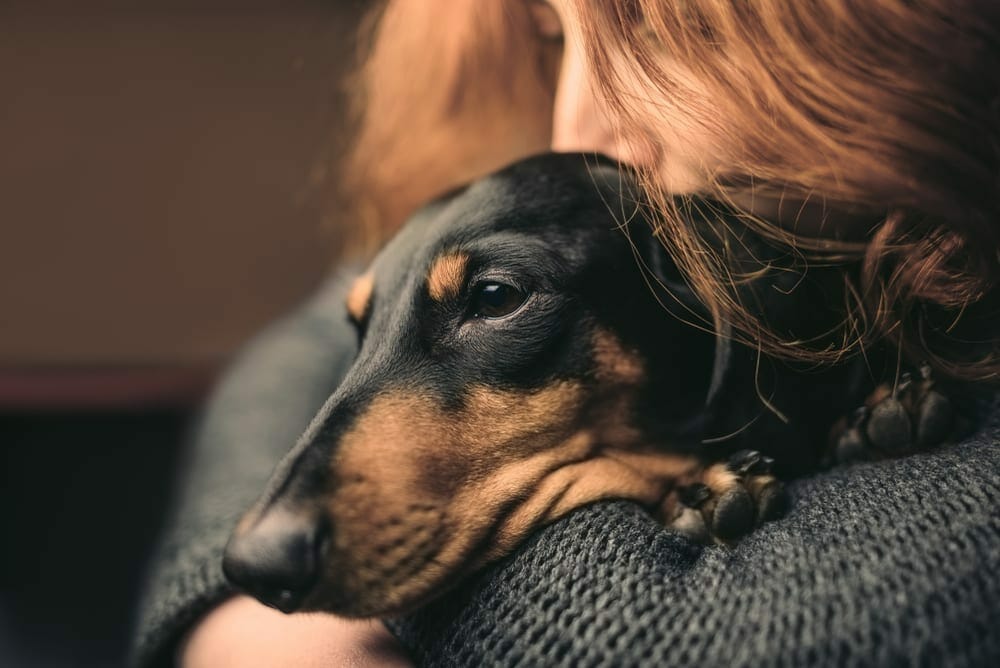 Saying Goodbye
Pet Insurance Australia catches up with Dr Belinda Parsons BVSc CVA
Veterinarian and Owner of Rouse Hill Family Vets to get an understanding of what Palliative Care is, and how to prepare for the final goodbye.
One of the hardest aspects of pet ownership is the journey to saying goodbye. For all pet owners this can be an extremely difficult time. This is when pets may be offered a palliative care option or start conversations around euthanasia.
Dr Belinda Parsons BVSc CVA Veterinarian and Owner of Rouse Hill Family Vets, has specially tailored a program that is helping countless owners keep their pets comfortable during these sad time.
"Palliative care prioritises patient comfort over curing the disease," she says. "It may involve stopping disease modifying treatments to improve overall well-being of the pet. We focus heavily on controlling pain, nausea and inappetence, preventing secondary issues that may be associated with weakness, immobility or incontinence and alleviating struggling."
Dr Parsons advises employing a multi-modal approach to palliative care which includes the use of;
• Medications including pain relief, anti-nausea drugs, sleeping aids and fluid therapy.
• Physical therapies including physiotherapy, basic exercise and acupuncture.
• Mobility aids such as harnesses, traction aids and steps
• To provide instruction on nursing care to prevent secondary pressure sores and urine scalding.
"Palliative care is tailored to your pet's specific needs and your family preferences."
This type of approach is gaining traction in Australia and is very popular in the USA. Palliative care is allowing pet parents time to say goodbye to their beloved pets, while keeping their canine companion or feline friend comfortable and pain free during their end-of-life journey.
Preparing to say goodbye
Dr Parsons advises that pet owners should start talking about the process as early as possible, with veterinarians and family. Being open and honest with your feeling during this time can help immensely."Often people are afraid to talk about euthanasia through fear of being judged or people thinking they are giving up too early," she says. "For many clients, they rarely regret making the decision too early, however often feel immense guilt about leaving the decision too late and watching their beloved pet struggle."She also advises understanding the 'ideal window' when it is the right time to say goodbye.
"This window is whilst they are still able to feel comfortable and have good days but when the bad days are coming more frequently, their pain is responding less well to medications, their ability to eat, drink and toilet normally is becoming increasingly affected and their joy of life is decreasing," she says. "It is about looking at the trend over time and quality of life score are an incredibly valuable tool to help with the decision-making process."
Helpful Tips from Dr Parsons;
Sedation
I strongly advocate for sedation prior to euthanasia as it reduces the stress for the pet and allows a gentle transition from awake to asleep for the family. I know from personal experience that placing an intravenous catheter is uncomfortable. In addition, the majority of our senior pets have arthritis so positioning them for IV catheterisation is painful. We do not want their last experience to be stressful by being taken away from the family for a painful intravenous catheter to be placed.
In home vs in clinic
Euthanasia appointments at home after often more relaxed for the pet and the family. Families are not having to be in a public place at one of their most vulnerable moments as a pet owner. In home euthanasia appointments do take a little more planning however this is possible provided it is not a situation where euthanasia has become an immediate requirement. They also allow the family to choose a location, this may be outside on the lawn in the sun, or inside in front of the fire.
For other pets, they are quite comfortable and happy at the veterinary hospital. The majority of veterinary hospitals do their best to give you time and privacy during a euthanasia appointment however you will still have the hustle and bustle of busy clinic in the background.
Do they want to be present?
Everyone's experience of death and grief is different and not all people want to or are able to be present during the euthanasia appointment. I have had some families choose to stay until the sedation has kicked in and then leave before the final injection is given. Other families want to be there from the start right until the end and stay for a while afterwards as well. That is ok too. It is a personal decision and there is no judgement either way.
Something from home
Think about what a good death would look like for your pet. Would they like to be munching down on a great big hamburger? Do they have a favourite bed/blanket or toy they would like with them? Do you have some favourite music you would like to be playing?
Children present or not?
Think about your specific child and how they process their emotions. This will help you to decide if they are ready to be present with an animal when they die. Very young children might find it confusing and often find seeing their parents upset distressing. It is important when talking to children that you use the correct words for death and dying rather than saying "go to sleep" or "sleeping" as the use of those words can induce a fear of falling asleep. Only the parent can decide if it is appropriate for their child to be present.
Get the latest Pet Insider Tips & News
We offer award-winning* pet insurance policies to protect your furry friend's health and wellbeing. Get a quote today and give your pets the care they deserve.
get in touch
Do you have any
enquiries about our
insurance policies?
Archives
Categories