Customer Success Stories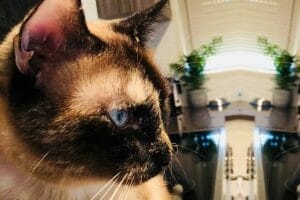 Meet Bella. A blue-eyed beauty who had a nasty incident with an abscess.
"I noticed a small hole on Bella's backside near her back leg. It was quite deep. It appeared to me to look like a bird peck! I took her to our local vet as I was unsure what it was, and the vet mentioned it could perhaps be an abscess, and that it was clean and had no sign of infection, and did not require any treatment.
But 2 days later I noticed it had deteriorated, I rushed her to the Emergency Vet in Underwood and she was seen straight away, and within 10 minutes I was advised she needed urgent surgery as it was an enormous abscess that had burst and it was infected.
I didn't hesitate to sign the paperwork for her immediate treatment and surgery as I knew I had pet insurance, and even if we didn't, we would always have gone ahead with it as we love our cat so much. She is our family.⁠⠀
Bella is now finally all healed and completely back to normal. Our whole experience with PIA can't be faulted. We are very happy and so glad we took up pet insurance. ⁠⠀
We thought we would never need it but it's always good to have just in case, and in our case, it proved to be a lifesaver!⁠⠀
We also have our dog covered and feel like we don't have to worry if anything ever happens.
Bella
Stacey Piels (Dec 2018)
Please take the time to get a quote today and ensure the wellbeing of your beloved pet!
*Terms & Conditions Apply